Enjoy the taste of fresh beer and Genghis Khan at Asahikawa's Taisetsu Local Beer Garden.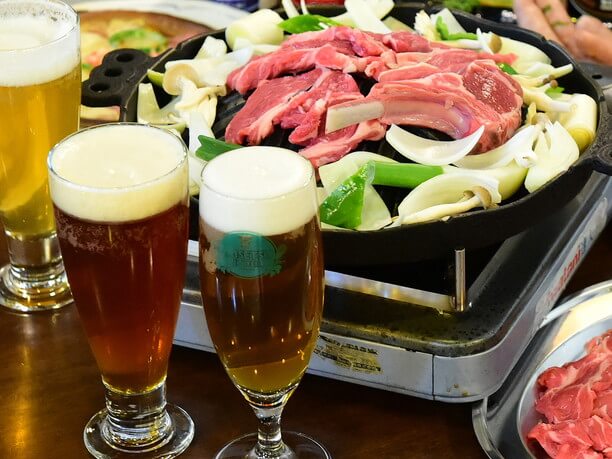 Taisetsu Local Beer Garden is a brewery restaurant where you can enjoy dishes suitable for beer such as freshly made crafted Genghis Khan and sausage. Their beer made with authentic German recipes is a quality beer that has won numerous awards in domestic beer competitions.

Inside the brick building built during the pioneering era of Hokkaido you can enjoy fine beer and many dishes using local Asahikawa ingredients.

Freshly made beer has the best taste!
A few minutes on foot walking west from JR Asahikawa station, you will be able to see the brick warehouse that houses the Taisetsu Local Beer Garden visible on the right. Founded in 1996, it is familiar to citizens and tourists as a base station for food culture in Asahikawa. The building is a renovated version of the Kamikawa warehouse #11 built in 1913. It is a tasteful building that is reminiscent of the atmosphere of the pioneering era. It was designated as a tangible cultural property of the Ministry of Education, Culture, Sports, Science and Technology.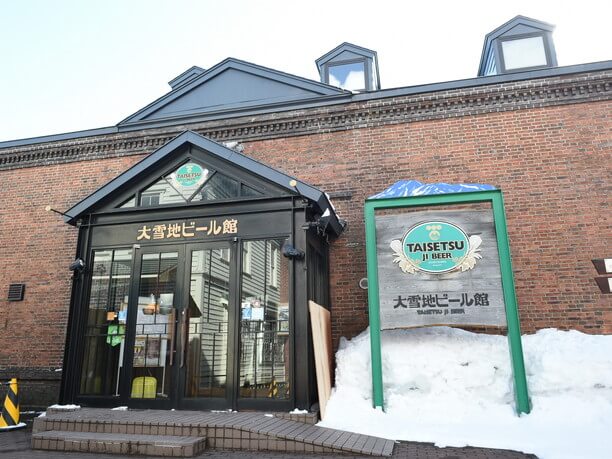 As soon as you enter the store you will see the beer brewing room behind the glass partition. The beer brewed here is put directly in the server of the kitchen, and it is poured from the server into the glass. This fresh beer is the best! This means that you can enjoy delicious freshly made every time you visit.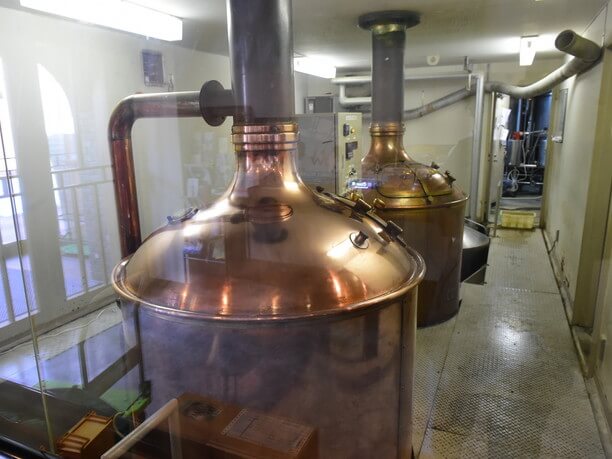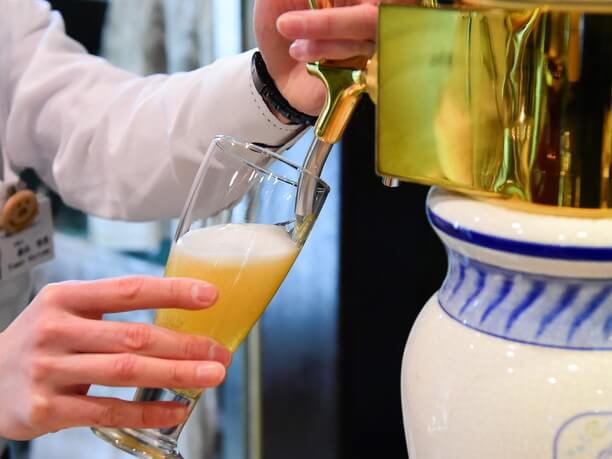 Compare and enjoy the difference types of beer!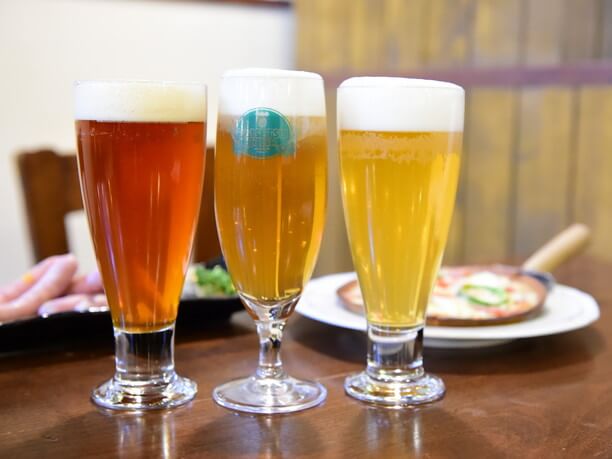 The most popular beer is their "Taisetsu Pilsner (picture center)." Because it is close to the taste of general beer, it is easy to drink, and is very refreshing. "Kela Pirka" (on the left) has a complex scent and richness. "Houga" (on the Right) is popular with women! It is a wheat beer from Shimokawa town. It has a fruity aroma that spreads throughout your mouth.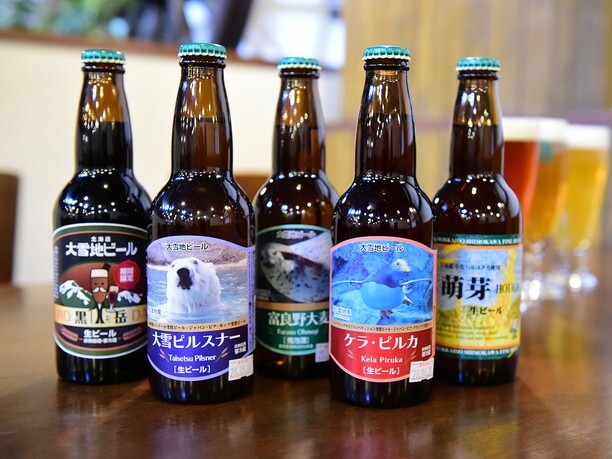 Besides these, they brew 5 other different kinds including, "Furano barley," "Kuro dake," and Asahiyama zoo label, which is perfect for a souvenir.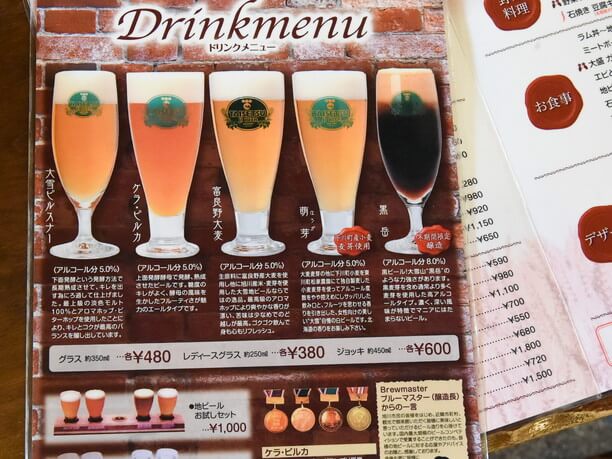 They serve a 250 ml women's glass (410 yen) and a trial set (1,080 yen) for beer, where you can compare and drink small amounts each time. If you want to drink as much as you want, you can order the "drink all you can special" (90 minutes for 2,160 yen)and enjoy all the beer and cocktails you can drink.
They also serve Genghis Khan to go with your beer!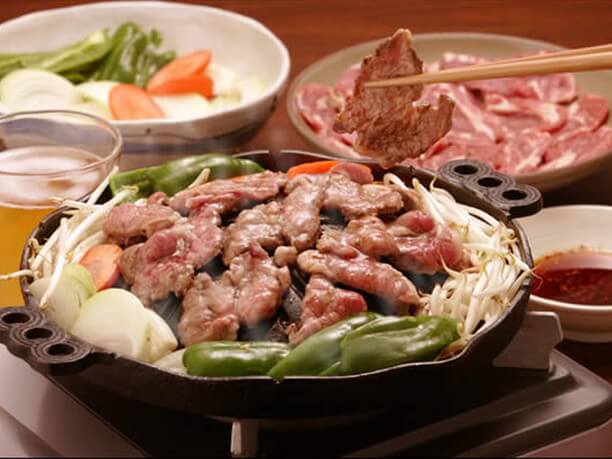 They also serve a Genghis Khan that is delicious with beer. They use lamb shoulder loin from Australia. It is meat that was hand-cut carefully and is nice and juicy without a bad smell. It comes with vegetables such as onion, long onions, mushrooms, and green peppers, all from Hokkaido and prepared in a soy sauce based homemade sauce.
(950 yen a serving).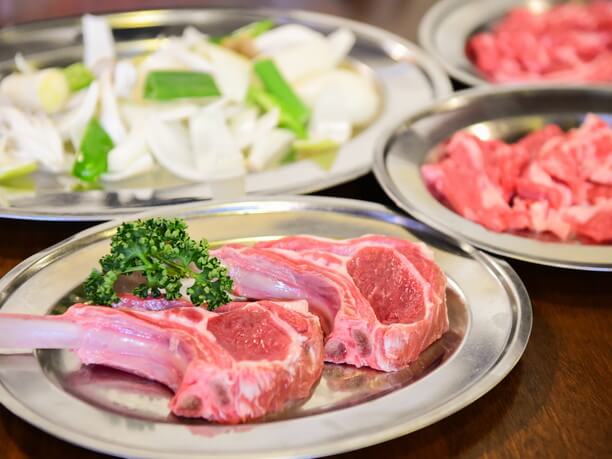 Their lamb chops (518 yen) are also very popular. They are grilled thoroughly and seasoned with salt and pepper. The creamy lean body is sweet, and the part near the bones is particularly tasty.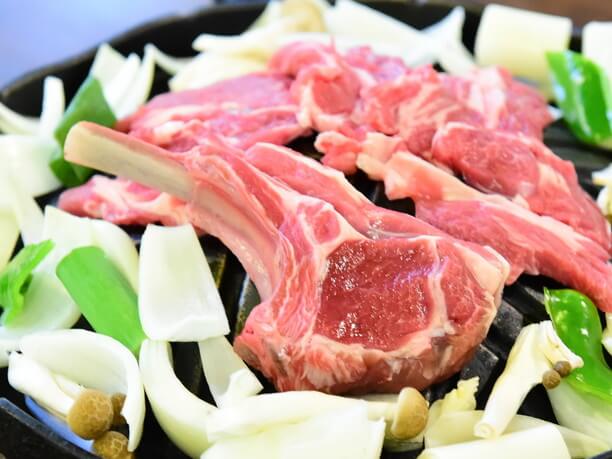 Enjoy a dish made with local ingredients with your beer!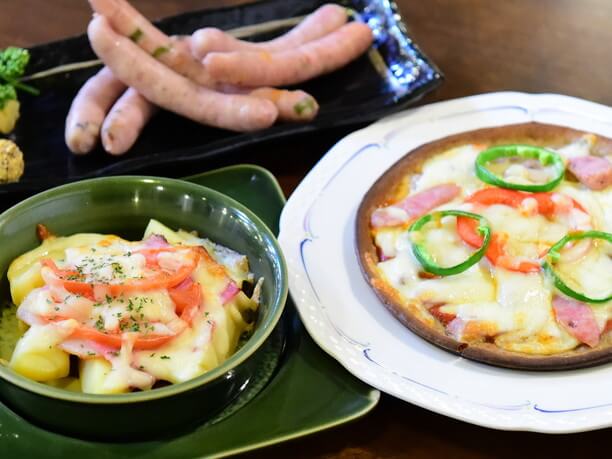 Their Pizza is something you don't want to miss! They use ingredients that have excellent compatibility with beer such as "potato, bacon, tomato, and cheese. The dough is made with buckwheat flour! The potatoes are produced in Hokkaido and buckwheat flour is produced in Horokanai. The vegetables mainly come from local Asahikawa farms.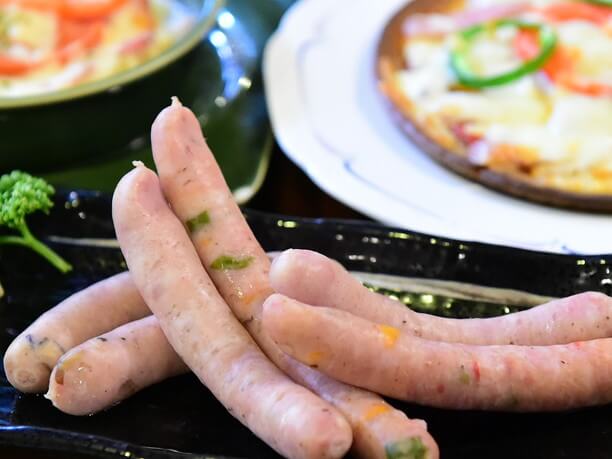 Also excellent is their "mixed sausage" (1,242 yen). It is a classic Hokkaido dish that contains Aibetsu mushroom, Higashikagura peppers, and Hokkaido onions. Fresh vegetables are used to accent the crisp skin and they are served overflowing in gravy. There is no doubt that they will go well with your beer! Besides these, there are more than 50 other menu items including vegetables, meat, fish dishes, rice dishes and desserts.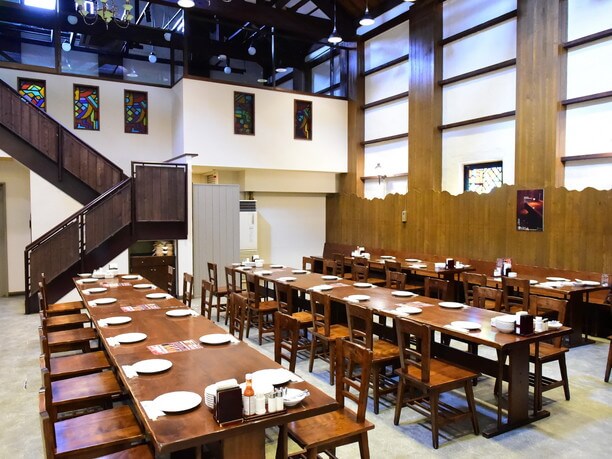 It is open from 11:30 a.m. to 11:00 in the evening. It is a good place to enjoy afternoon sunshine, and tilt a beer while on a sightseeing trip. You can also enjoy their authentic beer and cuisine over an evening meal.
Smart tip
Besides their regular beer, they also serve limited edition beers such as varieties made with black rice and black soybean.
There is not all you can eat Genghis Khan, but the set menu is advantageous. A set with meat for 2, lamb chops, vegetables, kimchi, rice (with unlimited drinks for 90 minutes) can be ordered.
There is also a gallery on site. The exhibition displayed is mainly the work of local Asahikawa artists. They also have a permanent Chair's Gallery, which exhibits chairs of high design.
What's interesting
Because all of the beer is unique, drinking comparison is very fun. Many of these beers are beers that you will want to drink slowly and really enjoy the taste.
Taisetsu Local Beer Garden
Spot name(Ja)

大雪地ビール館
Address

1604-1 Miyashita-Dori 11-chome Asahikawa-city Hokkaido
Address(Ja)

北海道旭川市宮下通り11丁目1604番地の1
Telephone

0166-25-0400
Price

2,500 to 3,000 yen
Open

11:30 am to 10:00 p.m.
Close

December 31st, January 1st
Parking lot

There
Note

HP : http://ji-beer.com/