The large amount of snow accumulation at Kiroro Snow World make it one of the best places to ski in Hokkaido!
"Kiroro Snow World" (キロロスノーワールド) is a place where many people gather from all over the world seeking the world's best powder snow. It is called "the ski resort with the most snowfall in Hokkaido." During the period from late November to early the amount of snowfall is between 9 and 15 feet.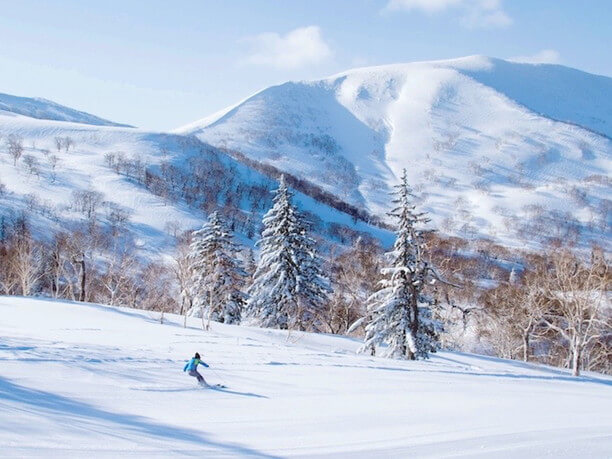 It takes about 60 minutes via the expressway from Sapporo to get to the West
Kiroro exit. Kiroro resort is located in Akaigawa village near Otaru. It is the closest residential resort to Sapporo. Bus access from New Chitose Airport only takes about 90 minutes without needing to transfer.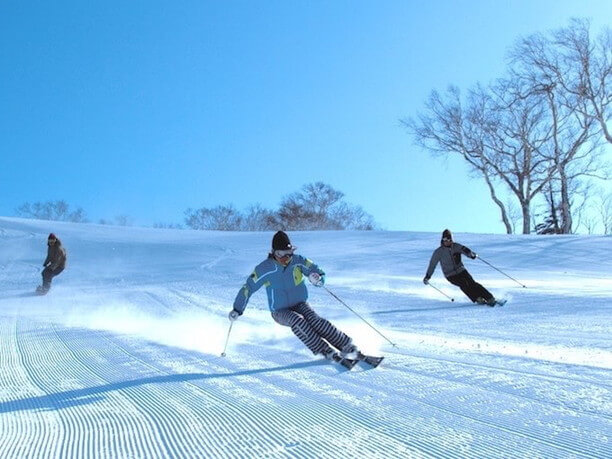 You can enjoy plenty of powder snow on Kiroro vast slopes. There is also an abundance of other snow activities. In addition there is gourmet dining, a fully equipped shopping facility and relaxing hot springs. Kiroro is a "snow world" that is more than just a place to ski.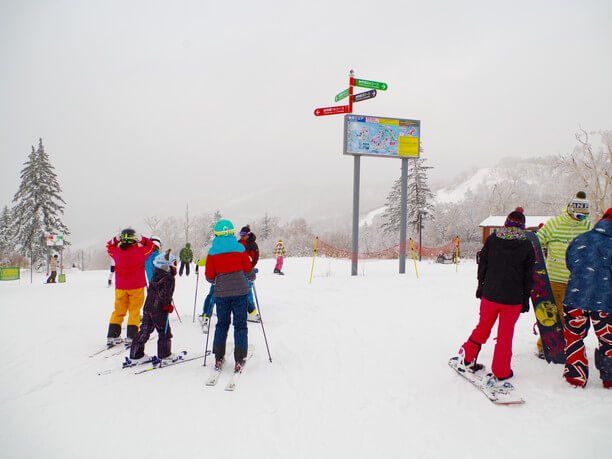 This ski resort has no shortage of snow!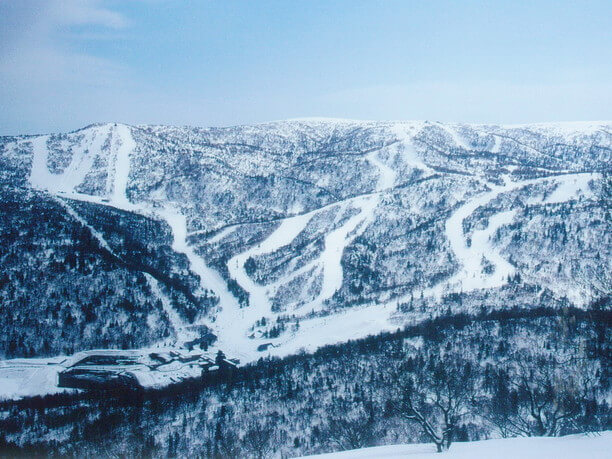 This vast ski resort consists of three areas of "Asaka", "Nagamine" and "Yoichi".
The longest runway distance is approx. 2 ¼ miles. It has 21 runs and boasts of being the largest scale resort in Hokkaido. There is a gondola that takes you from the foot of the mountain to the summit It is very convenient because it stretches for 2 miles up the mountain.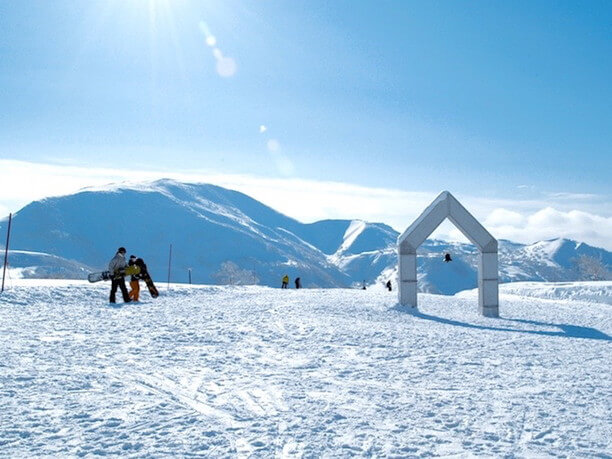 Ringing the "bell" at the top of the mountain is a Kiroro snow world tradition.
It is a standard practice to take a commemorative photo at the bell. In the snowy season, the bell is buried under feet of snow! One of Kiroro snow world's more famous courses is the Asuri course. It starts at an altitude of about 3,500 feet above sea level and extends about 1,800 feet to the base of the mountain. Another popular run is the "Kasato Dynamic" course. It boasts a long run with a total distance of about 2 ¼ miles. As the name suggests there is "dynamic" scenery that spreads out from the top all the way down the run. It has moderate slopes and a variety of terrains. If it is your first time to Kiroro, we definitely recommend you try this course.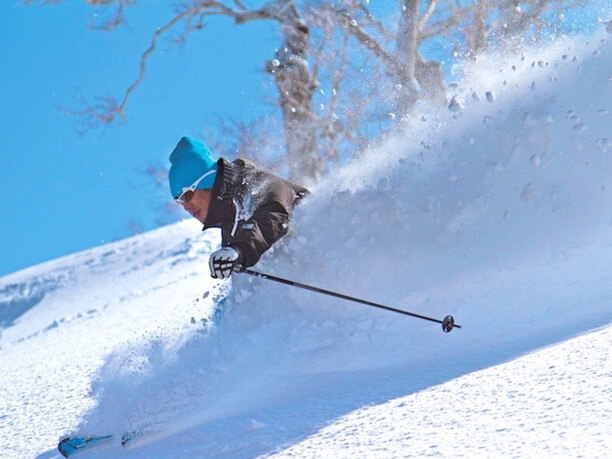 Kiroro ski resort that is also friendly to beginners!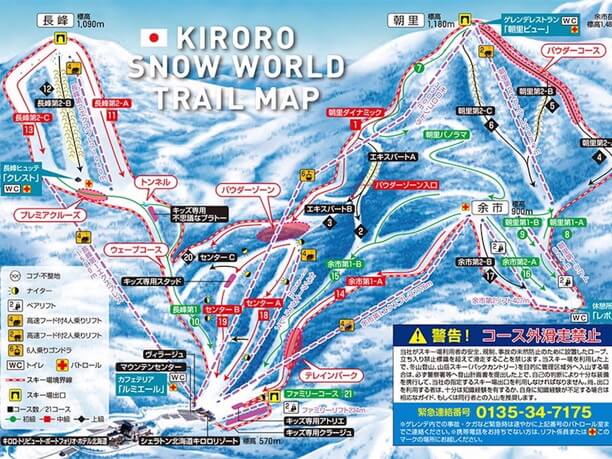 There is a rich variety of courses at Kiroro ski resort. It has many easy courses for beginners. One of the most popular paths for beginners is "Asaka Dynamics," which you can enter from halfway down the mountain from the left side. For a long relaxing ski experience you can try the "Asahi Panorama" course. This "gentle" course has an average slope of 6 to 10 degrees and continues all the way to the foot of the mountain. Of course, there are also plenty of courses for the intermediate to advanced skiers. One of the most popular is the "Powder zone"
In this area you will find an entrance to the thrilling course "expert course A."
As you go down this narrow course, you will often time be traveling on untouched "virgin-snow." The experience is like backcountry skiing. When you finish the course you will definitely feel like you have had a workout!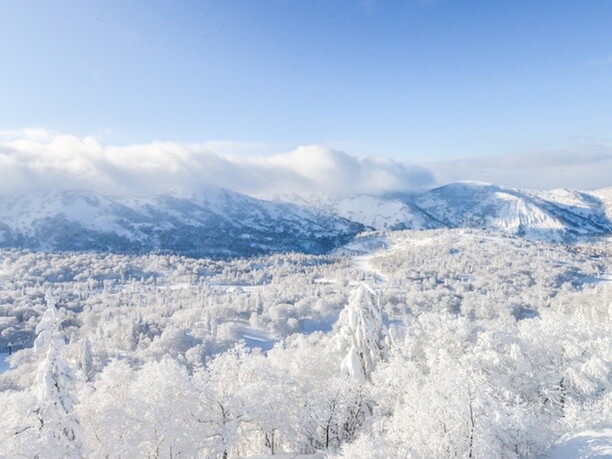 There is a public bath in the ski center!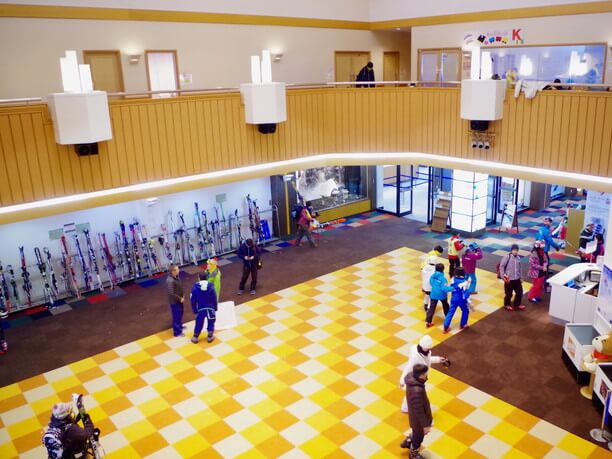 The base facility of the ski resort is called the "Kiroro Mountain Center." It is located at the foot of the mountain. It has everything you will need for your skiing experience, such as a pro shop, rental department, lockers etc.
Their rental department is quite substantial! You can rent complete skiing and snowboarding packages (5 hours for 7,200 yen).
They also have small items available to rent such as goggles for an extra charge.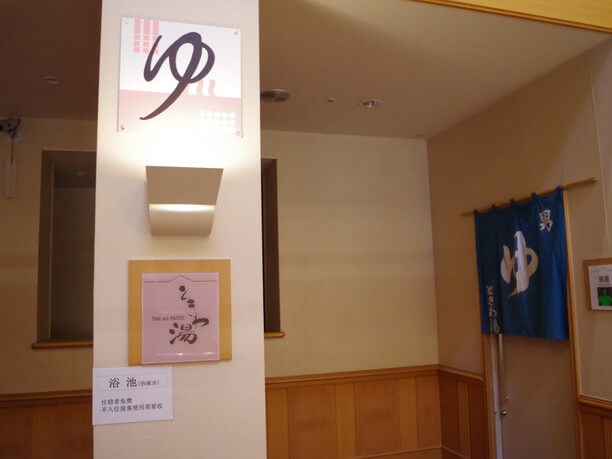 In addition, there is a public bath in the center! Day-time bathing is open until 5 pm (600 yen). A warm bath is enjoyable after snow skiing! It is nice to relieve tiredness, and warm your body from the core and before returning home.
For a basic lunch there is "Cafeteria Lumiere" located in the Sheraton hotel directly connected to the mountain center and the slopes. Or for something a little nicer there is the mountaintop restaurant "Asuri View" at the gondola summit station.
Both of them are reputable and serve high-quality meals.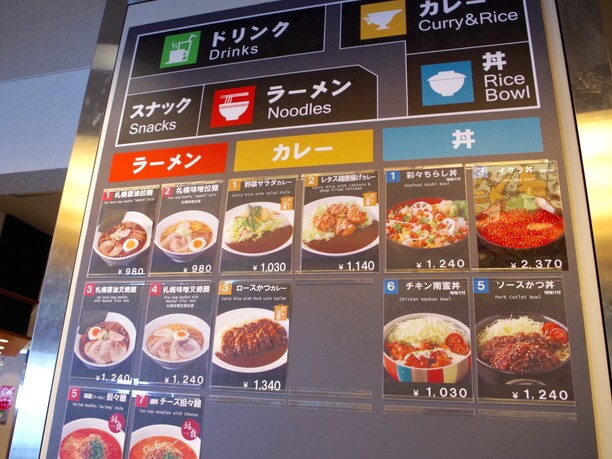 Not just skiing! You can experience Japan's first snow Segways!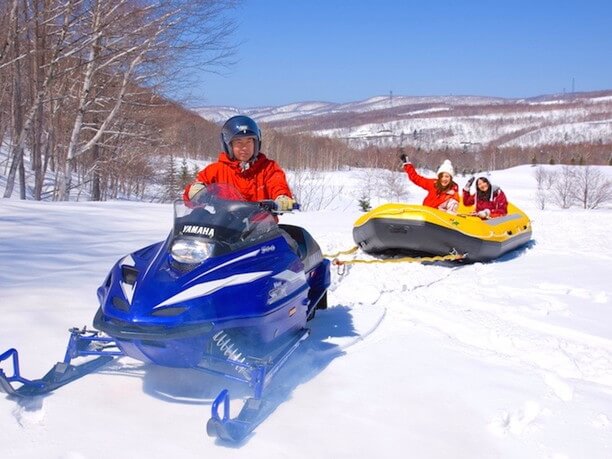 At Kiroro Snow World skiing is not the only attraction! There is plenty of "play" that you can enjoy in the snow. They have classic snowmobiles, snow buggies snow rafts and a snow banana boat that everyone can enjoy. Rental of these "snow toys" is around 1,000 yen. In addition they have the first Snow Segways in Japan! It is possible to go across the world of white silver. They rent for about 10 minutes for1,500 yen per person. (you must be 16 years of age or older) Although the experience time is a bit short, it is worth it to experience a Segway affordably. The secret to getting on well on a Segway is balance!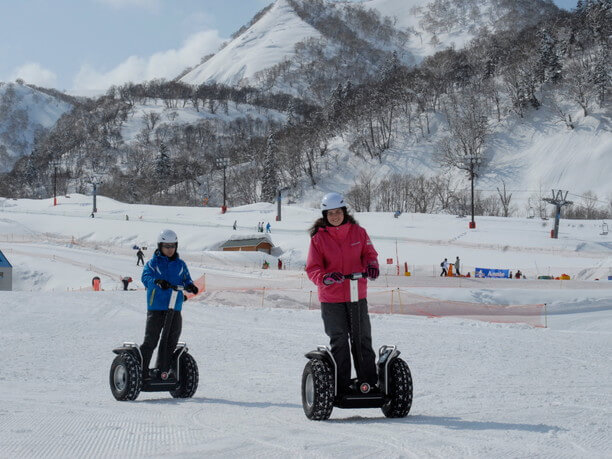 Enjoy the staying at the resort at luxury accommodations!
There are two accommodations at Kiroro. First of all, there is the "Sheraton hotel." It is a ski in, ski out hotel that is directly linked to the mountain center and ski resort. There is a buffet restaurant "Rivier Rouge" in the hotel.
You can enjoy dinner while watching people on the slopes.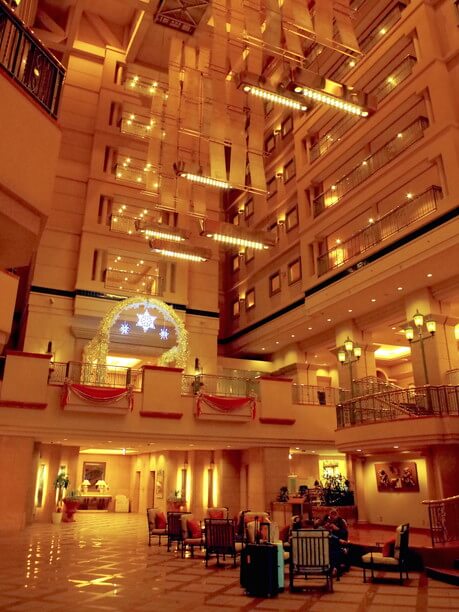 About 1 ¼ miles away from the slopes is "Tribute Portfolio Hotel".
This hotel is slightly larger than the Sheraton hotel and has plenty of restaurants. For dinner, you can choose from Japanese food, Western food, or a variety of food at a tavern. You can also enjoy hot springs, beauty treatments, and shopping for Hokkaido souvenirs. For many people, it is hard to decide which hotel to stay at. If you want to stay close to the slopes you will want to stay at the Sheraton. If you want to enjoy a more luxurious resort stay, stay at the Portfolio?
You will be impressed by the superb view at Kiroro in the Summer!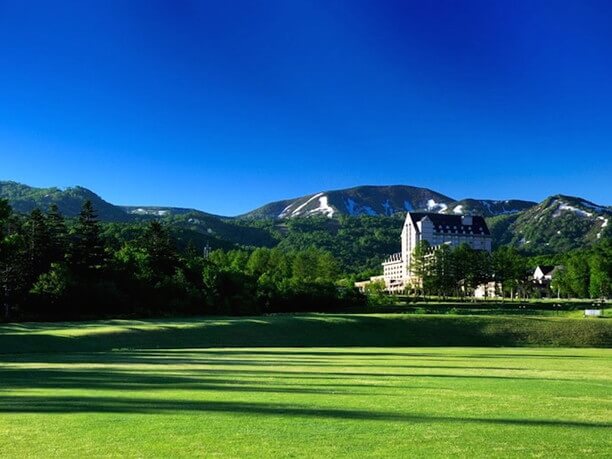 画像
Kiroro resort is not only a place to enjoy in the winter. Akaigawa village in the Kiroro resort is surrounded by mountains. In the summer it is covered in green. It is the best place to enjoy the wonders of Hokkaido. You can enjoy playing tennis or golf, or explore by foot, Segway, buggy, or mountain bike, You can even take a boat ride on the nearby river.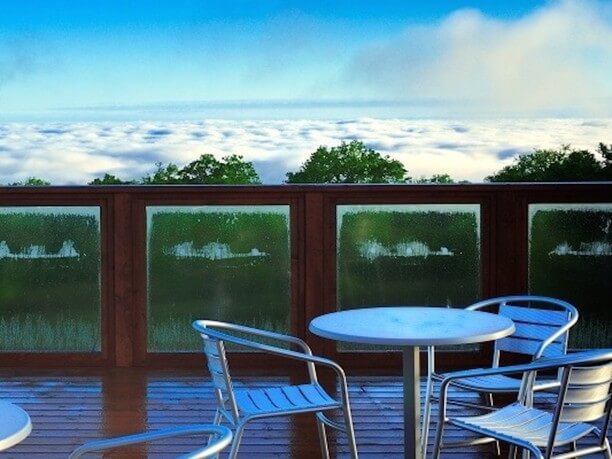 In the summer you can experience the Morning Mountain Panorama Gondola (round trip 1,200 yen). You feel reborn as you enter the sky deck at the top.
If conditions are good, you can see the sea of clouds spreading out all around you. There is also a climbing route to "Yoichiake" mountains from the gondola summit station. Kiroro has plenty of "play" and "scenery" that can not be experienced in urban areas. It is definitely worth visiting!
Smart tip
The Hokkaido resort liner bus is convenient. If you take a bus from New Chitose Airport at 9:30 am, you go straight to Kiroro. Once you have finished sking you can go to the main hotel in the center of Sapporo. All bus fares are 7,900 yen and come with a 7-hour lift ticket!
There are two lunch spots at the slopes: "Lumiere" at the foot or "Asuri View" at the summit. Both are crowded at peak lunch times. There usually isn't even a place to sit down! It is better to go at less popular times.
Although there are not so many, there are free buses connecting the Sheraton and Portfolio accommodation to Otaru Kaikan station that run every day. If you plan on using them check the service schedule in advance.
What's interesting
In the spring, the fine weather is the norm. There is still plenty of snow and Kiroro weather continues make it a popular choice for spring skiing.
Kiroro snow world
Spot name(Ja)

キロロスノーワールド
Address

Tokiwa 128-1 Akaigawa-mura Yoichi-gun Hokkaido
Address(Ja)

北海道余市郡赤井川村常盤128番地1 
Telephone

0135-34-7111
Price

Lift 1 day ticket 5,500 yen ~
Open

9:00 a.m. to 7:30 p.m. (the closing time differs according to the time of year)
Close

None during the season (there are occasions when it is unavoidable depending on the weather)
Parking lot

There
Note

HP : http://www.kiroro.co.jp/jp/winter/
* Prices vary depending on the season. For details please check the official website.