Once you visit Tomamu ski resort you will want to come back again and again!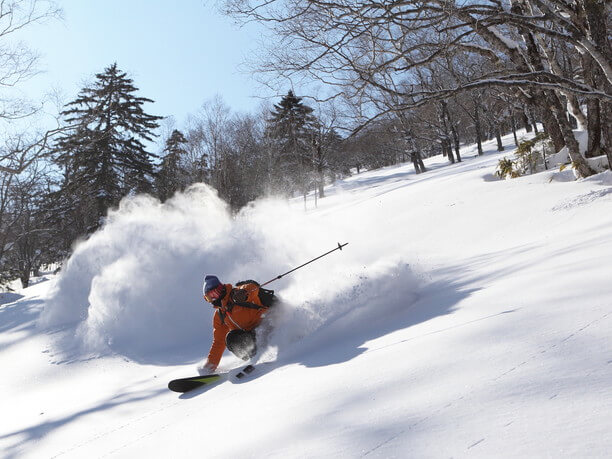 In recent years with the opening of the new highway "Hoshino Resort Tomamu ski area" (星野リゾート トマム スキー場) has surprisingly improved access. Even when you come from outside Hokkaido in the morning, you can be on the slopes by noon. The snow quality at Tomamu is excellent! The cold temperatures produce "Silky Snow." If you are lucky you can even see "diamond dust!" It is also a popular location due to the fact that it has more clear sky days than most resorts in the central area.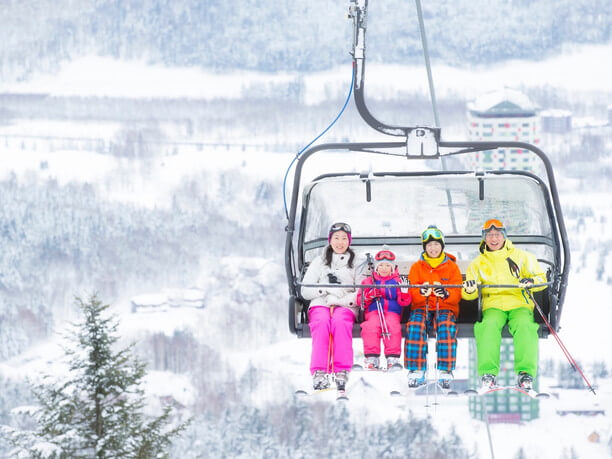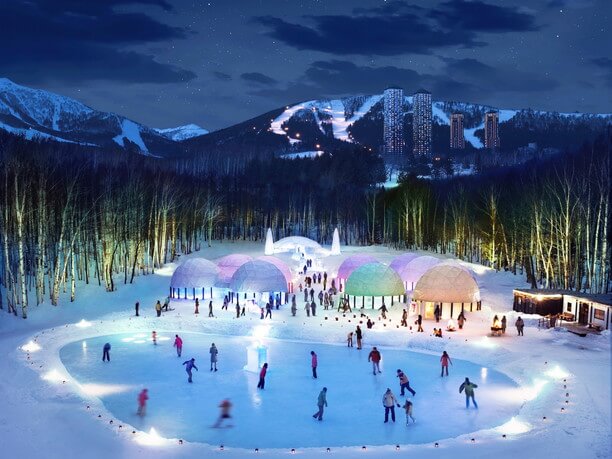 Tomamu in Hokkaido, is located deep in a natural setting. They have an abundance of various activities to enjoy the winter. You can go walking around in snowshoes, and meet unexpected wild animals such as a Kita fox or an Ezodeer. They have an "Ice Village" which appears only in winter, where restaurants and bars are made of snow and ice. They even have accommodations made of ice! You can spend a romantic time in this special ice world found only in Tomamu.

With its easy access, Tomamu is the most convenient resort in Hokkaido!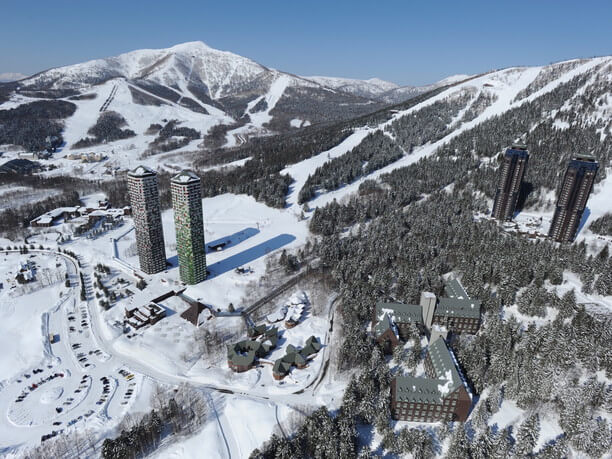 Tomamu ski resort is accessible so many ways! From the New Chitose Airport, it is a direct route on the JR line that only takes about 60 minutes to arrive. It is approximately 90 minutes to Tomamu by car on the highway. From Sapporo it is about an hour and a half drive. The location of the New Chitose Airport, Asahikawa Airport, and Obihiro Airport form a triangle with Tomamu located almost in the middle. A bus between each airport and Tomamu operates daily. From any airport you can get direct access to the ski area and the hotel's doorstep. With this type of access, it is no wonder Tomamu is known as "Hokkaido's most convenient resort"
Looking at a map, it seems That Tomamu isn't that easy to access. But the golden rule in Hokkaido is "don't judge the accessibility of a location just by looking at the map."
"Tomamu has a unique "silky snow!"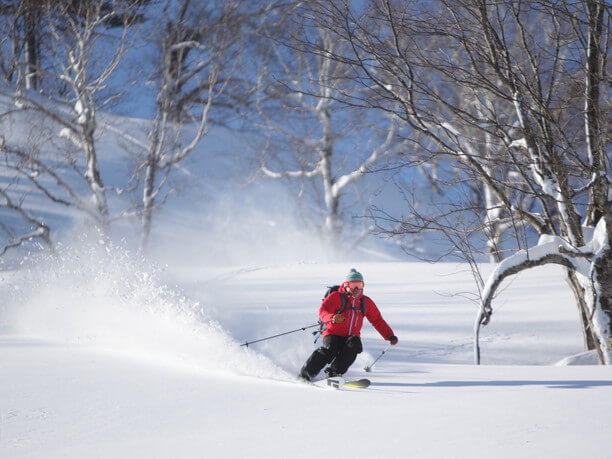 Located in the inland area, Tomamu ski resort gets really cold. The lowest temperature in winter is often close to -58 degrees Fahrenheit. The extreme cold creates smooth and fine snow known as "silky snow" The Tomamu ski resort is divided into 2 areas that border on the edge of a valley. They have a variety of 28 courses that can be enjoyed by the beginner to advanced skier. You can enjoy many long runs. The longest run distance is about 2 ½ miles.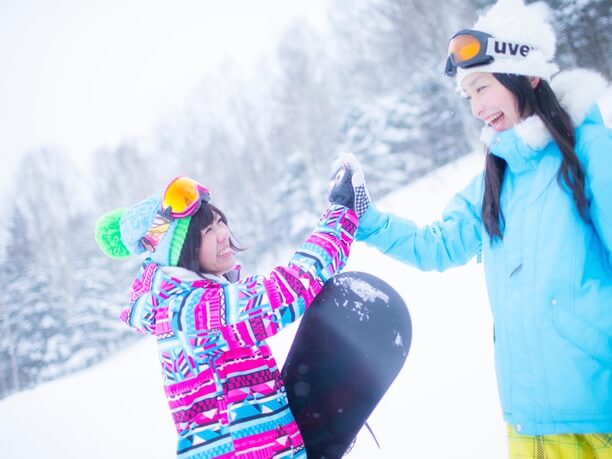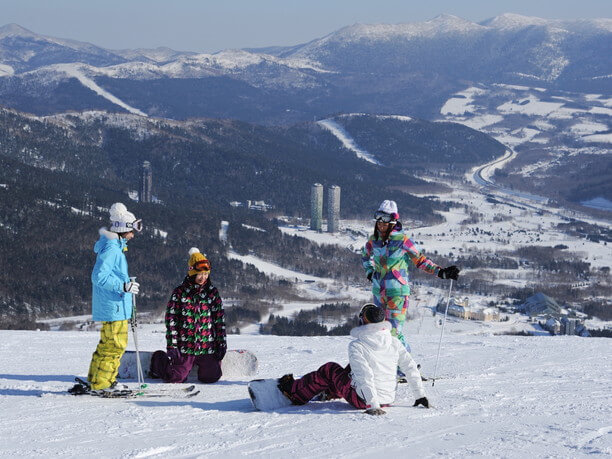 There are also many relatively gentle slopes for beginners. Their rental department is substantial. You can get full rental set for 5 hours for 8,500 yen. Although the snowfall amount is somewhat less than other resorts in the central area, its fine weather 70% of the time makes it one of the most popular resorts.
The appeal of Tomamu that can be enjoyed by children to experts.
Children and inexperienced skiers to advanced skiers will find something at Tomamu ski resort" to enjoy!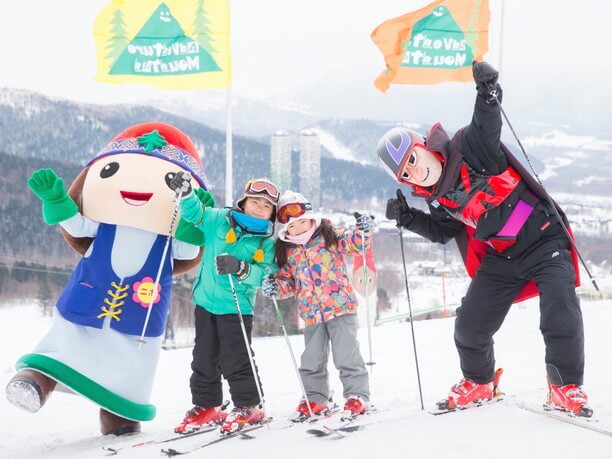 "Nippotown" is the name of their children's area. There children can enjoy their first snow play to full-scale ski/snowboard lessons. They also have free play equipment rental!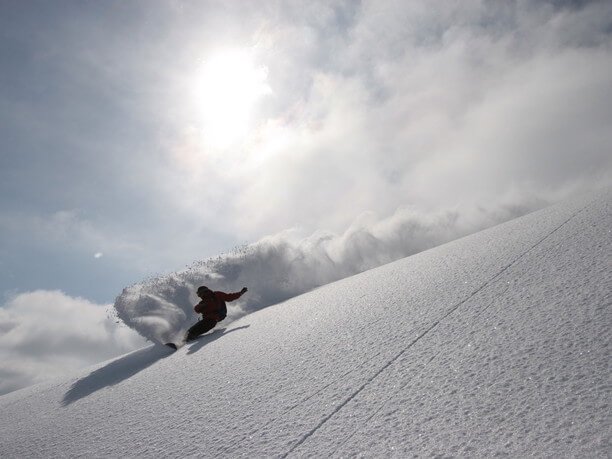 For the experts they have an "Exclusive limited release area". Skiers must register in advance to go down the runs. (on the day you arrive is OK!). You can "glide over the whole area!" It is a mountain of raw nature with powder snow runs. You can also experience backcountry tours and climb snowy mountains on foot. Tomamu is a ski resort that attracts all levels of visitors.
Enjoy the world of snow and ice found only at Tomamu!
You can do more than just enjoying the slopes at Tomamu. They have a full range of facilities and activities to experience that are considered some of the best in Hokkaido.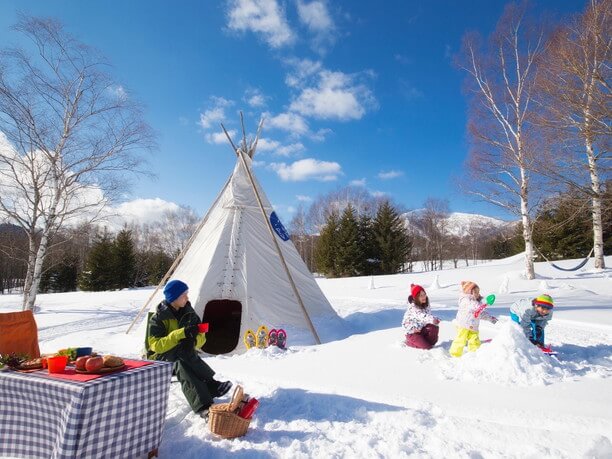 Set in a vast field, they have more than 50 kinds of diverse programs that can be enjoyed from children to adults.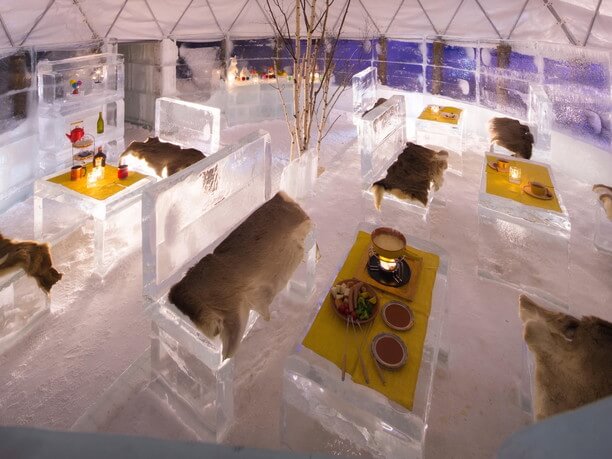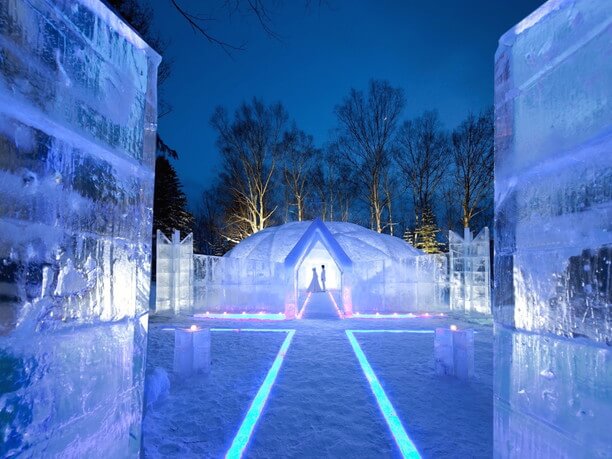 Their "Ice Village" is a city of ice that appears only during winter. Its fantastic scenery can be created because of the strong cold weather sustains the ice for long periods of time. In the village you can enjoy skating on the rink, or have a special cocktail poured into ice glass at the ice bar. It is a great place to experience a romantic cold air drink!
If you come to Tomamu you want to experience their restaurants and hotel as well!
There are two big tower type large hotels in the resort. Both of them offer luxurious accommodations. "The Tower" is in the center of the resort and directly connected to the slopes. "Risonare Tomamu" is an all-suite hotel with outdoor jacuzzi and sauna.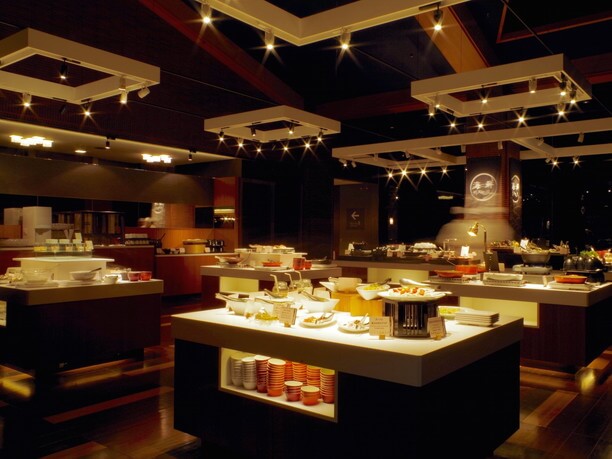 There are also more than 20 assorted restaurants. You can find everything from buffet dining to luxury restaurants. In the Foresta Mall (also known as "Dosanko shop town) there are 8 shops from Hokkaido, including soup curry shops and taverns. You can choose your favorite restaurant depending on the scene and your mood.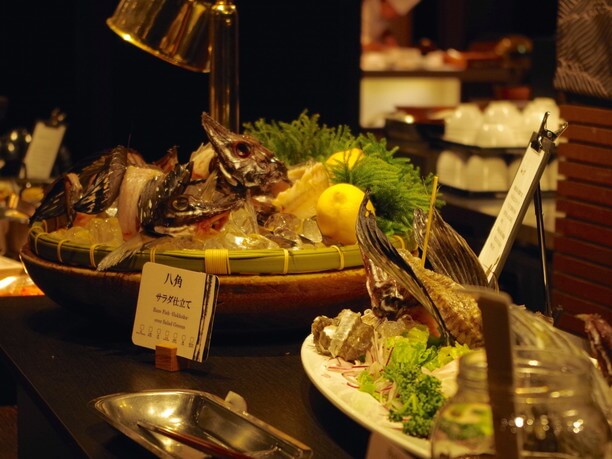 This photo is of the buffet diner "Hal" restaurant. With the theme "Seafood Discovery," the dishes are created from precious seafood that can only be eaten in Hokkaido!
The "Muhyou terrace" and "Unkai Terrace" offer superb views!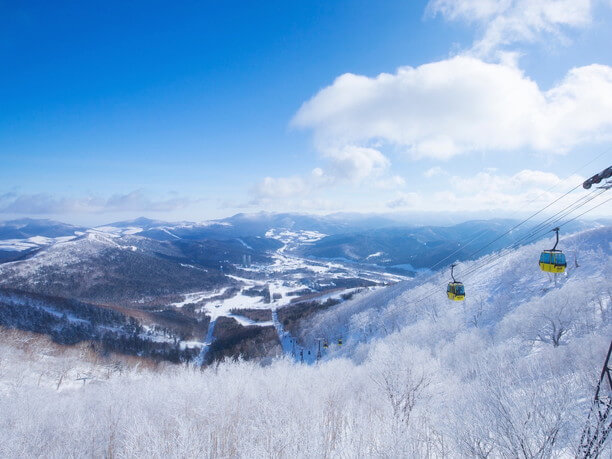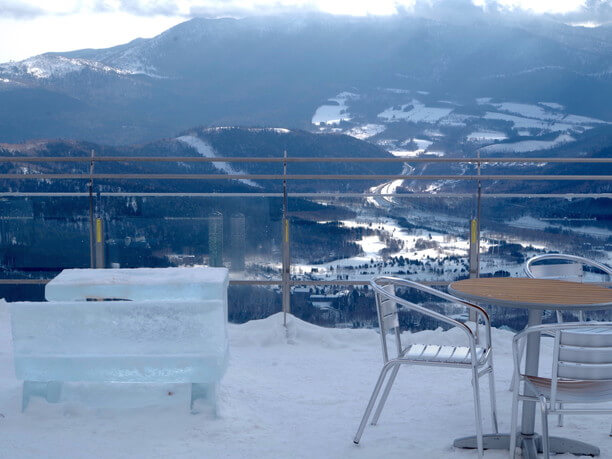 In the Winter near the summit of Tomamu wrapped in the "silver world" is the "Muhyou terrace." Even those who do not ski can use gondolas to get to the top (round trip 2,200 yen). On the top of the mountain is the "Tambo Café." It has tables and chairs made of ice. Try their "muhtou coffee (500 yen)" while watching glittering ice trees and extensive snow scenes. In the Summer it opens as the "Unkai Terrace" of Tomamu. It is a different atmosphere in the summer, offering a view of a sea of clouds.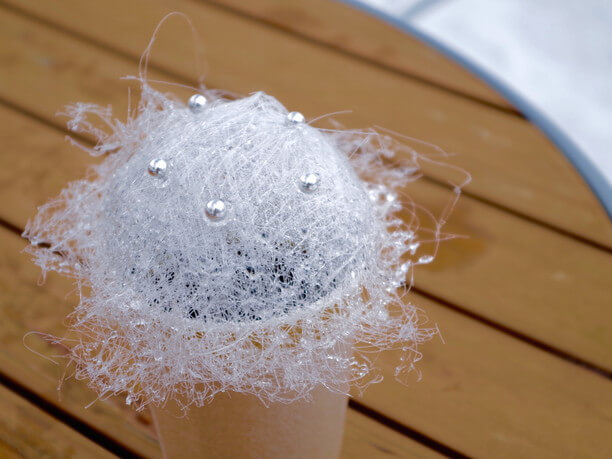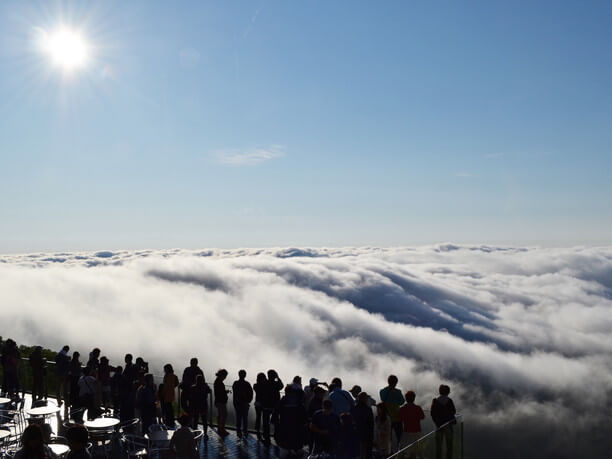 In the summer, the "Unkai Terrace" offers an awesome view! It feels as if you are in heaven. Tomamu is deep in nature and offers abundant outdoor activities in the wilderness. So come to Tomamu in the Winter or Summer and experience play, healing, and excitement?
Smart tip
The "Ice Church" in the Ice Village is the only church in the world which is only open about a month after January. During this time it carries out actual wedding ceremonies. It's like the world of "Anna and the Snow Queen!"
If you decide to schedule a trip, do not forget to pack a "swimming suit." "Minamina Beach" is a hot summer indoor beach with a temperature of 85 degrees farenheit (even in winter).
There are no convenience stores or supermarkets around Tomamu. If you need something you need to buy it before getting on the train or getting on the highway.
What's interesting
This is a snow resort with plenty of atmosphere. Tomamu is fun even if the conditions of the slopes are bad! Tomamu is a fun and exciting place to be in both the Winter and Summer.
Hoshino Resort Tomamu Ski Resort
Spot name(Ja)

星野リゾート トマム スキー場
Address

Tomamu Shimukappu-mura Yufutsu-gun Hokkaido
Address(Ja)

北海道勇払郡占冠村中トマム
Telephone

0167-58-1111
Price

Lift 1 day ticket 5,400 yen ~
Open

9:00 a.m. to 6:00 p.m. (Friday to Sunday, holidays until 7:00 p.m.)
* It depends on the period.
Close

None during the season (it may be inevitable due to the weather)
Parking lot

There
Note

HP : http://www.snowtomamu.jp/winter/
* Prices vary depending on the season. For details please check the official website.