Picante Restaurant serves a soup Curry with lots of spices and vegetables!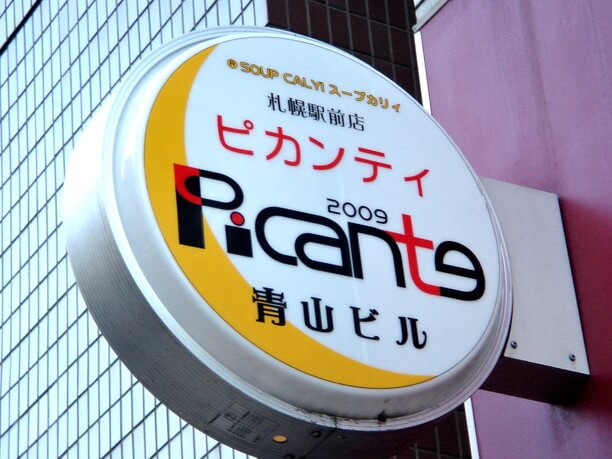 The large vegetables the Picante use in their curry soup are impressive. This shop has been popular from the beginning and has many fans.

Their curry soup has a mix of more than 20 spices, including materials used in traditional Chinese medicine. Its body toning ingredients create a very healthy dish. The shop is located in front of the Sapporo station and within walking distance from attractions such as the TV Tower.

The curry soup is filled with healthy, colorful vegetables!
Picante's curry soup contains plenty of vegetables. They have about 10 different kinds of vegetables which you can choose from. You can really taste the flavor of the ingredients in their spicy soup. The ingredients blend in your mouth creating more and more depth of flavor.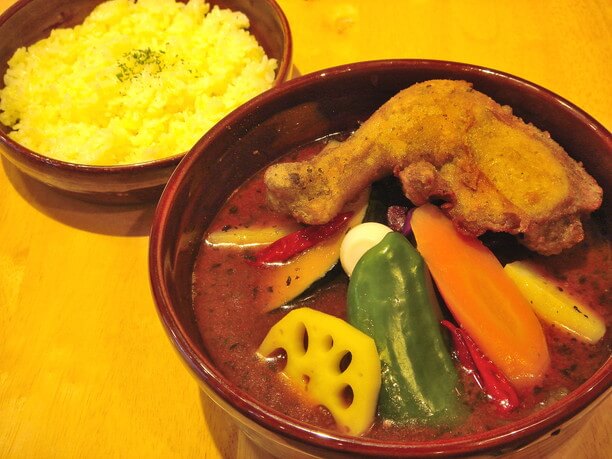 The most popular dish is the "crispy pica chicken" (990 Yen).
It has a fried chicken leg that is crispy on the outside and really juicy inside. Providing a delicious contrast.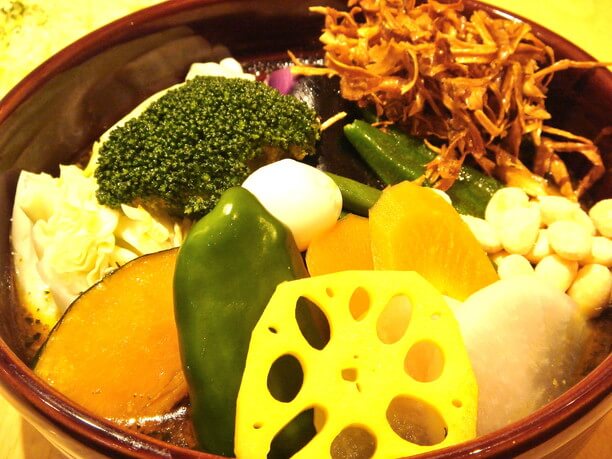 Also very popular is the vegetable curry soup (990 Yen). It has about 10 kinds of seasonal local vegetables that are rich in vitamins. It is very popular with both men and women. All the vegetables they use are safe, locally grown and very tasty.
Spicy, healthy soup!
To customize your menu selection, you can select a number of soup ingredients, the amount of rice, and the type and level of spices. At the Sapporo station branch, you can choose from 2 types of soups. They have a light soup called Shambhala and a dense Ayurveda Yakuzen, The Ayurveda Yakuzen is close to the original curry soup of the Picante. The Ayurveda Yakuzen is formulated with more than 20 kinds of spices.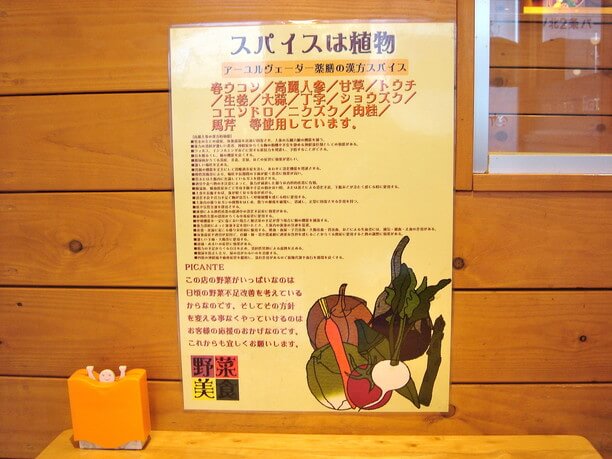 The spice they use are basically herbal medicines, such as turmeric, ginseng, and touchi. The spices serve to detox the body as they gently warm up the body and clean out the digestive system. The body absorbs the spicy, healthy soup and heals from the inside out.
Adjust the level of spiciness and rice to your preference!
The spicy hotness level ranges from number 1 to number 5. Number 2 is usually moderately spicy. Number 3 contains the red pepper, Picken, as do numbers 4 and 5. Numbers 3, 4, and 5 cost an extra yen.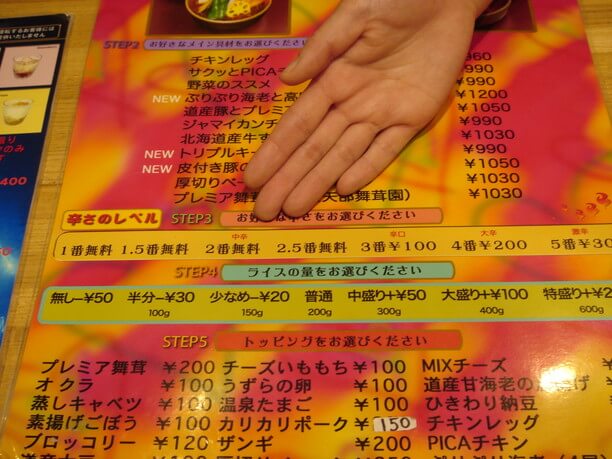 Their rice is cooked in turmeric and is stained a faint yellow. The amount of turmeric is available at 7 different levels, and can be adjusted to your liking. Even those who enjoy only curry without rice can still choose to add a level of turmeric.
Customize your choice of toppings!
After you finish customizing your choice of spices, it is time to select your choice of toppings. There are about 20 different toppings to choose from, including soybeans, the classic egg and chicken all from Hokkaido.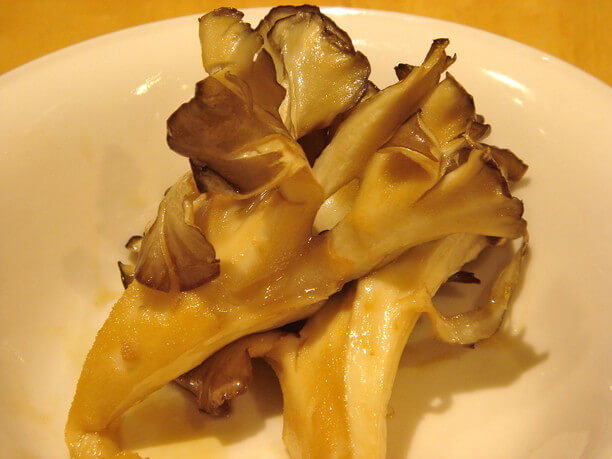 You can also add for an additional 200 yen a "premier mushroom." These are oversized maitake mushrooms grown in Aibetsu town, They have a crunchy texture and rich aroma.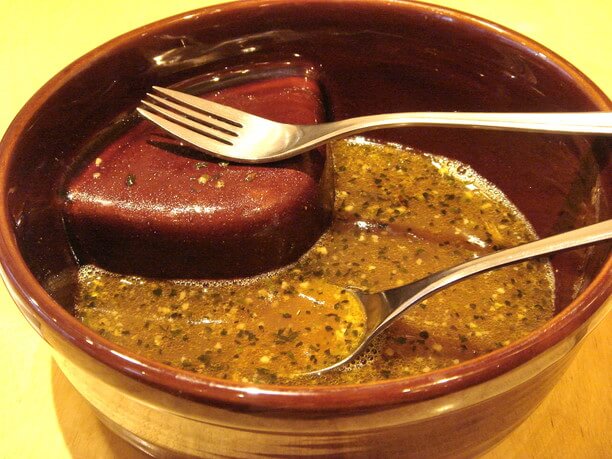 They are also very picky about how they serve their soup curry. They serve it in a special bowl called a tokoname yaki. This special bowl has a distinctive shape with a two-stage inside. It is raised in one part to create a surface on which to cut into bite-sized pieces larger ingredients. The larger area of the bowl is designed to allow the larger ingredients space where they can soak in the soup.
After a bowl of hot Curry enjoy their original sweets!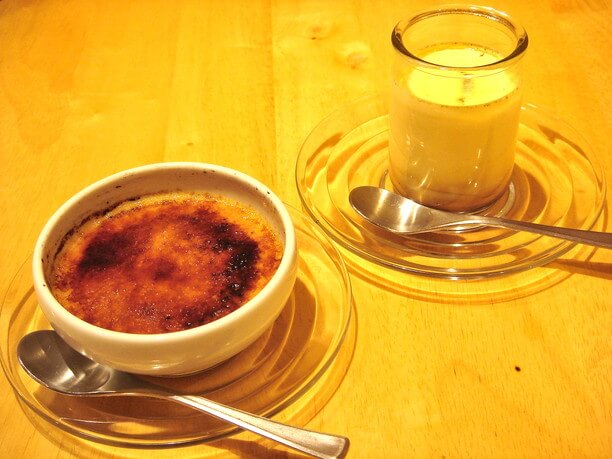 They are proud of their original sweets they have for you to eat after eating curry. They have torotoro pudding for 250 yen (pictured right). As the name suggests, it is an exquisite homemade pudding. It is made with locally produced eggs and milk, with a touch of Madagascar vanilla beans. Also made with locally produced ingredients is their catalana (300 yen). It is a serving of creamy sweetness of caramel crisply finished over the burner.
Takeout is OK!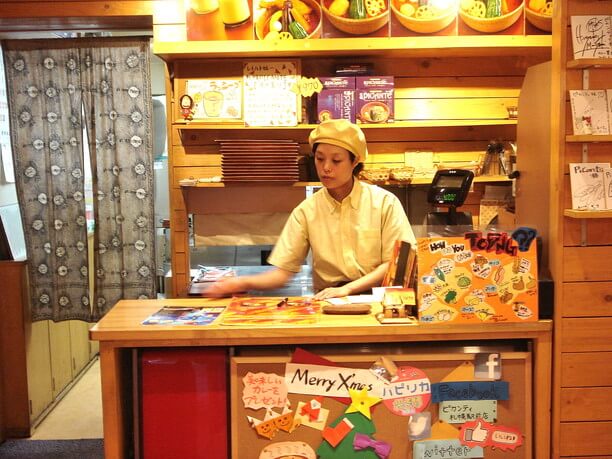 Rather than a person coming to your table to take your order. You order and pay for your food first at the counter then it is brought to your table. This system makes it much faster to get your food and works very well to speed up take-out orders as well.
This makes it easier to enjoy your food on a park bench near the shop at either Odori Park or Souseigawa Park. It is also convenient for those staying at a nearby hotel to take food as a late-night snack.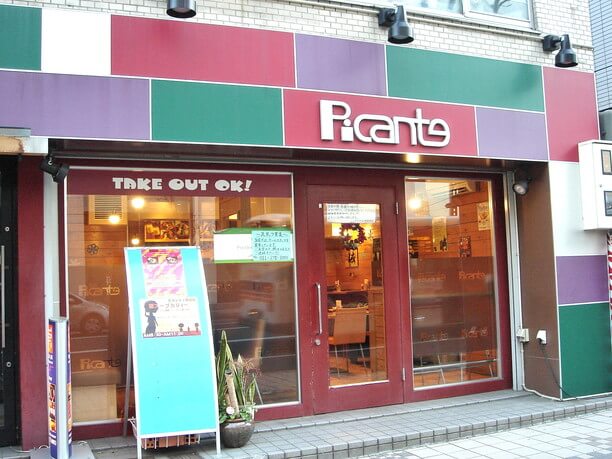 Picante serves a healthy curry soup. Its hot and spicy flavor is good for the whole body.
A new shrimp soup has recently been added to the menu. Showing this restaurant continues to evolve with its concept of being health conscious.
Smart tip
Since it is around Odori Park and Sapporo TV Tower, the clock tower, and other tourist attractions, many tourists stop in to enjoy Picate's local delicacies.
With their fast serve system it doesn't take very long to get your food. If the seating is crowded you can enjoy your meal at the park.
There is a separate and secure smoking area, so we recommend it for smokers.
What's interesting
This busy curry soup shop has been popular ever since it opened, In addition to its curry soup, its original sweets are well worth the visit.
Piquant Sapporo Ekimae
Spot name(Ja)

ピカンティ札幌駅前店
Address

Aoyama building 1F Kita 2 Jo Nishi 1-8 Chuo-ku Sapporo-city Hokkaido Click th
Address(Ja)

北海道札幌市中央区北2条西1丁目8 青山ビル1階
Telephone

011-271-3900
Price

1000 yen
Open

11:00 a.m.to 10:30 p.m. (Last order 10:00 p.m.)
Close

Wednesday
Parking lot

Without
Note