Soup Curry Kufuu uses a delicious combination of kelp and spices!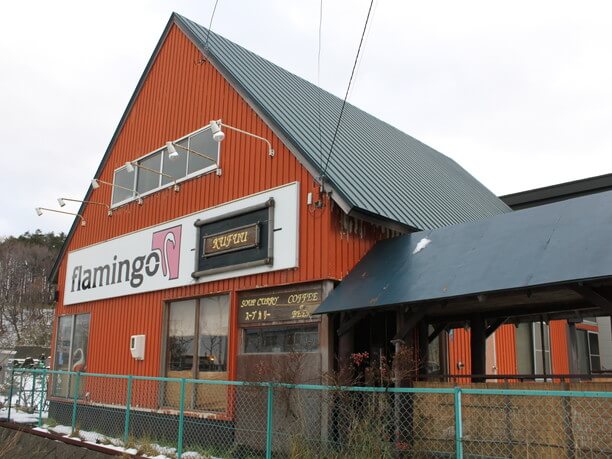 Soup Curry Kufuu is located in Hoshino-town, in Otaru city (小樽市星野町) next to the boundary of Sapporo. It is on State Highway No. 5. In the summer people who come from Otaru city to the beach and in the winter people who are coming from Sapporo to ski visit this curry shop.
This A-frame shaped restaurant has a sign which is hard to see, but people still find it. If you're coming from the JR Hoshimi station, it is a short walk from the train station.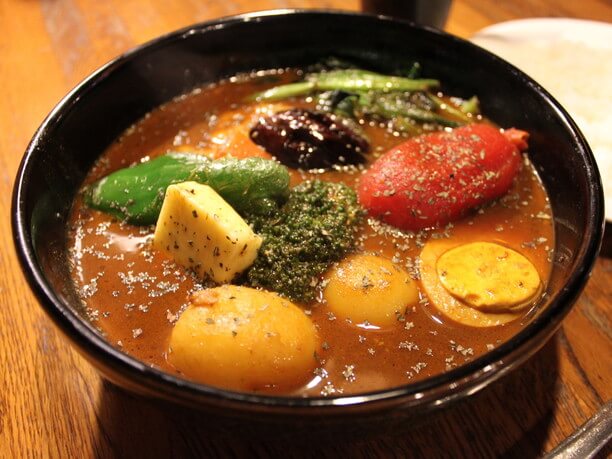 The secret recipe for this shops curry soup is their use of seaweed stalk. It makes for a great base for their soup. There are a lot of curry restaurants in Hokkaido, but their original taste sets it apart and they have many returning customers. The comfortable atmosphere and unique taste have made them very popular.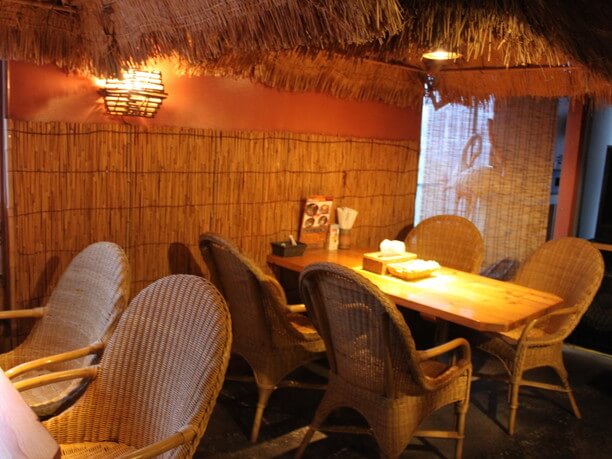 You can imagine ocean sounds in the shops relaxing beach design.
They cook their chicken so long even the even the bones are soft! Their menu hasn't changed since it opened in 2001. They offer four types of curry soup: curry chicken, vegetable curry, mixed curry, and soup with rice. You can also choose from 8 levels of spicy hotness with a variety of toppings.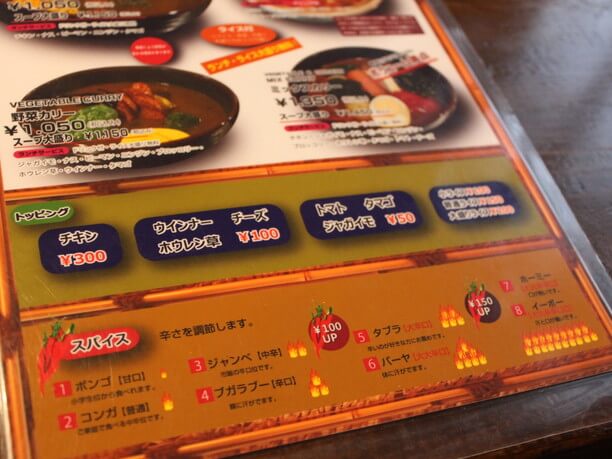 The "Mixed Curry" (1350 yen) comes with chicken, potatoes, eggplant, peppers, carrots, broccoli, tomatoes, spinach, boiled egg, and thick-sliced cheese.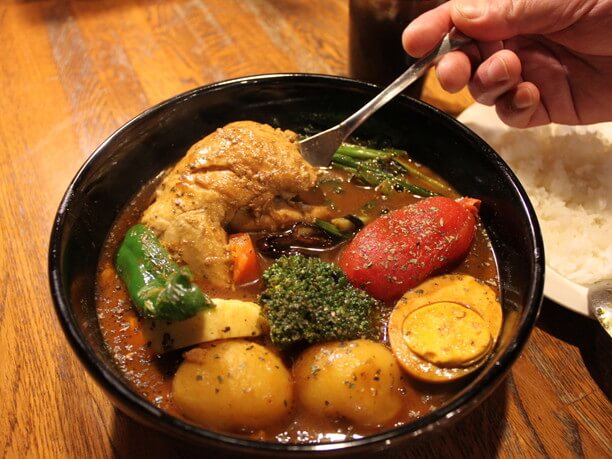 The chicken is so tender that even when you gently pick it up it will crumble!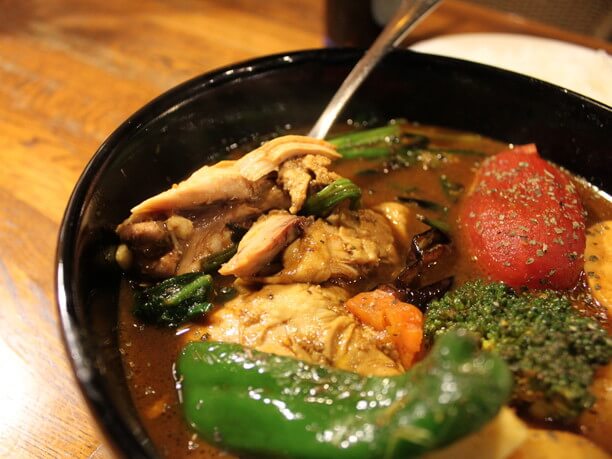 They make it so soft by marinating the chicken for one day in their special seasoning then cook it in a pressure cooker. They start with a golden brown onion soup and add chicken, vegetables, and Japanese kelp then cook it for half a day in 10 kinds of spices.
It has a light soup base with a concentrated flavor.

They turned their snowboard shop into a curry shop!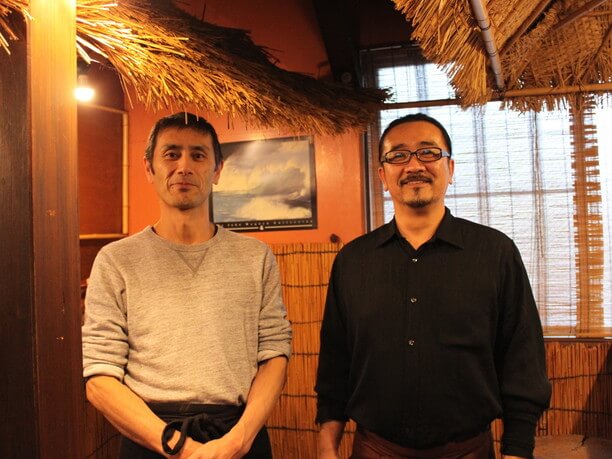 Toru Ohtsuki (大槻亨さん) owner (right) and his partner Eiji Iiduka (飯塚栄二) previously operated a snowboard shop at the foot of Mt. Teine in Hokkaido. It was known as the first snowboard shop North of Tokyo. They provided services to many customers but decided to set up a curry soup shop instead. They explored other curry shops in their research then created their own style of curry soup.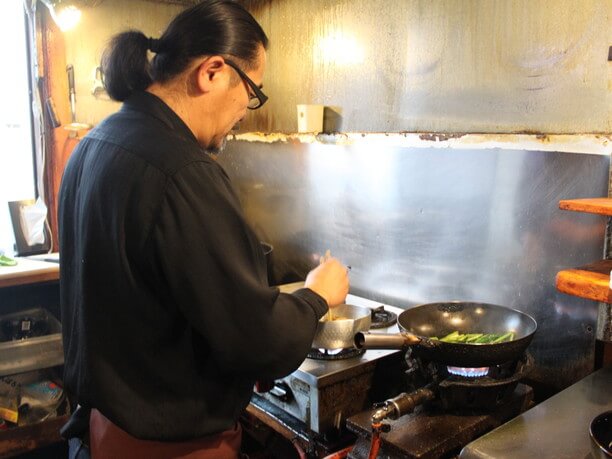 Mr. Otsuki's special "secret" is that he cooks his spinach with butter to give it its rich taste. "We just made what tasted good to us and served that to the customers. We are really surprised it has lasted this long, nearly 15 years!" This simple idea created a lot of fans.
It feels like a tropical resort!
Their unique interior is left over from the snowboard shop. It has a feeling of being outside at the beach!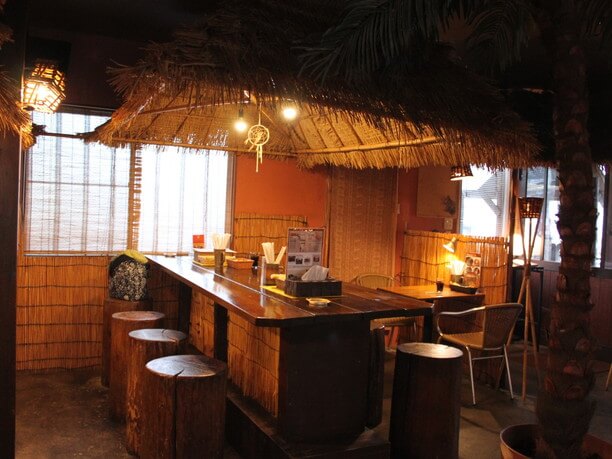 The interior is the creation of Mr. Otsuki and Mr. Iizuka. They have a stage with great speakers, drums and other musical instruments.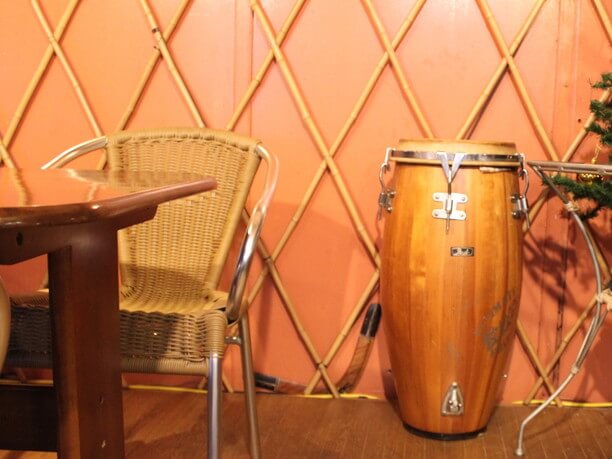 Actually Mr.Otsuki and his companions formed a reggae band and the shop hosts their live music a few times in the year. They closed the restaurant after lunch and perform music the rest of the day. After the performance, they would all enjoy soup curry. You can enjoy this Hoshino town restaurant's tropical atmosphere and delicious curry year-round!
Smart tip
At lunchtime, (to 2:30 PM) your curry soup order includes a drink (coffee, tea, orange juice, Apple juice, or iced coffee) and you can get even get a bigger order of rice at no extra cost.
The menu has a mild "kids curry" (small 150 yen, large 200 yen). So, adults can relax enjoying a hot curry while their children enjoy a milder version!
Their curry with soft rice is served in a clay pot. It keeps its heat well so we recommend it on a cold day. They have smaller servings available for (780 yen).
What's interesting
Their buttered spinach goes well with the soup. Even If you order the chicken we recommend their spinach topping. Toasted sausage is also a popular topping that they serve.
Soup Curry Kufuu
Spot name(Ja)

スープカリークフウ
Address

22-1 Hoshino town Otaru-city Hokkaido
Address(Ja)

北海道小樽市星野町22-1
Telephone

0134-62-0202
Price

1000-2000 yen average budget
Open

11:30a.m. to 3:00p.m., 5:30p.m. to 9:00p.m. (Monday ~ Friday)
11:30 a.m. while soup lasts (Saturday, Sunday and holidays)
Close

Tuesday
Parking lot

Available (free)