Enjoy Ishikari Nabe with some nice sake at Kuramoto Chokuei Chitosetsuru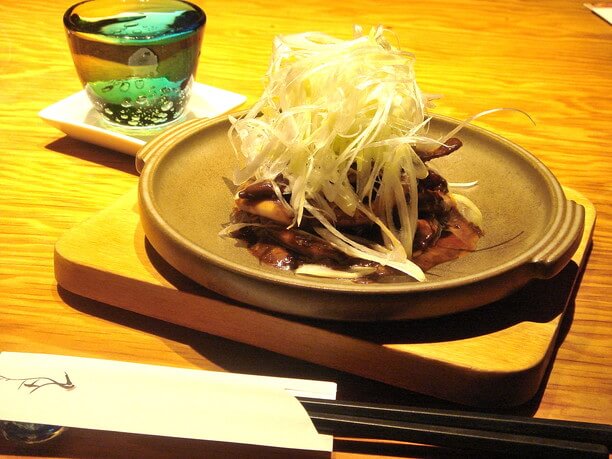 In addition to providing dishes typical of the Hokkaido region using ingredients from Hokkaido this restaurant brews its own sake called Chitosetsuru (千歳鶴). Both their limited edition sake and local sake goes great with meals.
Offering culinary arts at an affordable price point. This Japanese restaurant is an ideal place to escape the hustle and bustle of the Susukino and enjoy a relaxing drink.

Directly connected to a Sapporo sake brewery.
They have been a Japanese sake brewery shop since 1872. They make their sake with water from the Toyohira River. It comes from a water supply 150 yards underground. Their sake is carefully brewed by hand and is full of the flavors of good rice and water. Their personal sake, as well as their Hokkaido regional sakes are loved by many people.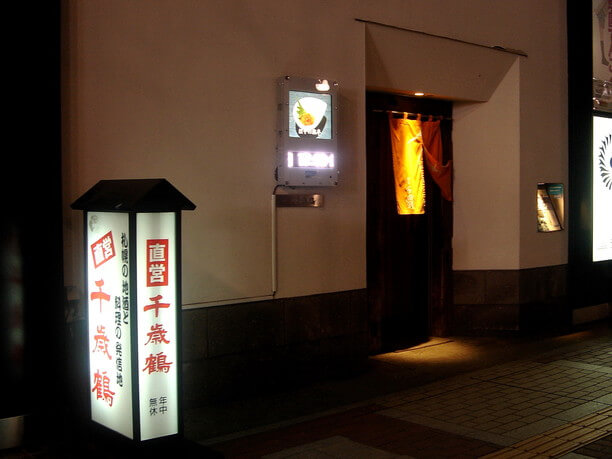 Connected directly to the brewery shop you can enjoy their good sake and wine with good Japanese food.
You can Feel the Hokkaido local food culture in their seafood nabe!
Crafted from fresh Hokkaido ingredients, nabe is a famous local meal of miso sauce with salmon.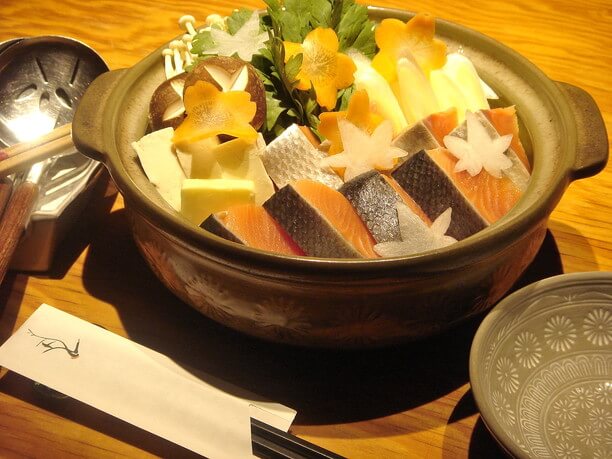 Ishikari-nabe (2 servings) 1400 yen. Made using and Kotobuki miso and butter that combines elegance with a rich taste. The Salmon is so tender that it crumbles in your mouth.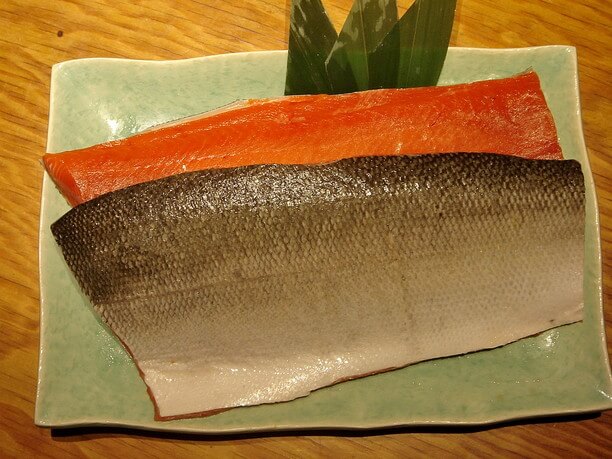 Their nabe uses salmon that is caught at a port city situated at the base of the Shiretoko peninsula. The city, Rausu, is the nation's leading salmon producer. The area produces large and high-quality salmon that is greatly appreciated. It goes well with miso. The nabe contains plenty of vegetables, such as cabbage, spring onions, shiitake mushrooms. Combined with the miso, the salmon and vegetables create a deep flavor that is delightful.
Enjoying the food culture in the area is one of the best parts of the trip.
Plenty of sake & shochu to drink!
Since this is a Brewery you can enjoy a lot of different, delicious sake. The best way is to order the Sapporo sake sampler set (1200 yen) where you can try 3 different kinds of sake. Three types we really recommend are: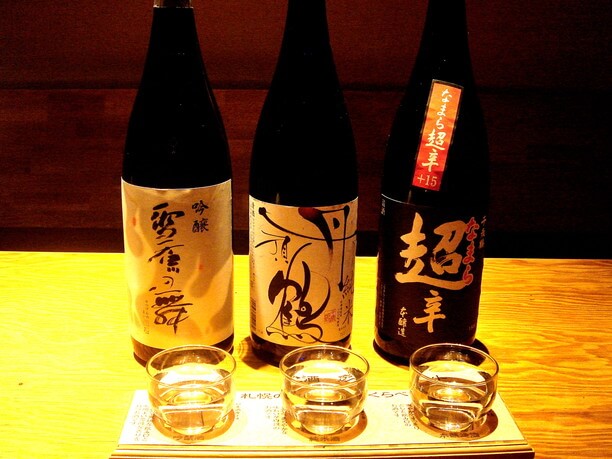 'Yukiharanomai (it smells nice and has a light taste), Tanchotsuru (it has a strong taste and goes well with food), Namarachokara (it has a really strong sour taste).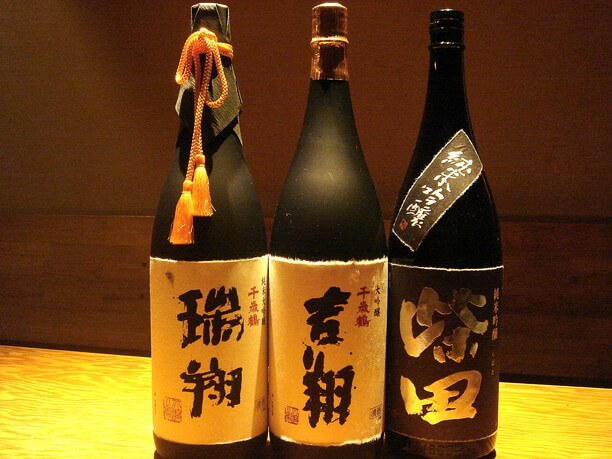 Of the many sakes available we also recommend: Zuishou ( it is some of the highest quality sake from the Chitsetsu brewery) with a really delicate taste, Kissho, (this is the brewery's speciality). They use it to compete in the sake competitions and it consistently ranks at the top, Shibata (this is a dry sake that goes well with your meal).
All in all they serve about 20 kinds of Japanese sake and various wines.
You should try their high-level sake!
This restaurant is directly connected to their brewery so you can get limited edition sake like Shikami (700 yen).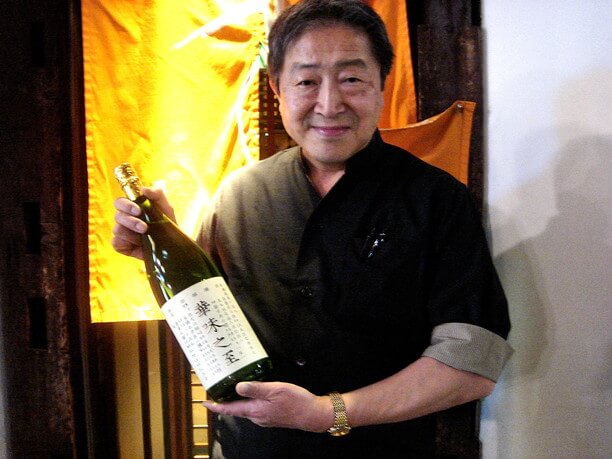 They use the agricultural high school in Yamagata's rice for this sake.
"Kazuyuki Sato (佐藤和幸), a 5th generation master brewer says the scent of this sake is rich and mellow." The owner, Aoki Shigeyuki (青木繁幸) highly recommends it.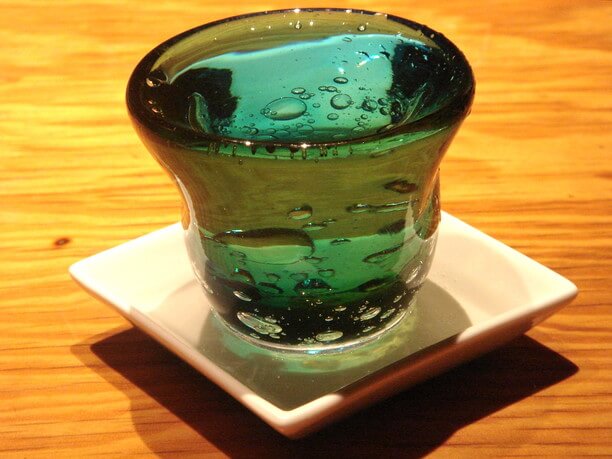 Also recommended is the ginpu sake (590 yen). It is a junmai ginjo sake using rice produced by contract farmers in shintotsukawa-Cho.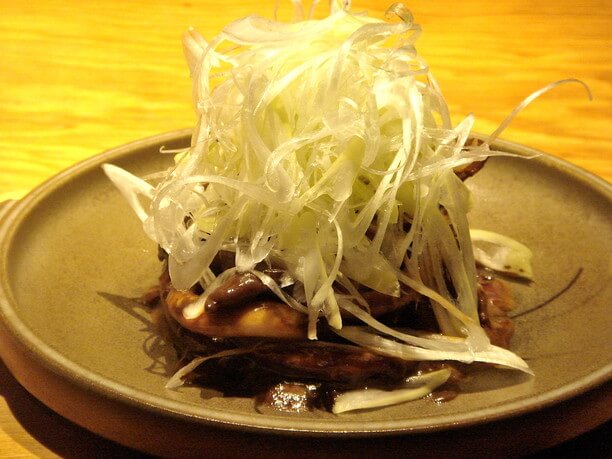 The owner also recommends certain foods to go with your sake.
"How about grilled squid" (660 yen). It is adult squid cooked in Chinese chili sauce. They use the Squid's internal organs and a special bitter tasting sauce. "this sauce tastes great with our sake," says Mr. Aoki
Enjoy foods made with fresh Hokkaido ingredients with the finest liquor in Susukino and enjoy a quiet and luxurious evening!
Smart tip
This Restaurant serves true culinary art in a subdued atmosphere. You can relax and calmly enjoy your meal.
Guests can enjoy many types of sake from the directly connected brewery. If you come in a group order several types and share with each other.
This restaurant is a 5-minute walk from the Susukino subway station.
What's interesting
This place offers a magnificent atmosphere with affordable rates. If you are not used to sake they also have a selection of fruity and easy to drink wine.
Brewers Retail Chitose crane
Spot name(Ja)

蔵元直営千歳鶴
Address

Chome New Susukino 1st floor Minami 5 Jo Nishi 3 Chome Chuo-ku Sapporo-city HokkaidoClick the
Address(Ja)

北海道札幌市中央区南5条西3丁目 ニューススキノビル1階
Telephone

011-531-4788
Price

¥ 4000-5000 Yen
Open

5:00p.m.-12:00a.m. (Last order at 11:30p.m.) Closed on Sundays and public holidays at 11:00p.m. (Last order at 10:30p.m.)
Close

Year-end and new year holidays (12/31-1/4)
Parking lot

Without
Note