Comedy venue, aquarium, museum! Exciting places for family vacations! 9 best places to visit in Osaka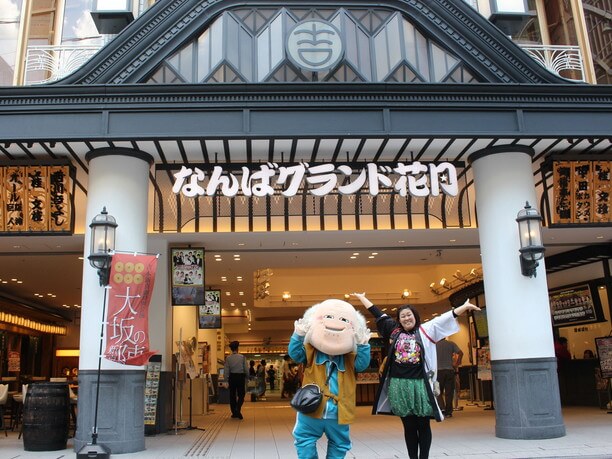 A city where you find yourself always excited: Osaka. Osaka has a lot of fun places perfect for families and great tourist destinations! Children are definitely going to have so much fun at places like the Osaka Aquarium Kaiyukan or the Tennoji Zoo. There are great restaurants and eating-places to enjoy Osaka gourmet foods for grown-ups, too.
We are going to show you tourist spots for family vacations that seize hold of your heart.

Tourist spots perfect for everyone in your family will enjoy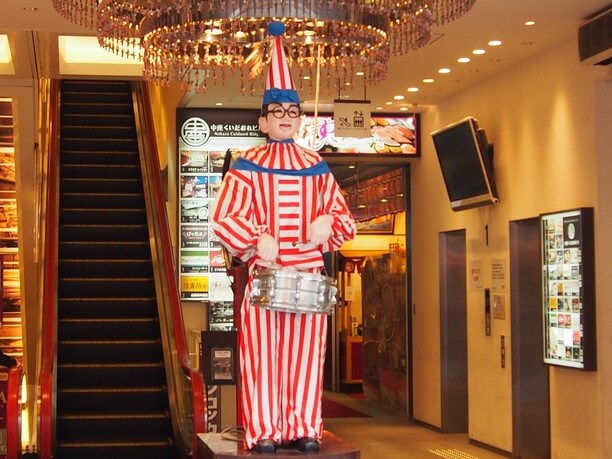 The tourists' favorite, the Cuidaore Taro doll welcomes you at the Nakaza Cui-daore Building. On the first floor, there is "Naniwa Meibutsu, Ichibiri-an Dotonbori" that is well-known for being the best Osaka souvenir shop with a variety of items. Being true to its name of "Cuidaore (extravagance in food), it has an array of great restaurants where you can enjoy the Osaka gourmet foods. On the basement, there is "Dotonbori ZAZA" where you can enjoy live comedy entertainment at the price of one coin (500yen). This is the perfect place for everyone in the family and is an entertainment building just like a fun toy box.

【Spot name】Nakaza Cui-daore Bldg.
【Address】7-21 1-Chome Dotonbori Chuo-Ku Osaka-City, Osaka
【Business hours】varies in each shop
For a family vacation! The Osaka Aquarium Kaiyukan is the world's largest aquarium where whale sharks live.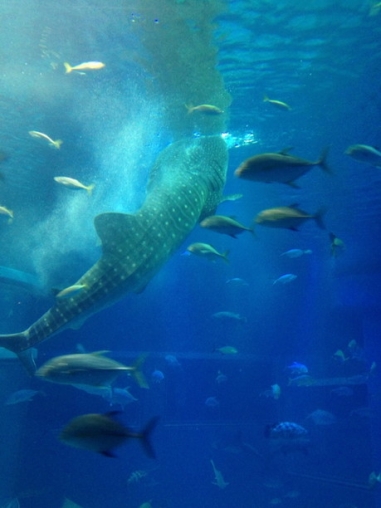 The Tenpozan area in Osaka has the world's largest aquarium, the "Kaiyukan." Its fourteen (14) tanks have about 30,000 sea creatures and 620 different kinds of marine animals are swimming around. You can see a wide variety of creatures from something you've seen before to something very rare! Their mammoth tank holds 5400 tons of water and the Kayukan famous whale shark swimming in the tank is breathtakingly impressive. The sharks' and whale sharks' "feeding time" is so dynamic and fun to watch even for adults.
The "Interactive Exhibit" area offers close interaction with marine animals and you might forget you are in the middle of a big city. There is a Ferris wheel outside of the aquarium, too. Children never get bored here and it is a great place for a family vacation.

【Spot name】Kaiyukan
【Address】1-1-10 Kaigandori, Minato-Ku, Osaka-City, Osaka
【Business hours】9:30 a.m. ~ 8:00 p.m. (admission by 1 hour before closing time)
Osaka's Oasis! Tennoji Zoo has 200 different kinds of marine animals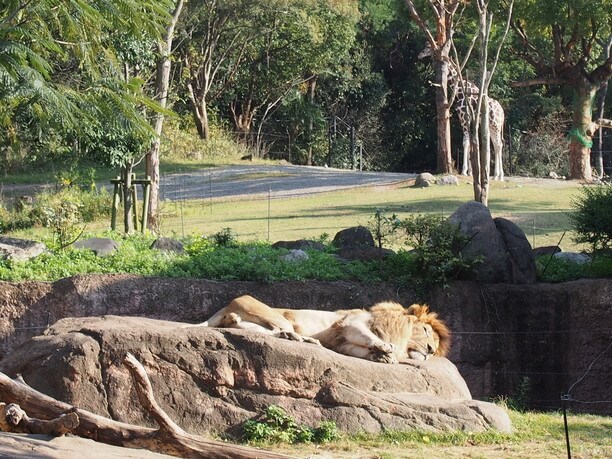 The Tennoji Zoo enjoyed its 100th year anniversary. It is very close to stations and convenient. It is an ideal place for families to escape from the hustle and bustle of the city, and take a deep breath and relax. Children's all-time favorite animals such as lions and tigers, and the African Savanna Zone, and much more to see! Abeno Harukus and the Tsutenkaku tower are close-by and it is easy to go places. It is a family friendly tourist spot.

【Spot name】Tennoji Zoo
【Address】1-108 Chausuyama-Cho Tennoji-Ku Osaka-City Osaka
【Business hours】9:30 a.m. ~ 5 p.m. (admission by 4:00 p.m.)(Sat. Sun. and holidays in May ~ September : open till 6:00 p.m.admission by 5:00 p.m.)
Laughter is the universal language!! Nanba Grand Kagetsu Theater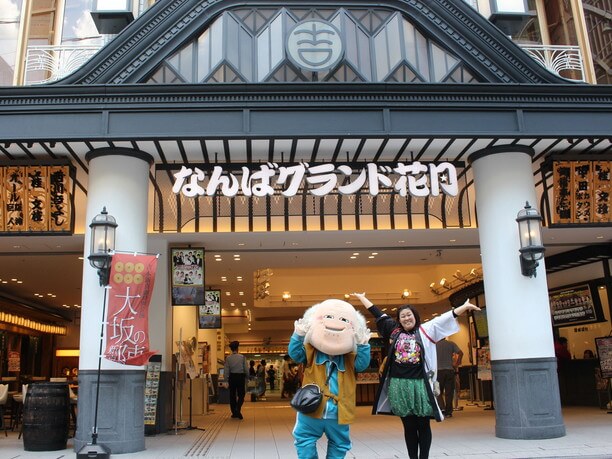 "Nanba Grand Kagetsu Theater" celebrated its 100th year anniversary as a mecca for the comedian-to-be. Everyday you can enjoy live performances of Shin-Kigeki (New Comedy), manzai (a two-man comedy act), and rakugo (traditional comic storytelling) at the theater.
The comedians live for each moment on the stage, and the feelings you get from the live performances when the comedians bring the house down will give you goose bumps.
Especially Shin-Kigeki attracts people visiting Osaka on their family vacation, and the delighted audience roars with laughter. In the theater, there are a lot of places to eat, too. The gift shop is packed with funny and interesting "Osaka" gifts and items, and you'll have the giggles when you see them.
A very friendly mascot wearing a comedian's suit is at the entrance, and you don't want to miss taking a picture with the mascot.

【Spot name】Nanba Grand Kagetsu Theater
【Address】11-6 Sennichi-mae Nanba Chuo-Ku Osaka-City Osaka
【Business hours】varies depending on the performance
Home of instant ramen noodles that changed history of world's food culture forever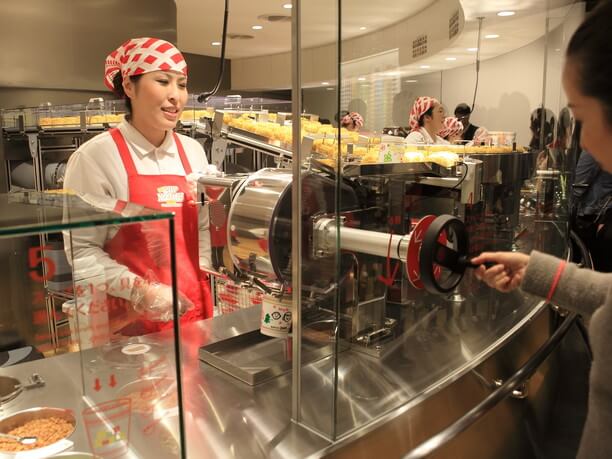 The world's first instant ramen noodles "Chicken Ramen" were created in Osaka and there is an interactive food culture museum "Momofuku Ando Instant Ramen Museum." This is the only tourist spot where you can learn the history of instant ramen from the exhibits and have a firsthand experience of the production process. You can make the only one cup-noodle in the world at the "Cup Noodle Factory." You choose your favorite ingredients and soup flavor, make your own cup noodle, and take it home with you. It is going to be a great souvenir. If you visit with your family, each member can make a different flavor cup noodle! You can't wait to get home to pour hot water in the cup and eat it !?

【Spot name】Momofuku Ando Instant Ramen Museum
【Address】8-25 Masumi-Cho Ikeda-City Osaka
【Business hours】9:30 a.m. ~ 4:00 p.m. (admission by 3:30 p.m.)
Highest tourist spot in Japan! New must-see landmark for family vacationers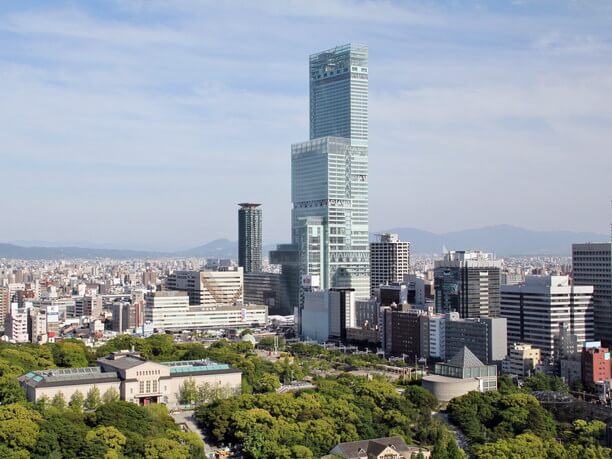 Opened in 2014, "Abeno Harukas" is one of the best high-rise complexes in Osaka. There are 44 (forty four) restaurants, an art museum and a hotel, including Abeno Harukas Kintetsu department store, and you can spend a whole day here. The observation deck "Harukas 300" on the top floor offers a 360 degree breathtaking panoramic view and you can see throughout the Kansai area. It is well enjoying a view from a height of 300 (three hundred) meters even for Osaka people who love somewhere high. Abeno Hakukas is very close to JR, subway and Kintetsu stations, and very convenient. It is a new hub of Oasaka and also a great place to buy souvenirs. It gives everyone in your family a wide variety of activities and experiences.

【Spot name】Abeno Harukas
【Address】1-1-43 Abenosuji Abeno-Ku Osaka-City Osaka
【Business hours】Abeno Harukas 9:00 a.m. ~ 10:00 p.m.
【Holidays】none
Great education for children! Time travel with your family to see the good old days' townscape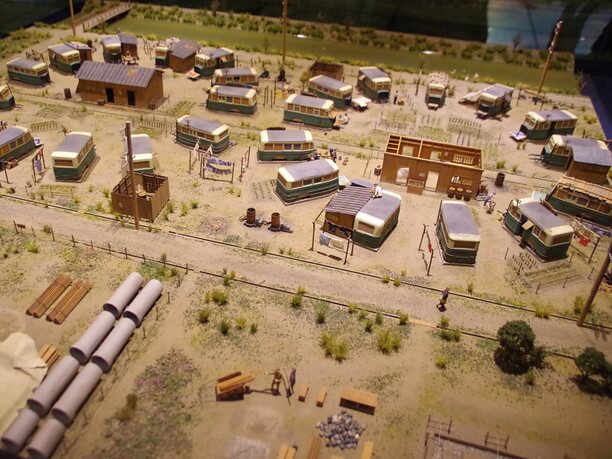 A lot of people visit "Osaka Museum of Housing and Living" –sometimes as many as 3000 (three thousand) people a day, and 500,000 a year. It is surprising to know that a half of the visitors are from other countries. Not only parents and the children but also families of three generation will enjoy this museum. On the 8th floors, you'll learn about Osaka of Meiji(1868-1912), Taisho(1912-1926), and Showa(1926-1989) eras. The highlight is Kimono-trying-on-experience! Walking around in a kimono in the good old days' townscape is going to make your trip unique and different. It is in the Tenjinbashi-tsuji Shopping Street. How about strolling around the shops and restaurants and checking out Osaka 's great gourmet foods, too?

【Spot name】Osaka Museum of Housing and Living
【Address】6-4-20 Tenjinbashi Kita-Ku, 8th floor, Osaka-City Osaka
【Business hours】10:00 a.m. ~ 5:00 p.m. (admission by 4:30 p.m.)
Everyone in the family, spending time together in nature. What are we going to do?Expo '70 Commemorative Park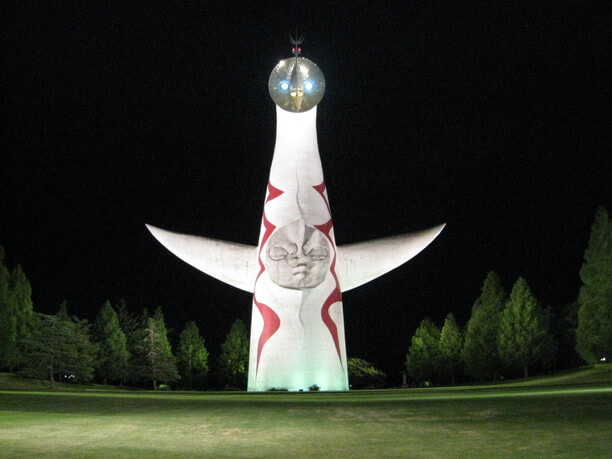 This extensive park of 260 hectares used to be a site for Osaka Expo "E XPO '70" in 1970.
Artist Mr. Taro Okamoto's art work "Tower of the Sun" was the symbol of the expo. The park is full of nature and has Japanese Garden, and Natural & Cultural Garden in it. It also has museums where you can learn cultures. Interesting events are held in the wide event space, and it has athletic facilities, BBQ places and hot springs. The mega shopping mall "EXPOCITY" recently opened in front of the station. This is the area where everyone in the family can enjoy and spend a whole day.

【Spot name】Expo '70 Commemorative Park
【Address】Senri-Banpaku-Koen Suita-City Osaka
【Business hours】9:30 a.m. ~ 5:00 p.m. (admission by 4:30 p.m.)Open through April 1 ~ Golden Week & October 1st ~ November 30th

The best part of a family vacation is that you will have a special bonding time with your family. You can play hard in the park and the zoo, and you will have a special conversation in the Osaka Museum of Housing and Living. Everyone in your family might want to go to a different place, but hopefully a "family conference" will solve the problem!