Shop for Ishigaki jima island's special handmade souvenirs at Yaeyama's Teshigotoya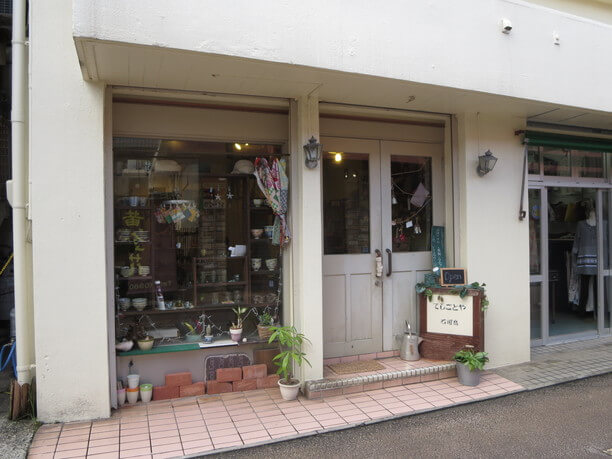 Teshigotoya is located near the entrance of Yugurena-Mall where tourists gather most on Ishigaki-jima Island. The shop is filled with original handmade works. Works that express the essence of Yaeyama's nature and tradition are arranged tightly in the shop interior. You will be able to find a souvenir that you feel is perfect for you!

A great shop that created a handmade goods tradition on Ishigaki jima island!
Store owner Keisuke Mizukami (水上恵介さん), and his wife Yuki (有紀さん) came from the Fukuoka prefecture to pursue their hobby of scuba diving. Also, Yuki wanted to further her work as a dressmaker and in 2005 they opened a shop. It developed into a place where other people who created handmade goods gathered, and started to display their work as well. The news spread throughout the circle of artists in and around the island and soon there was a wide range of works from cloth accessories to pottery, glass crafts, accessories, etc.. The shop became very popular!
All the works in the shop are unique works that Mr. Mizukami and his wife love!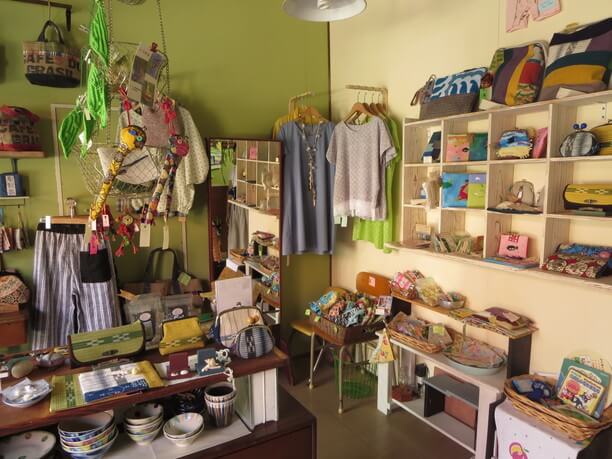 Mr. and Mrs. Mizukami work is still ongoing! Together they create wonderful new work that they add to the shop every day!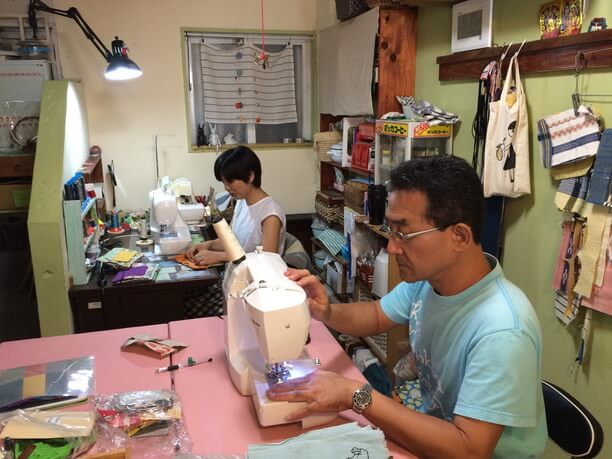 The original Yaeyama work should not be missed!
Minsa weaving is Yaeyama's representative traditional craft. It is Yaeyama dyed yarn made from plants native to Yaeyama, hand-woven into cotton fabric. "Minsa weaving can create products that are popular with people in a wide age range and Teshigotoya plans to continues to display these original works!
On the left in the photo is one of Mr. Naka's wallets. His wallet matches Minsa weaving with elegant shades of the colors of plants and grasses. On the right is an item made with Minsa weave, using a classic Japanese fabric. Both are works that are pleasing as a gift for those who care about themselves.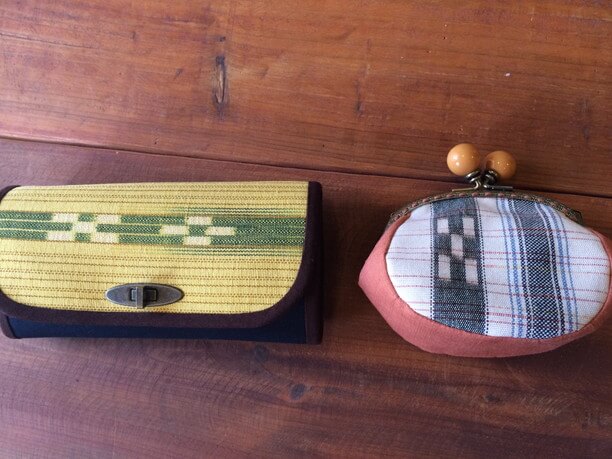 Yuki also makes characters that are very popular. "Milk sama Gamaguchi" (left) and "Ohoho Gamaguchi" (right) have a lot of Yaeyama fans. They typically sell the same day she puts them in the shop! Because Yuki finishes each one carefully by hand, each has its own fun expression!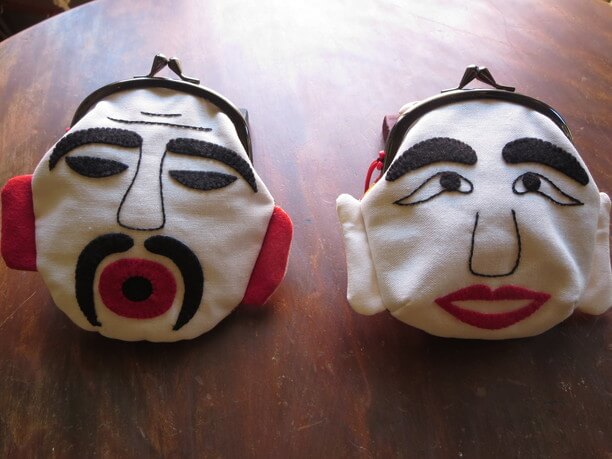 Yaeyama characters are cute!
"Guunin" brooches expressing Yaeyama creatures and familiar Yaeyama characters are made of wool. The tropical fish that inhabit the ocean nearby are reproduced into cute soft fish brooches!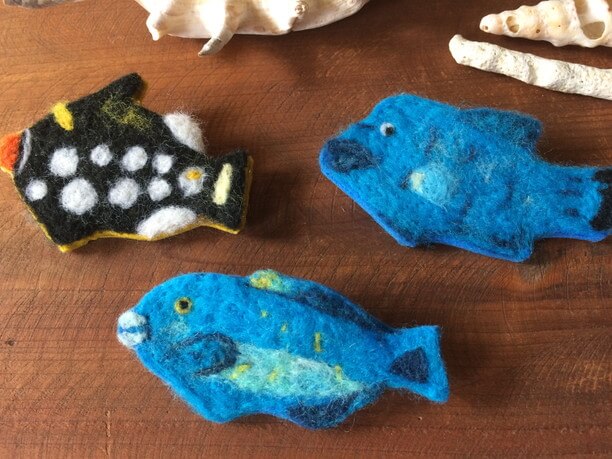 There are also brooches of a wool of "Shima Kaisha" (familiar Yaeyama character) made by Mr. and Mrs Angama (upper right), From the bottom left, are the popular island's Animals, Shirohara Quinna, Goat, Akashoubin.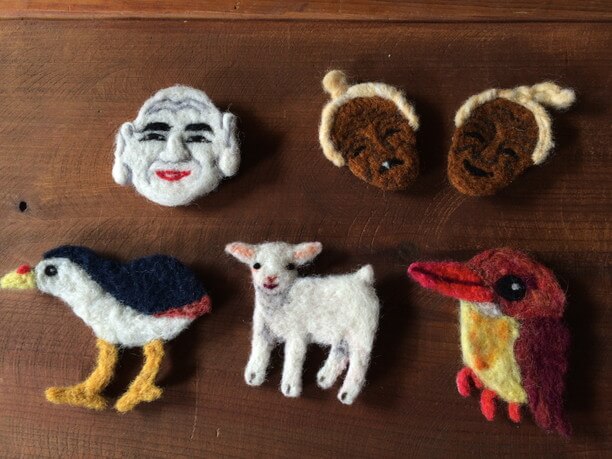 Also, the work of "Hamako" are displayed in the shop. There are many fans of these cute animals representing animals living in Yaeyama.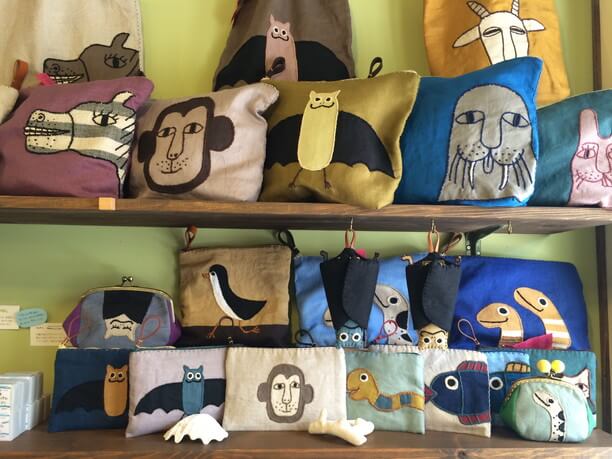 One of the most popular are the designs with the Yaeyama flying bat!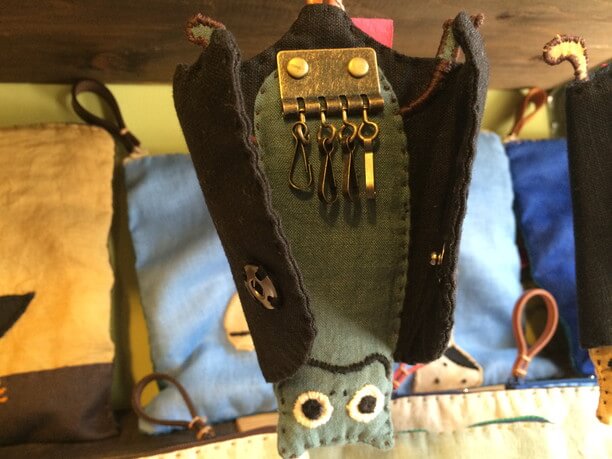 Also, popular are the works of "Pansy-Pansy 62. They display a great design sense, with the Yaeyama characters that seems to start moving. In the photo is a wild cute dragon fruit pouch (bottom), a coin purse (upper right) expressing surreal Iriomote yamaneko cat with embroidery and paint, and Mongara kawahagi fish card holder (upper left)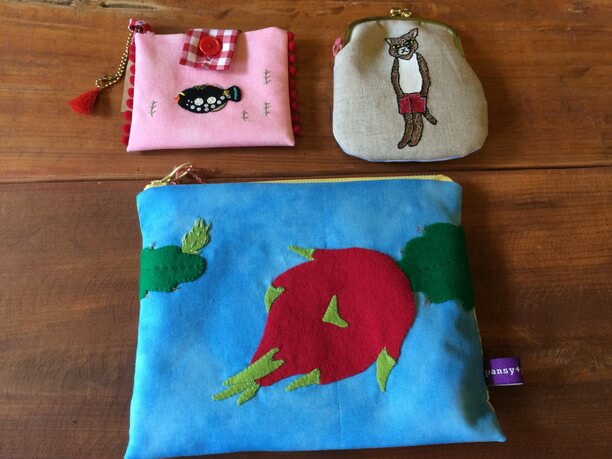 There are even items that depict the landscape of Yaeyama.
"Shima no shizuku pierced earrings" and bracelet that displays a starfish in the colors reminiscent of the changing sky of this island by "Koharu."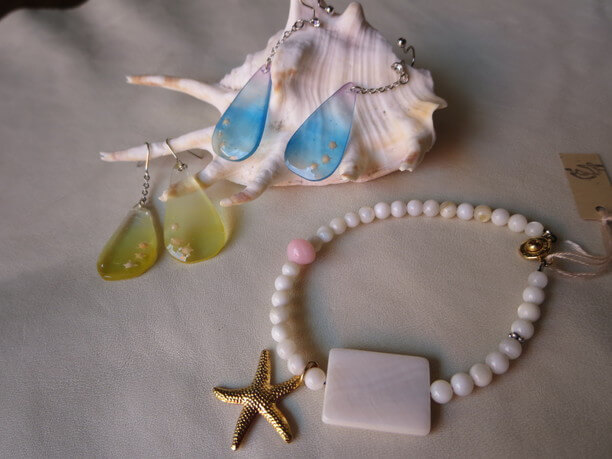 Below is the work of "Last Phrase." They are gem accessories that are made with small seashells and natural stones.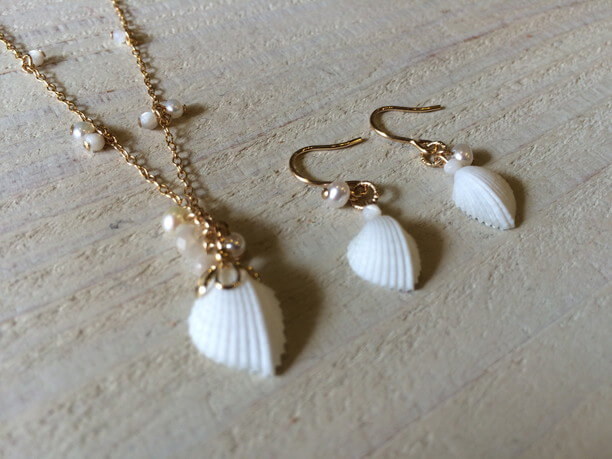 Below are drops made with recycled glass by "Blown Glass Studio Amber." They can be aligned on the window or be used as a paperweight on the desk.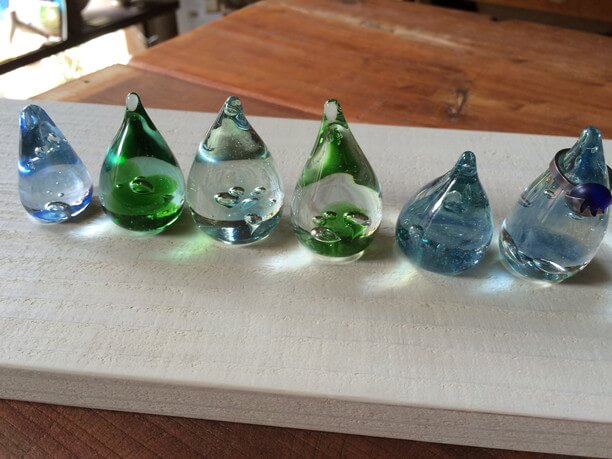 Below are works from the "Komu Kobo Studio" (pottery). These works express the overlapping of light with popular gentle shades of color.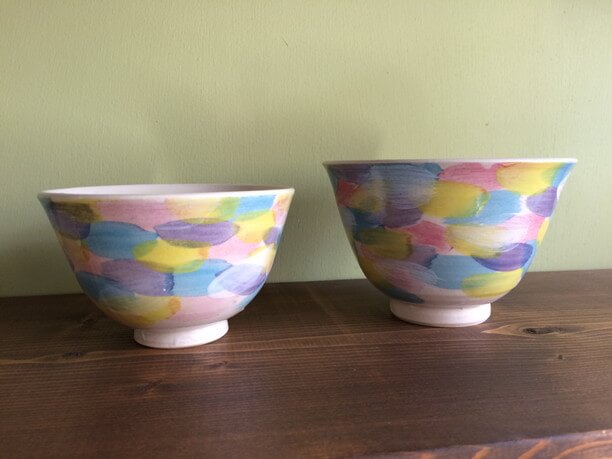 There are still plenty of other works to see inside the shop! Please come and visit and take a closer look!
The must-see big event "Tedukuri Ichi" is held every December!
This annual event is sponsored by Mr. and Mrs. Mizukami. It is a big event where artists from various island stores all come together. "If the artists interact with a lot of other artists and customers and get inspired, it will lead to a new level of work," says Mr Mizukami. The first time it was held as a one day event but now it is held for two days. The number of stores participating also increases year by year. It has become established as an island's beloved event.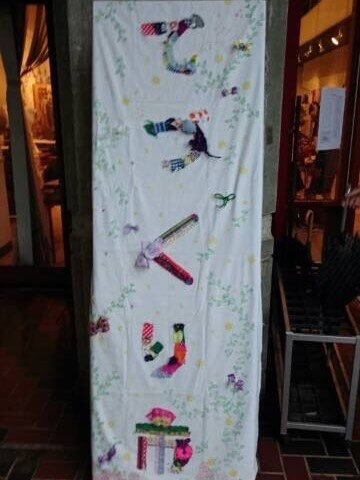 Also, there is the "Ya Kimono Ichi" event held at the same time each year, where popular pottery on the island is gathered together. Many tourists as well as the islanders look forward to this day. This year it was scheduled to be held at Ishigaki City Municipal House Exhibition Hall for two days on Saturday, December 10th (Sat) and 11th (Sunday).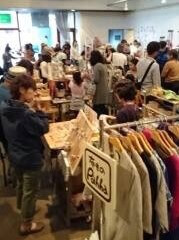 Smart tip
Many of the pieces are one of a kind! So, you should purchase an item immediately if you feel it is something you want! Check both the blog and the facebook page for new product arrival information.
The work of Minsa woven is quite cheap compared with other specialty shop, items. They are attractive in design and easy to use every day.
What's interesting
The more you know about Yaeyama, the more the artist's work will appeal to you! so please visit the store on the final day of your trip. Also, Minsa weaving and Angamas are lucky items, so it would be nice to buy one for yourself or a friend!
Teshigotoya
Spot name(Ja)

てしごとや
Address

North 210-2 1F Okawa Ishigaki-city Okinawa
Address(Ja)

沖縄県石垣市大川210-2-1F 北
Telephone

080-5214-4200
Price

600 yen ~
Open

Around 11:00 a.m. to around 7:00 p.m.
Close

Irregular holiday
Parking lot

None (Paid parking lots available in the vicinity)
Note