Famous Okinawa restaurants seen on TV and in magazines.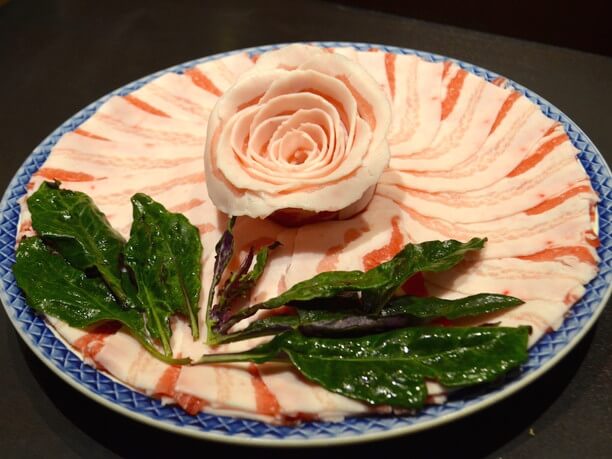 There are many good restaurants in Okinawa, but it is an area where many restaurants open but don't last. I will introduce some super famous restaurants that are getting more and more popular in Okinawa.
Every day you can find something about these restaurants on TV or in a magazine.

A small tempura restaurant that is popular in the media! They Serve tempura for as little as 70 yen!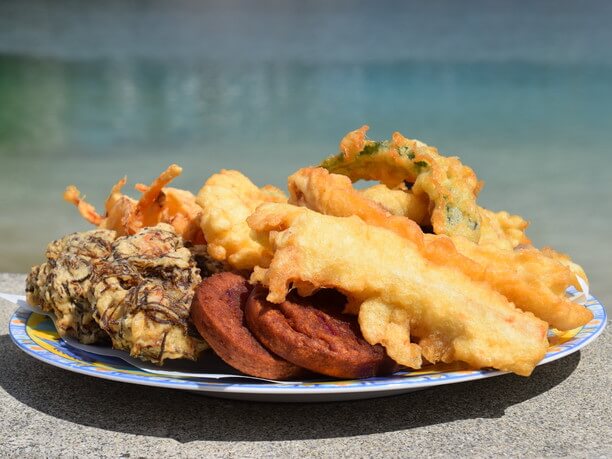 Tempura is considered one of Okinawa's favorite snacks and "Nakamoto fresh fish tempura shop" located in in Nanjo City is one of the most popular places to get it. There is frequently a line of travelers and local regulars. There are always about 15 kinds of tempura at "Nakamoto fresh fish tempura store." They add a lot of eggs and local seafood ingredients to their soft tempura.

【Spot name】Nakamoto fresh fish store in Oku-jima
【Street address】9 Tamagusukuou Nanjo-City Okinawa
【business hours】10 o'clock – 18 o'clock (November – March), ~ 18: 30 (April – October)
6:00 a.m. to 5:00 p.m. (January 1 th)
9:00 a.m. to 5:00 p.m. (January 2 th)
※ Ukui (old Bon Festival) and New Year's Eve are closed at 17:00
【Regular holiday】None * There is temporary closure (2 days of GW, sea god festival, ceremonial occasion)
A restaurant where you can enjoy authentic dumplings!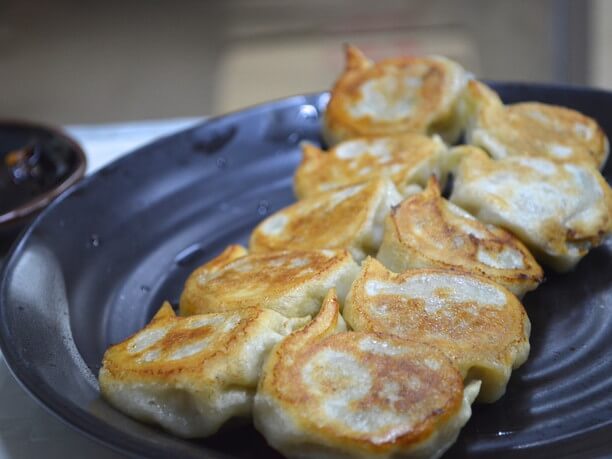 Benriya Sakae-cho is a popular place in the "Sakaecho cho Market." It is very popular among the locals who regularly crowd into this casual shop. It has an atmosphere reminiscent of old Okinawa, that is growing in popularity for tourists from overseas as well as from people around the prefecture. This famous restaurant is famous for its dim sum, and regularly receives high praise from gourmet media sites. The delicious meat juice sauce overflows in your mouth as you bite into one of their delicious roast dumplings. It is served with a homemade rice oil with prawn's that adds to its rich flavor. Both local customers and tourists can be found here enjoying their tempura dishes with beers.

【Spot name】Benriya Sakae-cho
【Street address】388 Asato Naha-city Okinawa
【business hours】6:00 p.m. to 11:00 p.m. (Last order at 11:30 p.m.)
【Regular holiday】Sunday
Spend a pleasant morning at this classic Okinawa sea cafe!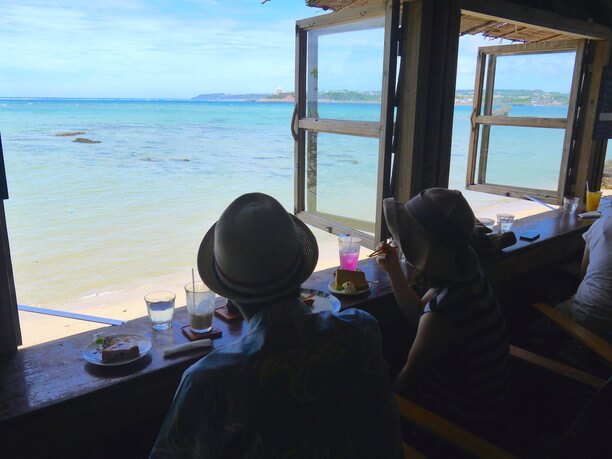 This seafood café is famous for its large open glass window and feeling of openness. Everyone that comes here can't help but smile in Okinawa's comfortable sea breeze. You can take a walk picking up the coral on the beach or soak your feet in the shallow sea right in front of the restaurant. In the shop there are "impression notes" that people write about their experience at this famous spot. It is a wonderful restaurant that serves from the heart.

【Spot name】Beach's teahouse
【Street address】2-1 Tamagusuku Tamagusuku Nanjo-City Okinawa
【business hours】10:00 a.m. to 8:00 p.m. (drink Last order at 7:30 p.m., last food order at 7:00 p.m.), Monday only open until 2:00 p.m.
【Regular holiday】None
Enjoy the best Shabushabu with agu (pork) at this popular restaurant!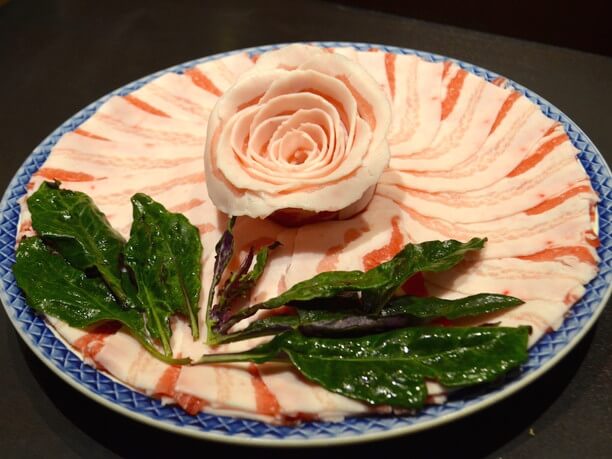 "Matsumoto" is a famous restaurant that makes some of the best shabushabu in Okinawa! It is a popular shop that is filled with reserved guests as soon as it opens. The thorough professionalism of the owner is said by some customers to be almost "too serious." Their meat is carefully selected in order to create the best shabushabu. At the beginning of your meal the staff will explain and demonstrate how to deliciously prepare your shabushabu. Remember how to determine the best time to remove the meat from the heat for the most tasty condition. Their friendly and attentive staff is also a special feature of this restaurant.

【Spot name】Matsumoto
【Street address】Orchid Matsuyama 1F1 1-8-5 Matsuyama Naha-city Okinawa
【business hours】5:00 p.m. to 11:00p.m.
【Regular holiday】Irregular holiday, inquiries in advance
You will appreciate the superb view from this remodeled old house as you enjoy their delicious pizza!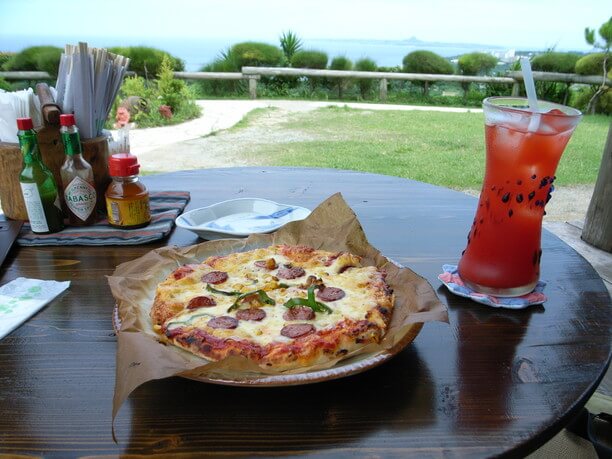 Kajinho attracts many tourists that enjoy their amazing pizza. This cafe is located on the hill on the main street of town. Look for their pizza and coffee on the signboard menu out front. They use Okinawa's foremost spring water from the great forest road and people come from all over Okinawa for their pizza. They are also popular for their acerola raw juice poured into ryukyu glass cup and dessert selections. We recommend sitting in the edge seats that overlook Sesokio Jima Island, Minnashima Island and Ie jima island The scenery at dusk is one of the most beautiful sights in Okinawa.

【Spot name】Kajinhou
【Street address】1153-2 Yamazato Motobu-cho Okinawa
【business hours】11:30 a.m. to 7:00 p.m. (Last order at 6:30)
【Regular holiday】Tuesday Wednesday
With their exquisite big size steaks this well-established store appears frequently on TV.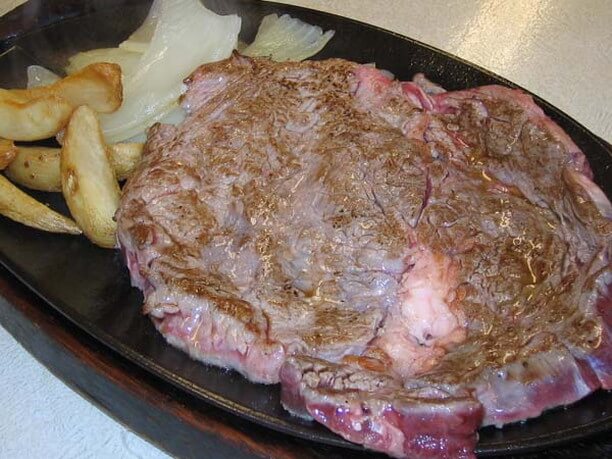 The Jackie Steakhouse is crowded with customers from opening to late night. It is a popular restaurant in Naha City. We recommended the tenderloin steak. You can choose the size you want and have it for a cheap price that is unique in Okinawa. First try the taste of the meat without the sauce. Then if you want to season it, you may try it with soy sauce or mustard. Jackie steakhouse is a popular spot for celebrities and professional baseball players. It is definitely a place whose name will come up when talking about a great steak dinner in Okinawa. Enjoy the traffic light that indicates your wait time.

【Spot name】Jackie Steak House
【Street address】1-7-3 Nishi Naha-city Okinawa
【business hours】11:00 a.m. to 1:30 a.m. (Last order at 1:00 a.m.)
【Regular holiday】January 1, Lunar July 15 (Ukay only)