A summary of the best trendy confectionery loved in Okinawa Prefecture for souvenirs!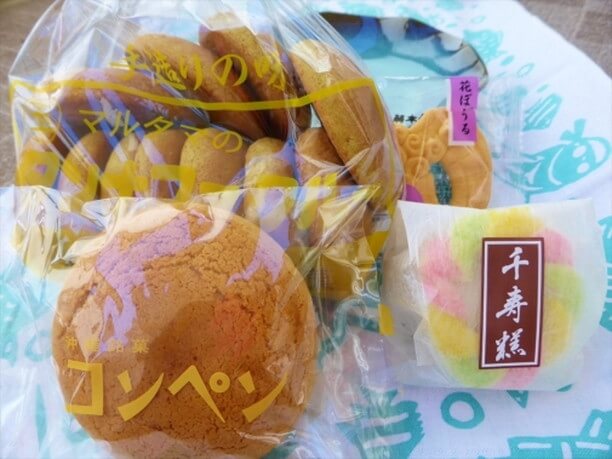 There are many sweets unique to Okinawa. When speaking of Okinawa's leading sweets, I think of Chinsukou and Sata Andagi. But recently there are many other sweets that Okinawa citizens love as well. You can purchase them at a reasonable price, so they are also good for souvenirs!

Okinawa's classic snacks loved at home.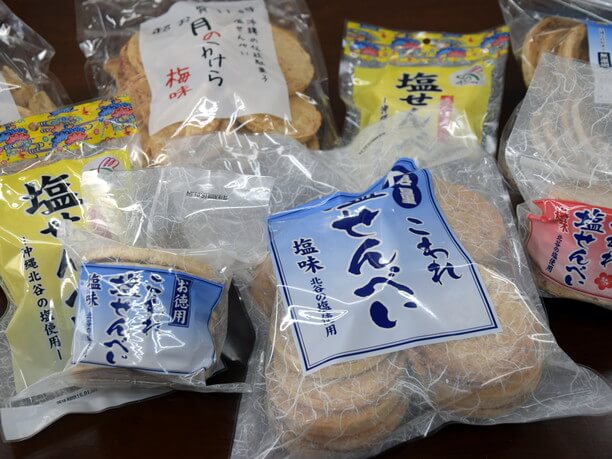 Round wheat salt crackers are familiar classic snacks that became popular in Okinawa after the war. They come in various flavors depending on the manufacturer. Some have a soft texture and others have a strong oily taste. Because it is a simple product that people don't tire of eating it makes a good snack. And since it can be purchased at a cheap price of around 100 yen per bag, it is also ideal for souvenirs.

【Spot name】Salt crackers
Widely loved dried plum candy is popular in Okinawa!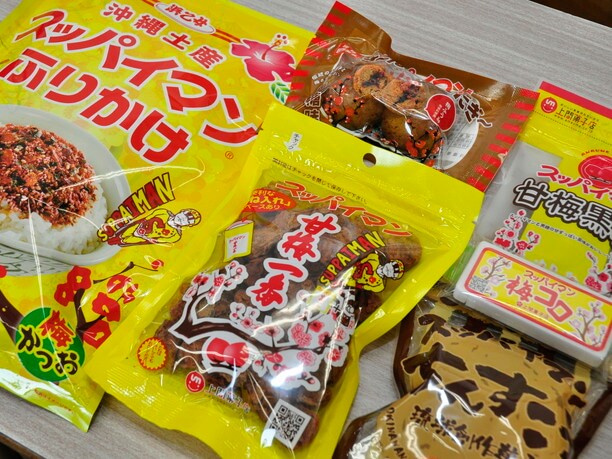 Suppai man is always available in supermarkets and shops in the prefecture. It is a sweet of dried plums that is widely loved in Okinawa. You can even observe the process of making suppi man at a factory in the Tomigusuku city located in southern part of the main island of Okinawa. The Factory tour of about 30 minutes is also recommended for family travel. You can get a voucher for a souvenir as a benefit of the factory tour. In the shop, they also have various suppi man series products. You can purchase sweets that you can only get here at an affordable price.

【Spot name】Suppai man
Let's look at a traditional Okinawa confectionery!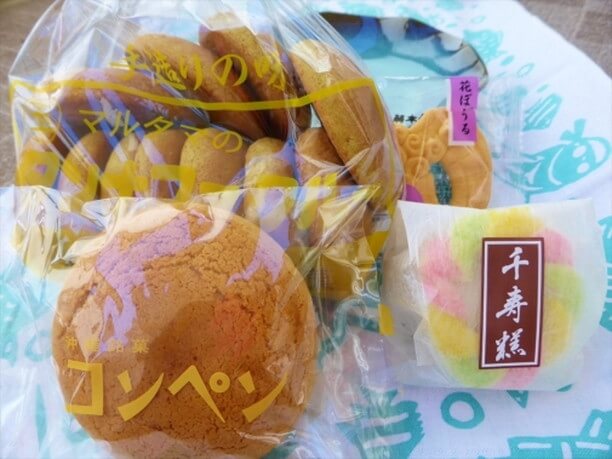 There are many traditional Okinawa confections that people have become familiar with. Kunpen for example, was used for offering to the Chinese emperor during the Kingdom era. It is a baked sweet made of sesame and peanut bean paste. This popular sweet was once only eaten in Okinawa during a special celebration. Tanna Fakuru, which is rich in brown sugar, is also a common sweet. It is one of the prefecture's favorite, and often served with butter.
If you look in a small shop in one of the city's markets you can find these sweets that have long been loved by the citizens of Okinawa!

【Spot name】Traditional confectionery
All of the reasonably priced sweets are recommended items!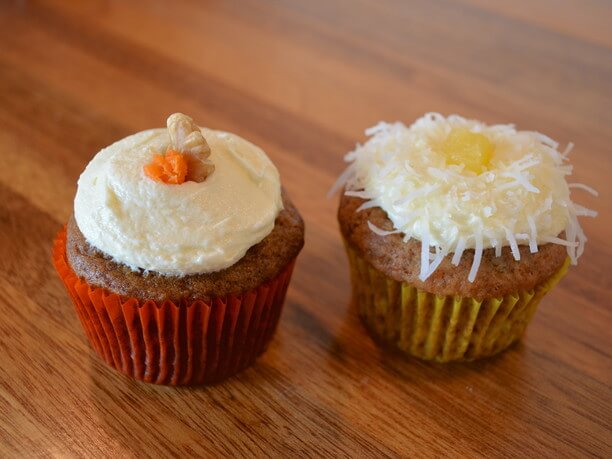 The Kino store is a confectionery shop making baked confectionery in a quiet village surrounded by sugar cane fields. The popular lemon cakes and German cakes in Okinawa, guava muffins using local Guava, Humming Bird using Okinawa pineapple, are all recommended items. The prices are very reasonable!
They make great souvenirs and can also be shipped frozen by air!
Some of these sweets are out of stock by noon, so it is a good idea to visit as soon as possible!

【Spot name】Kino store
【Street address】443 Ginoza Ginoza-son Okinawa
【business hours】10:00 a.m. to 5:00 p.m. (or as soon as sold out)
【Regular holiday】Sun – Wednesday
Visit a fruit tart specialty store and enjoy the highest peak of sweets!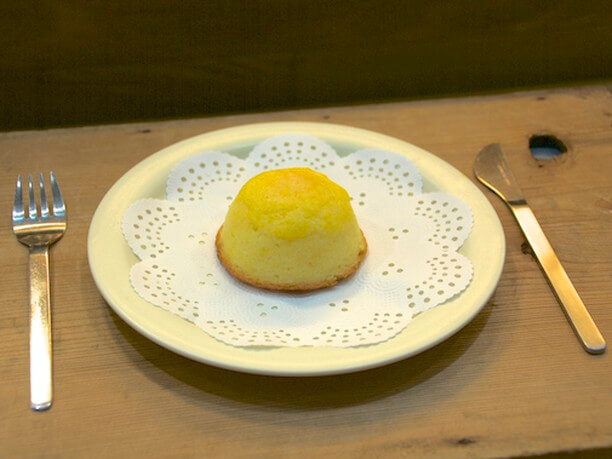 The most recommended sweet from oHacorte is its lemon cake, the champion of Okinawa's classic sweets. This lemon cake is made using Hirami lemons. It is a lemon cake which that sour acid is reminiscent of the sun of Okinawa. It is a very popular sweet with Okinawa citizens. In addition, other fruit tarts are also sold. They offer home delivery service, so it is also recommended for souvenirs.

【Spot name】oHacorte
【Street address】Naha Airport Domestic Passenger Terminal Building 2F
150 Kagamizu Naha-city Okinawa
【business hours】6:30 a.m. to 8:30 p.m.
【Regular holiday】None
Evolution of a classic snack, red type package and round shape!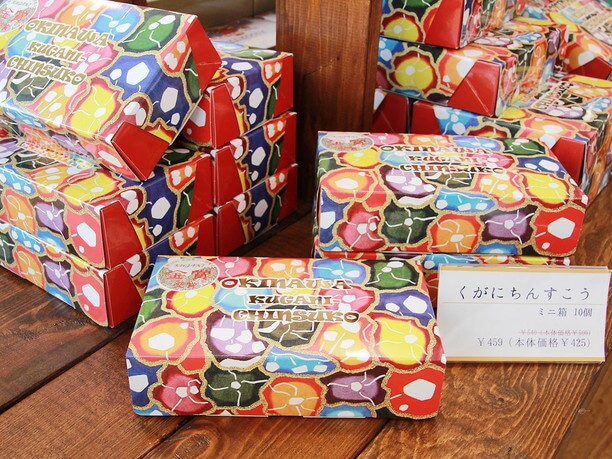 "Kugani chinsukou" in Naha city's Mekaru area is a confectionary shop that is run by the Arakaki family(新垣家). This shop, founded in 2010 is still considered a new shop.
The popularity of Chinsukou is spreading by word of mouth. It is a western style small round shape snack using "salt of anime." Since it is individually wrapped it is easy to be divided by a large number of people. Since the stored allows you to try samples you can make your purchase after tasting it. This new, convenient sweet is a seasonal sweet that makes a good souvenir!
The most popular package with its colorful design is the package for the "Kugani chinsukou." The package was designed by Yuka (優香さん), one of the family's four girls.

【Spot name】Kugani chinsukou
【Street address】1-18-1 Tsuboya Naha-city Okinawa
【business hours】10:00 a.m. to 7:00 p.m.
【Regular holiday】New Year's Holiday, old basin
It closes as soon as they sell out so be sure to get some of their popular sweets by visiting early!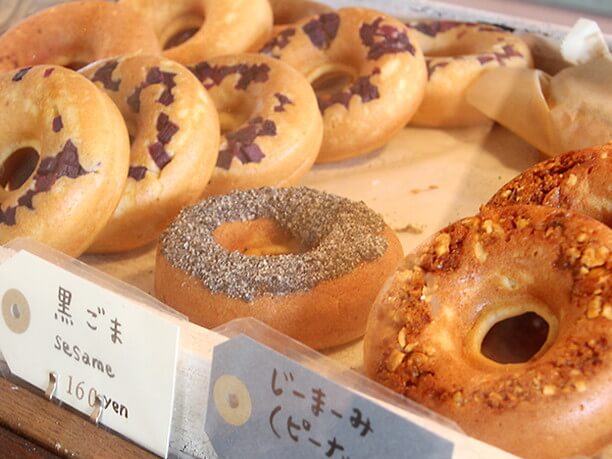 Shima Donuts is a popular baked donuts shop that opens only for 4 hours. Their eat-in space is a shop set up in the interior of the old private house that was renewed.
There are 11 kinds of donuts, 10 classic kinds and 1 daily kind. They are a popular sweet that can be enjoyed regardless of age and sex. Since they will close as soon as they are sold out, it is recommended to come to the store as soon as they open! They also have fantastic take-out drinks!

【Spot name】Shima Donut
【Street address】270 Isagawa Nago-city Okinawa
【business hours】11:00 a.m. to 3:00 p.m.
【Regular holiday】Sunday, holidays