Tokyo's oldest temple has a popular modern presence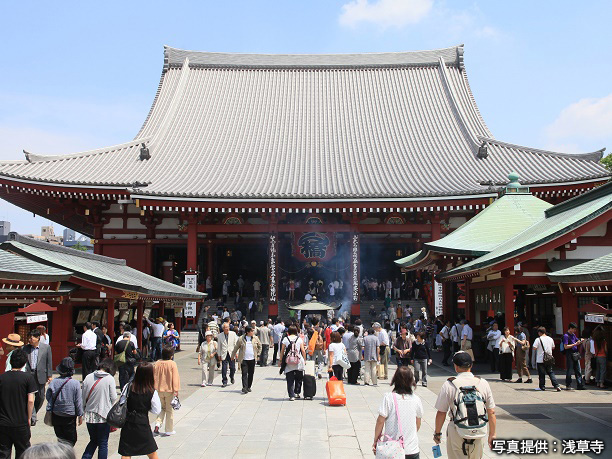 Asakusa's Senso-ji Temple(浅草寺) is the oldest temple in Tokyo. It was founded in 628. It is popular for the Buddha tradition and the Kannon Bodhisattva and is referred to as the "Asakusa-Kannon Temple"(浅草観音).

It is a popular tourist attraction for both domestic and foreign visitors.

If you go through the Kaminari gates, through the Nakamise Shopping Street, you will be on the main road of the temple grounds. There is a lot to see, so take your time.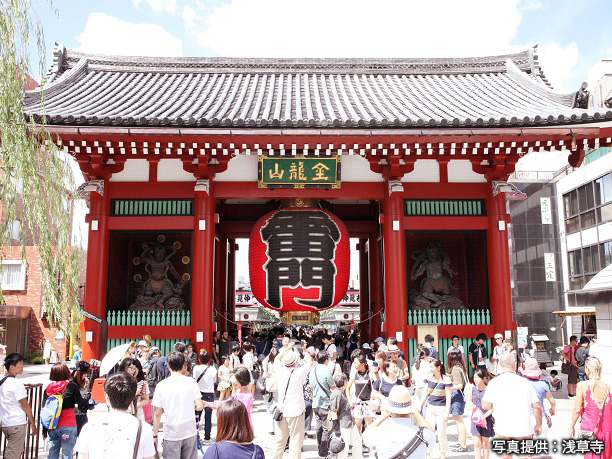 Asakusa-Kannon Temple is filled with attractions!
Again, if you go through the Kaminari gate and through Nakamise shopping street, you will enter the Asakusa Kannon temple. If you continue through the Houzo-Gate, you will come to the main hall and cleansing area.
Here you use omizuya (cleansing water) and jokouban (incense). People cleanse themselves in the main area with the water then use the incense to cleanse their body in all the areas where they think there is a problem then enter into the temple for prayer.

After that, you go to the Yougouben where you can get a "zoshuin" (your red seal) that is available as a worship certificate.

The oldest of the buildings in the Senso-ji Temple is the "Yakushidou". Yakushi and other two people have been enshrined here. Also here you can pray for prosperous business to the god "Senzukajizodon". There is also an important cultural property here called "Nitenmon", and an 800-year-old "sacred tree".
There are so many things to see here, you should do research prior to coming to help you plan your visit.
How to worship.
At Gokuden there is a statue of Kannon. Tradition has it that when you enter the area you bow and fold your hands in prayer position in front of your chest and recite a special prayer, the (Amen Kannon).

Kannon is like Buddha, who listens to us and can give us an exception from the suffering of the people.

The inside is a private space and can only be seen by the public one a year on December 13th at 2 o'clock in the afternoon.
Senso-ji Temple, Asakusa shrine, and Three Brothers Festival.
Next to Asakusa-Kannon Temple is the Asakusa shrine. Three brothers that found the goddess are enshrined here as the "gods of Asakusa". There is a festival (Sanja Festival) to celebrate them.

The Asakusa shrine is small compared to the Senso-ji Temple but is still worth visiting. There are amulets are sold here, but the card-shaped lucky charms are rare, so it is exciting if you can get one.
Asakusa-Kannon Temple, Senso-ji Temple
Spot name(Ja)

浅草観音 浅草寺
Address

2-3-1 Asakusa Taito-ku Tokyo
Address(Ja)

東京都台東区浅草2-3-1
Telephone

03-3842-0181
Price

Free
Open

January and February 6:00a.m. to 5:00p.m. * From March on it opens at 6:30a.m.
Close

Open all year round.
Parking lot

Without
Note