"Kaminari-gate"at the Senso-ji Temple is the symbol of Asakusa!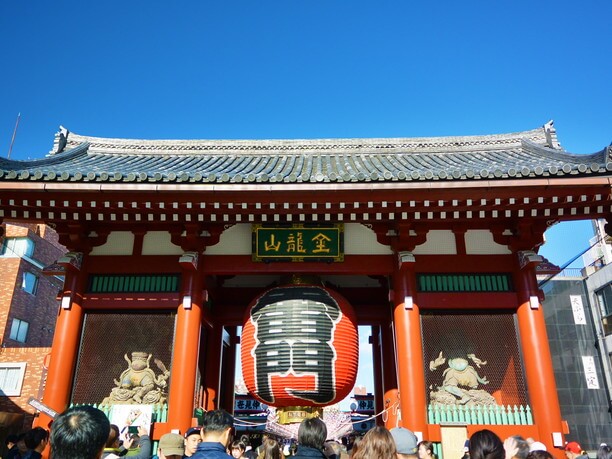 The nearest station to the Kaminari-gate(雷門) is the Tokyo Metro Ginza line's Asakusa Station(浅草駅), Exit 1. It is only about 100 yards away and is less than a 5-minute walk.
You can tell by the size of the crowd that you are in the right place. You will also notice the characteristic Japanese large red lanterns and Fuujin & Raijin statues.
You may have seen these statues on TV, but you will be amazed how large they are in person.
This site is the symbol of Asakusa and an important Japanese landmark.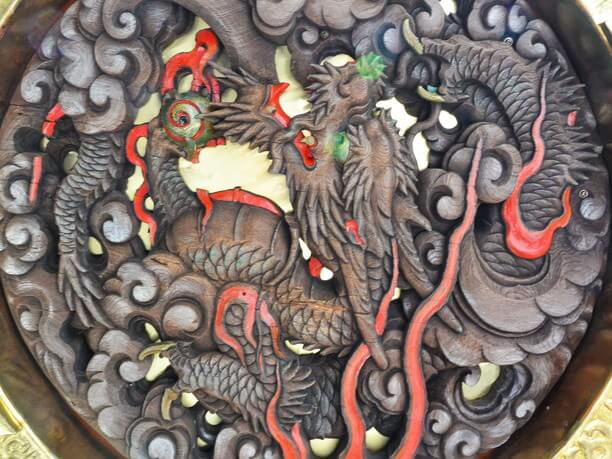 There is more to do at Kaminarimon-gate than taking a picture.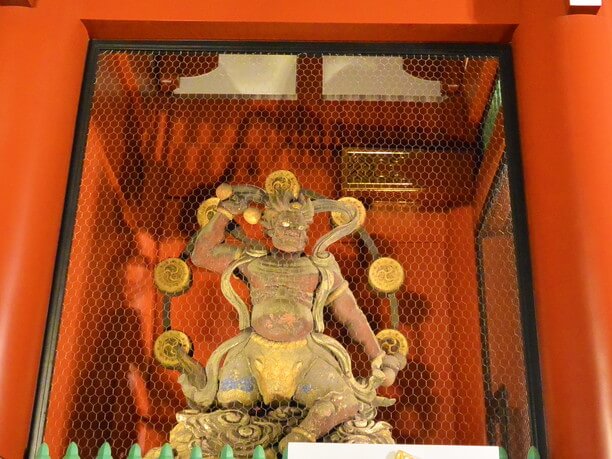 Many people would simply take a picture and quickly pass through the Kaminarimon- gate because it is always crowded. But if you take the time to look at the bottom of the lantern you would see something very interesting. Here there are engraved images of the "dragon gods" of thunder and wind. They were donated by Yukinosuke Matsushita(松下幸之助氏), founder of Matsushita Electric Industrial Co. (松下電器産業)(Panasonic). They were designed by the famous sculptor, Watanabe Takashi.
They are dragon gods that bring the rain. Since all the buildings were made of wood it made sense to have a dragon bring the rain. Then in the case of a fire, the water was their salvation.
There are 2 gods at the Kaminari-gate (thunder-gates)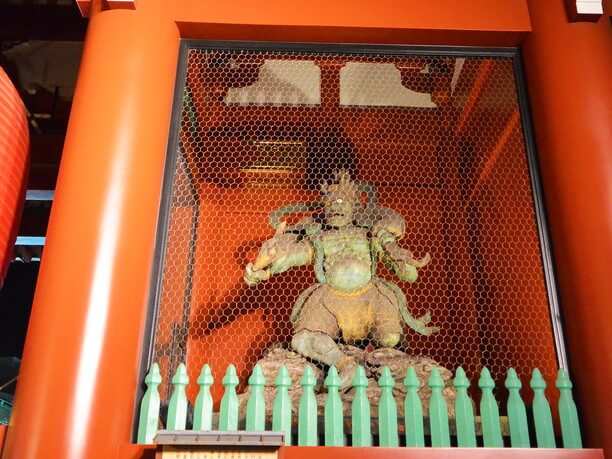 The official name of the Thunder-Gate is Fuujinraijin-gate(風雷神門). You can tell by the name that it is a combination of the thunder god "Fuujin" and the wind god "Raijin." But somewhere along the way people just shortened the name and now refer to it as the "Thunder-gate."
It was dedicated to protecting the town from fire or flood damage. It is also a place of prayer for peace and good harvest.
So when visiting this site, it is good to not only pay attention to the lanterns but also to the dragon statues that are enshrined there. When entering the space you can show your respect by greeting the gods of wind and thunder.
Tips for taking Thunder-gate commemorative photos.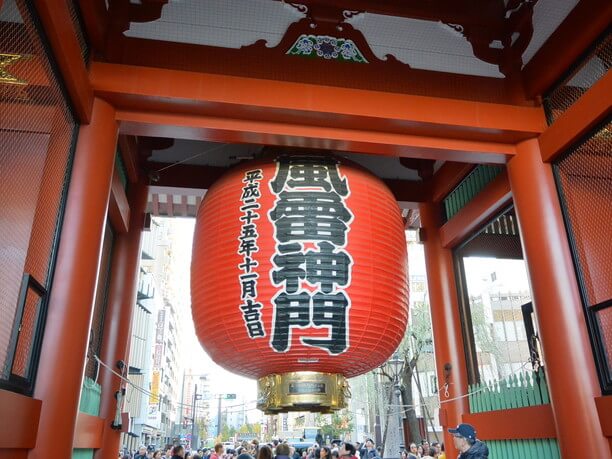 Since the gate is always filled with people, it can be challenging to get a good photo. Also, it may be difficult because you want to get a picture of the lantern and the statues at the same time.
The best method is to back far enough away that you can see both the lantern and shrine gate in the same frame. Then have the person you are photographing stand closer to the camera.
At night, this method will give you a good photograph of the lights of Nakamise Street as well.
Kaminari-gate
Spot name(Ja)

雷門
Address

2-3-1 Asakusa Taito-ku Tokyo
Address(Ja)

東京都台東区浅草2-3-1
Telephone

03-3842-0181(Senso-ji Temple)
Parking lot

None