Forget the hustle and bustle of the city, and enjoy the Imperial Palace outer gardens!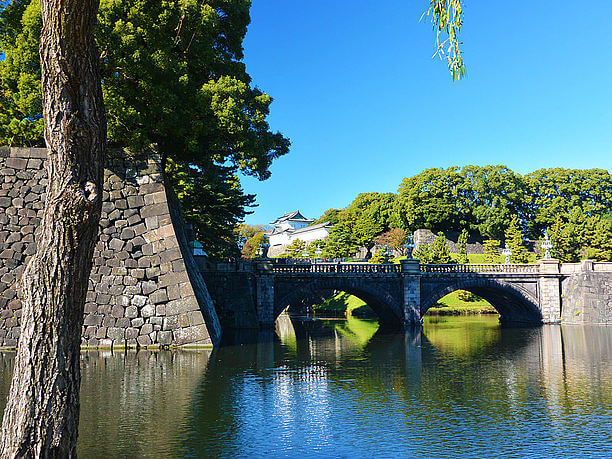 The Imperial Palace (皇居外苑) is about a 2-minute walk from the Hibiya station (日比谷駅) exit B6 or 2 on the Tokyo Metro Hibiya line.
Over the years this gateway to Tokyo has attracted many visitors.
The plaza surrounding the palace is vast and comfortable. It is an excellent spot for a picnic!
It provides a beautiful panoramic view of the nearby Marunouchi (丸の内) and Hibiya (日比谷) office buildings.
With its many historical landmarks, tourists' attractions and picnic spots this is a real oasis in the city.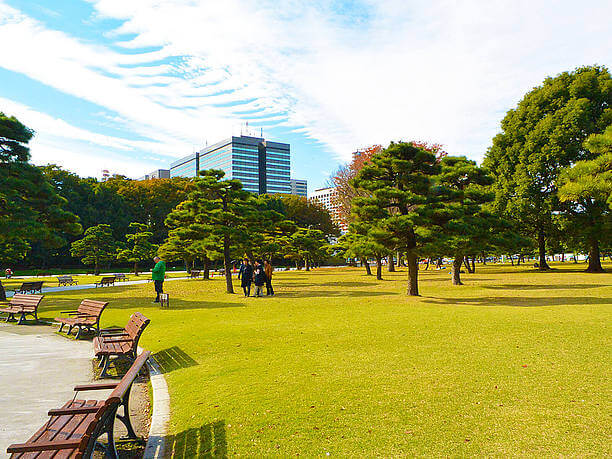 This is an amazing picnic spot!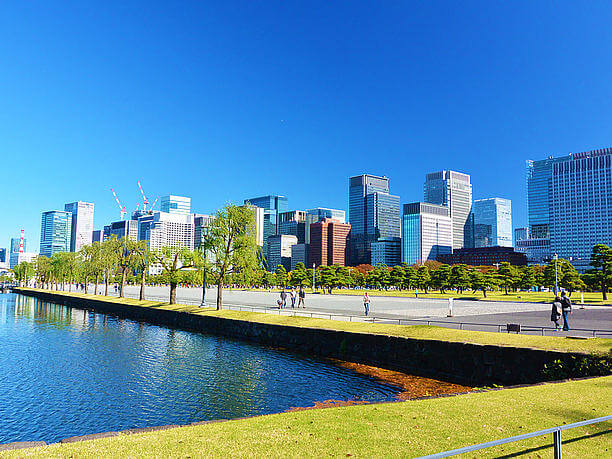 Kudanshita station (九段下駅)is the nearest station to the Imperial Palace Plaza (Kitanomaru Park) on the Toei Shinjuku line. Taking exit 2 it is about a 5-minute walk to the Plaza.
On Sundays, many families and couples will come here and spread out a blanket to enjoy a relaxing picnic lunch. Even though so many people come here, the park is so big it never seems crowded.
On Sunday the main street in the front of the park is open only for bikes to keep more fresh air in the park.
The Imperial Palace outer gardens seem like a museum.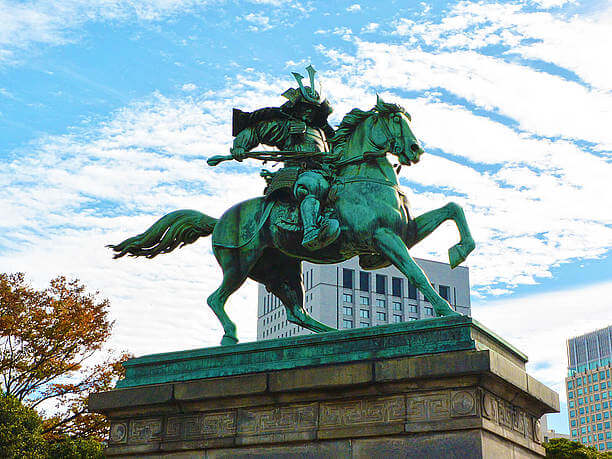 There are many historic spots at the Imperial Palace outer gardens. But the truth is, not many people know the facts about them. For example, the stone bridge that many refer to as the double bridge is actually not the real double bridge. The real double bridge (Kokyo-seimon-tetsubashi) (皇居正門鉄橋) is a wooden bridge located behind the Imperial Palace.
Having more knowledge of Japan's history and culture will make your visit to the Palace and gardens more enjoyable!
Experience the food of Edo!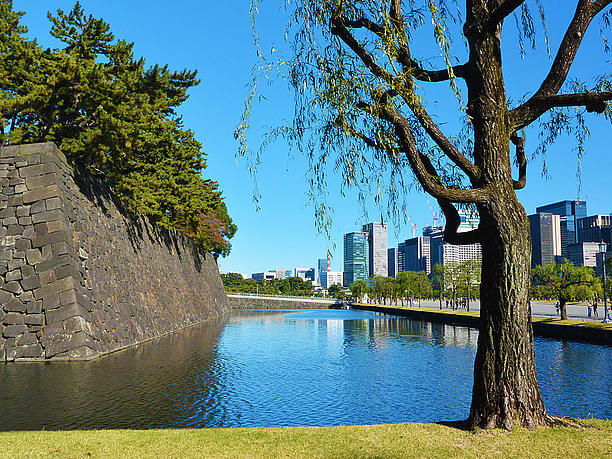 Nankou Rest House (楠公レストハウス) in the Imperial Palace outer gardens has large facilities providing meals, souvenirs, and information. They are located to the left of entrance 2 (before the double bridge).
This is the ideal resting place if you get tired when walking in the Imperial Palace outer gardens. They have lunches that reproduce the Edo period food and the Japan food culture's "Ichijuusansai-gozai." Many People come here to enjoy these popular meals for lunch.
Imperial Palace Outer Gardens
Spot name(Ja)

皇居外苑
Address

1 Kokyogaien Chiyoda-ku Tokyo
Address(Ja)

東京都千代田区皇居外苑1
Telephone

03-3231-5509
Price

Free
Open

Open 24 hours 
General Foundation National Park Association of Imperial Palace outer gardens

Close

Without
Parking lot

Without
Note

HP : http://fng.or.jp/koukyo/

[ Public transport available ]
It is a 2 minute walk from Tokyo metoro Chiyoda Line Nijubashimae station (taxi about 6 minutes, 660 to 730)
It is a 2 minute walk from Tokyo metoro Hibiya Line Hibiya station (taxi about 4 minutes, 660 to 730)
It is a 8 minute walk from Tokyo metoro Yurakucho Line Sakuradamon station (taxi about 2 minutes, 660 to 730)
It is a 10 minsute walk from JR Tokyo or Yurakucho station (taxi about 3 minutes, 660 to 730)