Enjoy the beach in the city at Odaiba Seaside Park!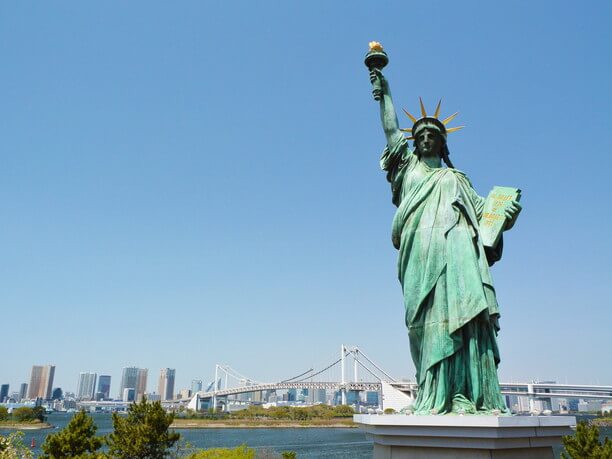 Transfer to the "Yurikamome" train from JR Shimbashi station to Odaiba Seaside Park(お台場海浜公園), or Daiba station. It is a 3-minute walk from either station. When you arrive at the Odaiba beach (おだいばビーチ), you suddenly jump into a different world with a secluded Cove beach and a Rainbow Bridge(レインボーブリッジ). It is a wonderful place to take many pictures. There are tourists who come to here to enjoy the beach as well as the city shopping areas and cafés.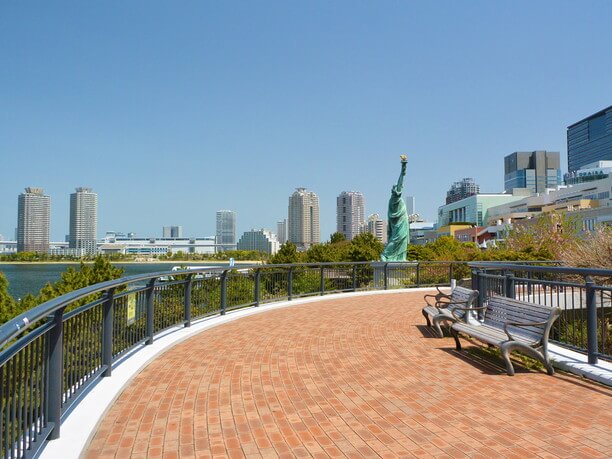 Odaiba Seaside Park is great sightseeing spot!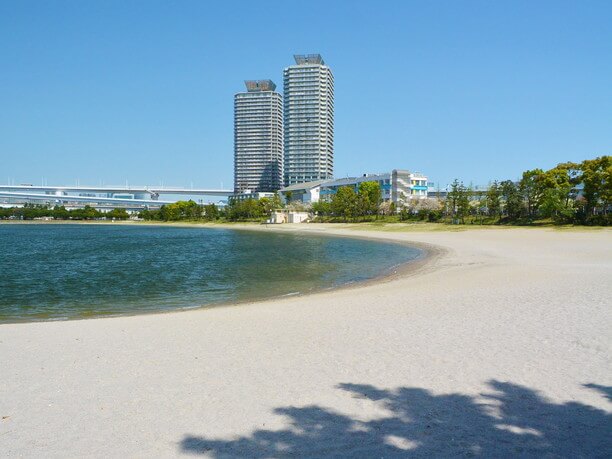 Odaiba beach is approximately ½ mile in length. It has famous photo shooting spots like the statue of liberty, panorama scenery, the Rainbow Bridge and a view of the Tokyo Tower. There is a boardwalk along the sandy beach so even while wearing fashionable shoes on a date there are no worries about walking. In addition, you can enjoy both the view and the food at the convenient "Marine House." On the ist floor is prospect square that has shops with refreshments. On the 2nd floor there is a restaurant with a terrace. On the 3rd floor you can enjoy views of the sunset and the night city views!
The Night view while dining at Odaiba Seaside Park is outstanding!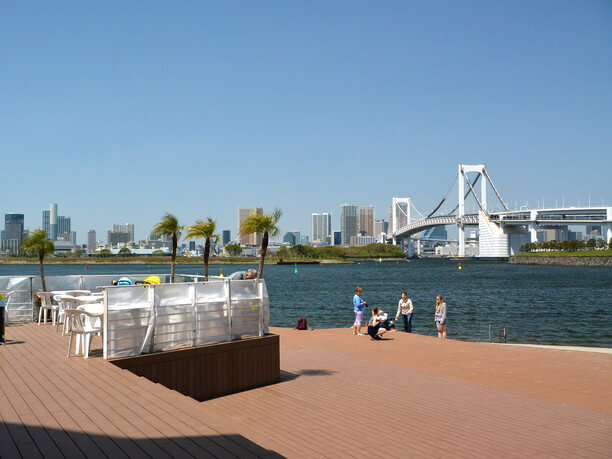 High rise building in the background as well as views of the bright Rainbow Bridge and Tokyo Tower this is a popular place for couples to come to see the night views of the city. We recommend coming for dinner while enjoying the night views. You can choose from the Marine House, the Italian restaurant "Terlumbianco" and "Anchors" at Decks Tokyo Beach. The location and food are outstanding!
Have fun at the Mall!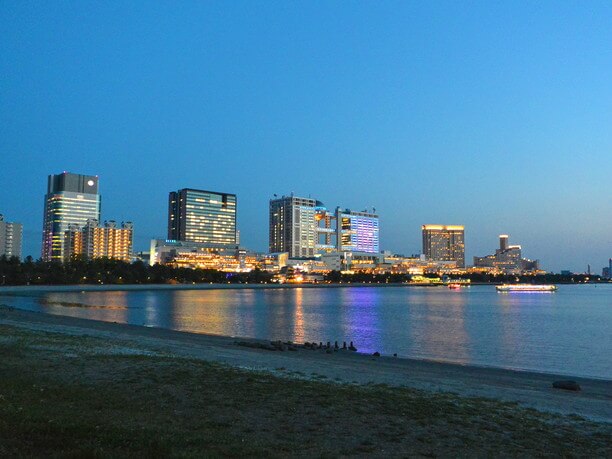 Odaiba Seaside Park has two large complexes "Aqua city Odaiba," and "Decks Tokyo Beach." Each has gourmet food, shopping, cinema and entertainment facilities that are excellent. There is a Mall Cafe restaurant with terrace and lovely seaside decks that have been used in the filming of the dramas.
Odaiba Seaside Park
Spot name(Ja)

お台場海浜公園
Address

1-4 Daiba Minato-ku Tokyo (Odaiba Seaside Park) Cl
Address(Ja)

東京都港区台場1-4(お台場海浜公園)
Telephone

03-5531-0852, Japan
Tokyo port Pier Park, Inc.
Price

Free
Open

Open all the time
Close

Open all year round.
Parking lot

Is
Two North parking lot of the Park in the main parking lot
600 yen (2 hours)
* After 30 minutes 150 yen for every
Note

HP : http://www.tptc.co.jp/park/01_02
◆In the case of public transportation using ・From both the new transit Yurikamome line Odaiba Seaside Park station and the Daiba station, it is about 3-minute walk
・From Rinkai line Tokyo teleport station it is about a 7-minute walk.