Experience Rainbow Bridge between downtown and the waterfront in the port of Tokyo!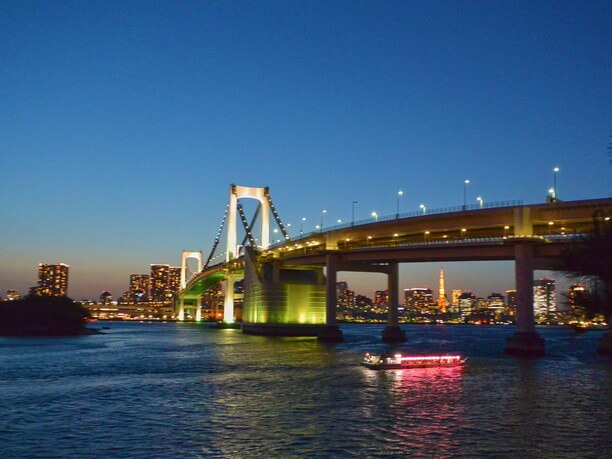 There is a suspension bridge connecting Tokyo's Shiba district and the Daiba area. It was opened on 8/26/1993. This Tokyo Harbour bridge is known as the "Rainbow Bridge." It has become the symbol of Tokyo Bay and a famous tourist attraction for sightseeing at night. The "Rainbow Bridge" is about 1mile long and has a pedestrian walkway. The view from the bridge is great! The Odaiba side entrance is about a 10-minute walk from the Yurikamome line Odaiba Kaihin Koen station. It takes about 30 minutes to walk across, and offers an unforgettable sightseeing trip in Tokyo!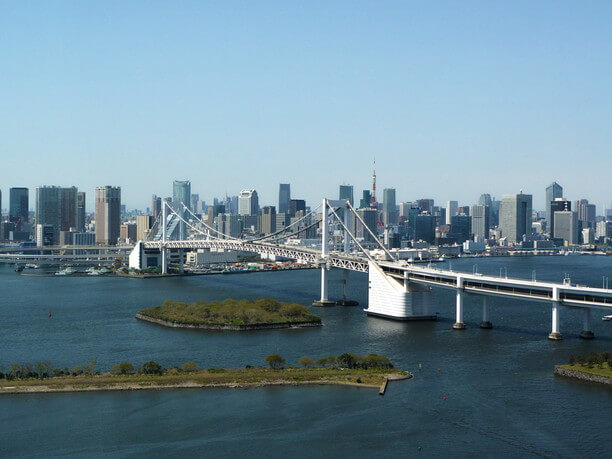 Rainbow Bridge is not for bicycles?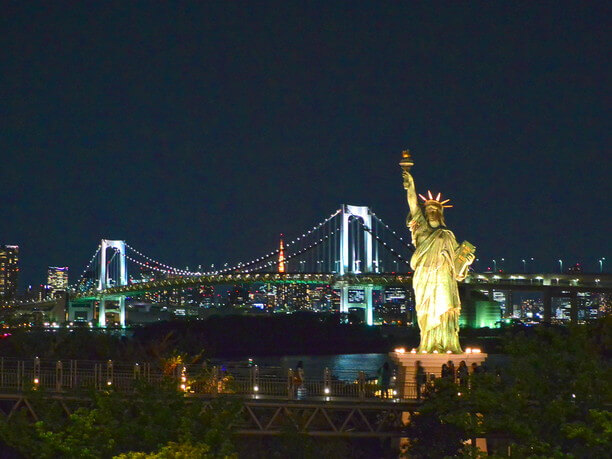 Bicycle riding in traffic is not allowed on Rainbow Bridge (レインボーブリッジ). You can Rent a stand that attaches to the rear wheel of a bicycle and push it across by hand. It is a little inconvenient but important for safety reasons. If you have a bike and want to go to Daiba you can only use the south route. Traveling this route you will get to see the skyscrapers of Tokyo and a good view of Tokyo Tower. As well as the view towards Tokyo Rinkai area and Mount Fuji. Going to Shibaura use the north route.
A "special adition" to the "Rainbow Bridge"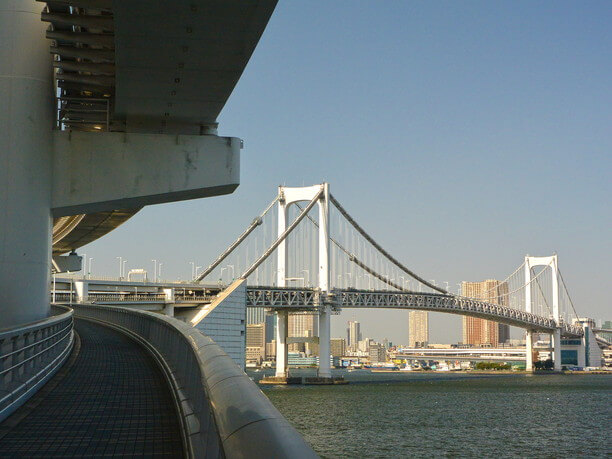 The Beautiful lighting of "Rainbow Bridge" allows you to see it from every angle. Views from the bridge are also impressive! The view of Odaiba Kaihin Park is by far the most popular. On a clear day the view of Tokyo Tower is brilliant and visitors can have a very romantic evening. "Rainbow Bridge's" a[[earance varies depending on the season. In summer it has a refreshing image of green and white. In the winter it is covered in warm white's. And from the beginning of December to early January, it is given a special shine with the 7 colors of the rainbow.
Enjoy the view from the houseboat!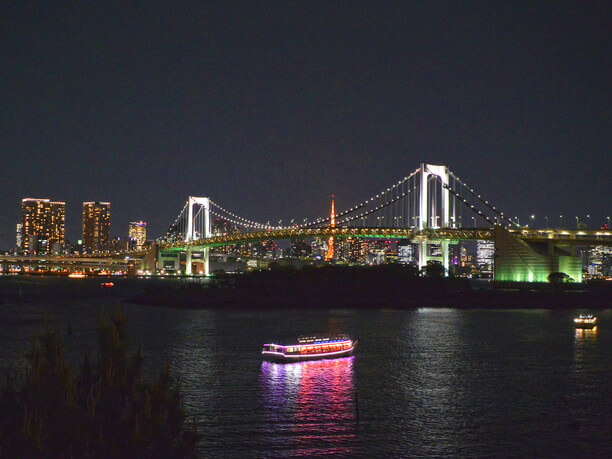 A night view of the Rainbow Bridge from a houseboat is recommended. It is Inspiring view and there are many different houseboats and courses to take from the port of Tokyo Bay. Aboard the houseboats you can enjoy yourself with plenty of good food and drinks! Also it is a beautiful view looking down from the "Rainbow Bridge" at all the houseboats lit up on the water at night.
Rainbow Bridge
Spot name(Ja)

レインボーブリッジ
Address

3-33-19 Kaigan Minato-ku Tokyo (Shiba Pudong side) Cl
Address(Ja)

東京都港区海岸3-33-19(芝浦側)
Telephone

03-5463-0224
Tokyo Port Management Office, Port Road Management Division
Price

General roads Department (lower floor): free one-way flight
Highway Dept (upper floor): need capital fast road tolls according to sectors
Parking lot

Without