If you are an AKB48 fan, AKB48 café is the best place to shop for your Akihabara souvenir!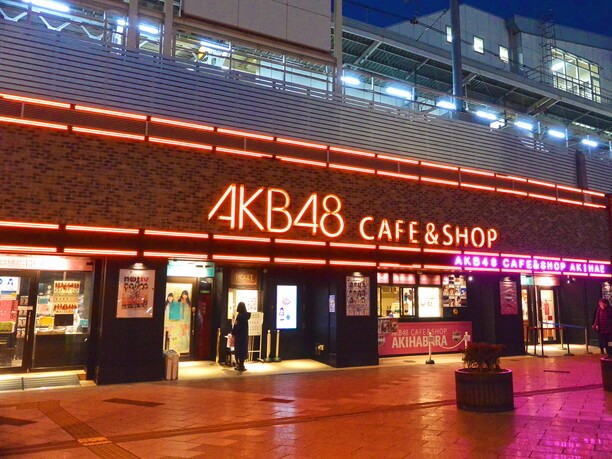 To get to the AKB48 Cafe (AKB48カフェ) take the JR line to the Akihabara Station (秋葉原駅), depart the kigaikou exit and immediately to the right you will see the shop. The shop is divided into 5 areas: The theater area, the café area, the private booking area (2 hours 10500 Yen tax included), the souvenir area, and the to go area. It has established itself as a major attraction of the Akihabara's theater district. You can enjoy delicious food named after AKB48 members while surrounded by tables and walls filled with AKB48 autographs and messages! If not enough time to stay for dinner there is always toy shopping and take away food.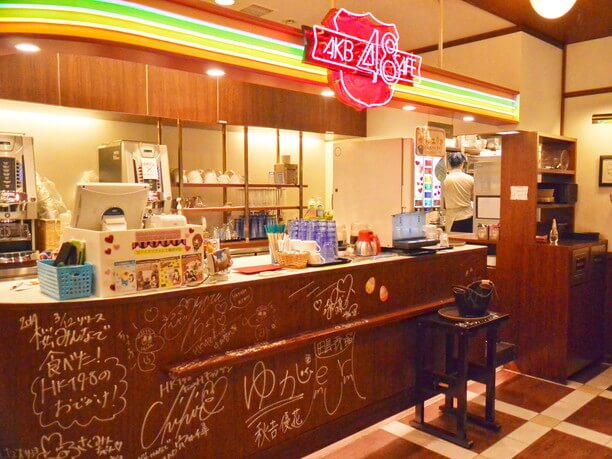 AKB48 Cafe original video!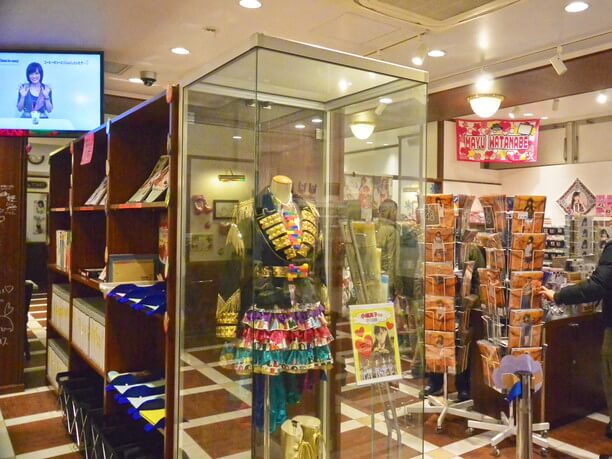 When you enter the café you will be asked if you would like to be seated in the "Café" or "Cafe Theatre." The Café is decorated with AKB48 cartoons, and photographs in a bright atmosphere. On the other hand, The Café Theater is characterized by a 136-inch large screen that is ideal if you want to seriously enjoy the live video performances of AKB48. The show is very popular so there is a time limit. (on weekdays 90 minutes, Saturdays, Sundays and public holidays 60 minutes)
More and more of AKB48!
At the entrance you will be greeted by handwritten welcome messages from AKB48 members. It sets a tone of anticipation from the very beginning. The walls are adorned with AkB48 member pictures and personal messages There is a photo book filled with photos of AKB48 performances and individual members. There is even a button you can push and hear the voice of the different members! The souvenir shop is filled with lots of exclusive merchandise that will make amazing souvenirs!
A hearty AKB48 menu!
Items on the menu are named after various AKB48 members. For example, there is Watanabe Mayu's Fried chicken, Kitagawa Ryoha's gyoza plate. You could also get a drink on an autographed drink coaster. However, you cannot choose what coaster you get. Therefore it creates an opportunity to cooperate and exchange coasters with other fans. It also gives you one more reason to come back again and again to enjoy the wonderful food, drinks, shopping and fun atmosphere.
AKB48 café
Spot name(Ja)

AKB48カフェ
Address

1-1 Kandahanaoka-cho Chiyoda-ku Tokyo
Address(Ja)

東京都千代田区神田花岡町1-1
Telephone

03-5297-4848
Open

Mon, Tue, Wed, Thur
 11:00a.m. to 10:00p.m. (Last order at 9:00p.m.)
Fri & day before holiday
 11:00a.m. to 11:00p.m. (Last order at 10:00p.m.)
Saturday
 10:00a.m. to 11:00p.m. (Last order at 10:00p.m.)
On Sundays and public holidays
 10:00a.m. to 10:00p.m. (Last order at 9:00p.m.)
Close

Open all year round.
* Holidays available.
Parking lot

Without
Note

HP : http://akb48cafeshops.com/akihabara/

[In the case of public transportation using]
The AKB48 Café is a 2-minute walk from JR Akihabara Station, Kigaikou exit. By taxi it is approximately a 10-minute ride and will cost between 660 and 730 yen.