See the amazing sea lions at the "OASIS in the sky" at the Ikebukuro Sunshine International Aquarium!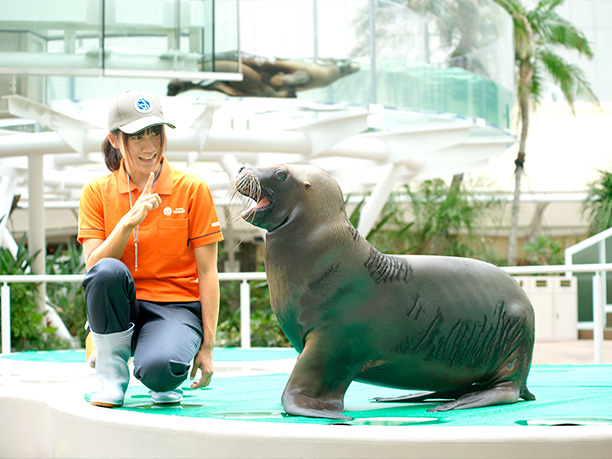 From the Tokyo Metro Yuraku-Cho line Higashi-Ikebukuro station there is an underground passage to the World Import Mart building. It is about a 5-minute walk. Inside the building you will find Sunshine City and the Sunshine International Aquarium (サンシャイン水族館). A major attraction at the aquarium, the "Oasis in the Sky" was renovated in 2011. Another attraction, the Sunshine Aqua ring (a doughnut-shaped water tank on the roof) where you can look from underneath and watch sea creatures swim against the background sky is very popular. It is even more amazing when lit up at night!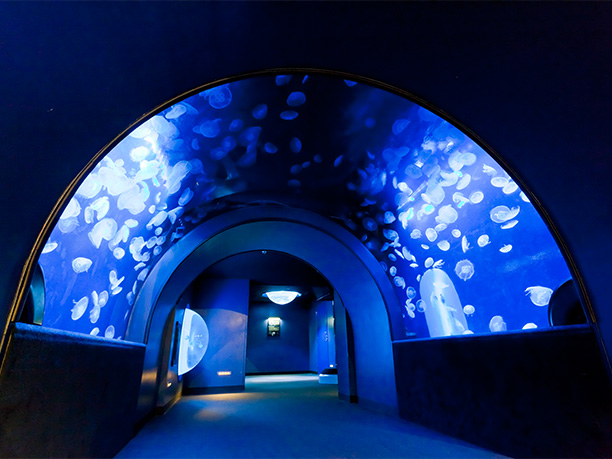 From young children to adults are very happy exploring the Aquarium!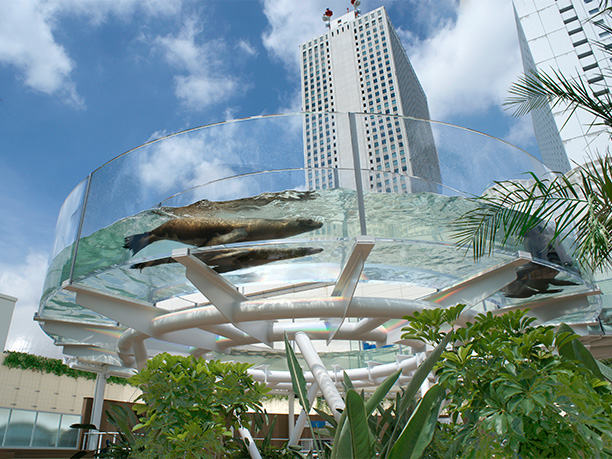 There are so many things to see at the aquarium. On the first floor there is "ocean journey" with a giant tank called the "sunshine lagoon." It is filled with things such as sharks and whale sharks, corals, ocean sunfish, and jellyfish! on the second floor is "water's journey", with a theme of world rivers and oceans. It has creatures that live in the Amazon river, some lakes and the great barrier reef! On the roof you will see the "Sunshine Aka Ring" and sea lions. The penguin feeding time is also a must see!
A great spot for couples!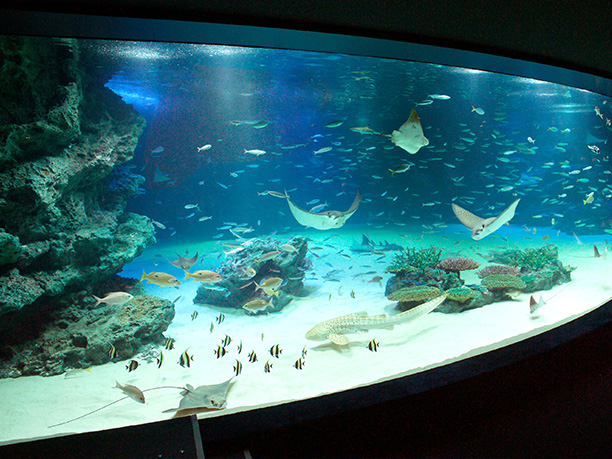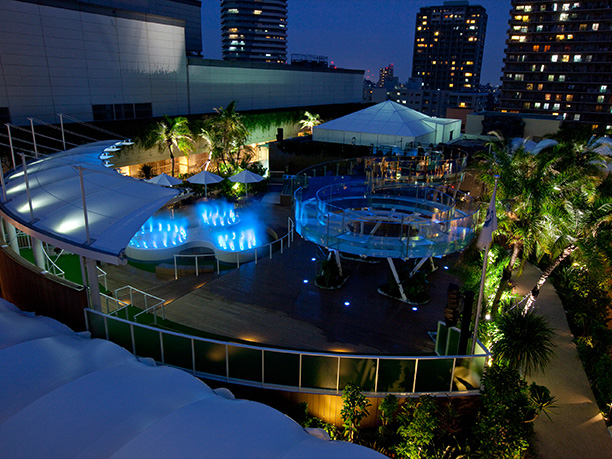 Sunshine international Aquarium is a popular place for couples. In addition to the usual date of movies, shopping, and dining you can add a trip to the Aquarium for a special feeling! We especially recommend the "Marin Garden", a rooftop beach resort-style café where you can relax while watching the animals and trees. It is an excellent place for couples to enjoy day or night!
Save with the discount deals!
Basic admission to Sunshine City is 2000 yen (adult). There are various special discount services available. If you're going more than twice a year to the Sunshine International Aquarium you should purchase their annual passport for 4000 Yen. If you present your passport at the planetarium on the 2nd floor you and up 5 companions will receive 20% off the admission price. You can also get credit card discounts at the entrance gate. The discount rate varies by the credit card company. Advance tickets are available online. At many convenience stores there are 100 yen discounts available!
Sunshine International Aquarium
Spot name(Ja)

サンシャイン水族館
Address

World import Mart building and on the rooftop 3-1 Higashiikebukuro Sunshine-Toshima-Ku TokyoClick the
Address(Ja)

東京都豊島区 サンシャインシティ 東池袋3−1 ワールドインポートマートビル・屋上
Telephone

03-3989-3466
Price

Adults (high school students and older) 2000 yen
Children (Elementary and junior high school students) 1000 yen
Children (4 years and over) 700 yen
Senior (65 years and over) 1700 Yen
Open

4/1-10/31
10:00a.m. to 8:00p.m.
11/1-3/31
10:00a.m. to 6:00p.m.
* Last admission is closed an hour ago.
* Subject to hours of operation subject to change.
During busy times, ticket distribution when.
* Opening hours of the exhibition differs from main building opening hours.
Close

Open all year round.
Parking lot

Is
300 yen (30 minutes / first 4 hours) * After the subject available.
Note

HP : http://www.sunshinecity.co.jp/aquarium/index.html

In the case of using public transportation
・From the Tokyo Metro Yurakucho line Ikebukuro station it is a 5-minute walk. By taxi it is approximately a 10-minute ride and costs 660 to 730 yen.
・From the JR, Tokyo Metro, Seibu line, and Tobu line Ikebukuro station it is an 8-minute walk. By taxi it is approximately a 10-minute ride and costs 660 to 730 yen.
・From the Toden Arakawa line 4-Chome station is about a 4 minute Walk. By taxi it is approximately a 10-minute ride and costs 660 to 730 yen.