Not commonly known hotel services that can make your travel more convenient!
Hotels offer guests a variety of services.
If you know what services are available it may serve useful if you get stuck on the road.
Here, are some less known, but convenient services offered in many hotels.
* A resort hotel, business hotel, city hotel listed here refers to a Western-style hotel.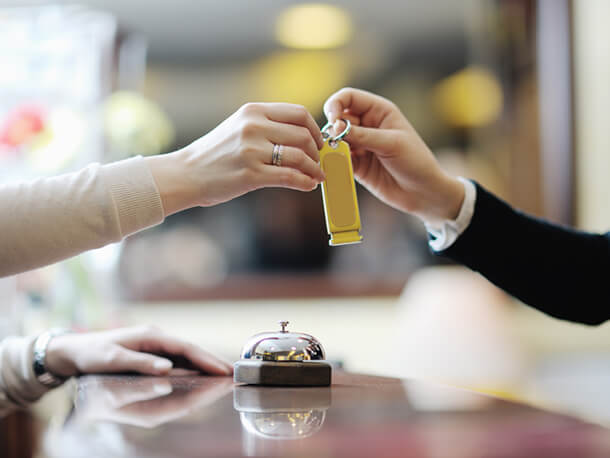 Luggage service
Check-in luggage storage before and after check-out.
Even if it is before check-in time or
after check-out time on your departure date, at most hotels
you can still leave your luggage.

When you arrive early in the morning and your luggage is heavy and hard to move,
we recommend stopping first at your hotel. Ask at the front desk if they can hold your luggage until you check in. Most hotels will say yes!

Acceptance of shipped luggage
Many hotels will accept baggage delivery.
However, some do, so be sure to get confirmation that they do (email, phone, etc) before shipping to your luggage.

Information that you will need to provide:

Type and size of luggage
Number of bags
When the luggage will arrive
The hotel name, lodging date and hotel address

Make sure your name is on the luggage.
The hotel will accept the luggage when it is shipped to them and on the other hand, it can also ship your baggage back home to you.
* Shipping charges will apply.
Clothing service
Clothes cleaning
The majority of hotels have a garment cleaning service.
This service can reduce the number of clothes you need to take for a lengthy stay.
It is also a very convenient service when travelers need a clean shirt. (charges apply).

Trouser press rental service
During your trip, you may have the need to wear a suit.
In this case, a trouser press can be very useful.
Most city and business hotels have free trouser press rentals!
So if you wear a suit one day and it becomes messed, and you need to wear it the next day, you have a way to get it ready.
Rooms service
Wake-up call
Most City hotels provide a wake-up call service. Just ask at the front desk!

Depending on just a digital clock with its alarm bell alone might make you nervous. In which case having the front desk call you on the phone to wake you is a good idea.

Wi-Fi service
The number of Hotels with in-room Wi-Fi has increased.
This makes it very convenient to use PC when traveling.

Additional bed, heater rental
When you feel it is a bit chilly in your room you can add an additional futon or
ask for a rental heater.
Humidifiers and Air Purifiers are also available for rental in some hotels.

Massage
More hotels are now offering massage service (charges apply).
You can even ask the masseur to come to your room.

Noise response
Many hotels are working on soundproofing their rooms.
In the meantime if you hear too much noise coming from neighboring rooms, don't try to resolve the problem on your own. Contact the front desk!
In most cases, they will give it their prompt attention to get things quieter.
Service for when you need to go out.
Nearest airport and train station transfers
Most hotels offer free shuttle service to the airport and train stations.
If you want to use a shuttle service, check the hotel's official website for availability.
* Reservations may be required so be sure to check in advance.

Umbrella rental
There may be a time on your trip when it's raining but you didn't bring an umbrella.
In many cases, the hotel you are staying at can lend you an umbrella at the front desk.
The number is limited.

Area Guide
Almost always, the hotel has area maps and brochures.
If you are interested in something in particular, a member of the staff can most likely give you more information on it, including the best way on how to get there and return.
Food Service
Dinner at the hotel
Typically an Inn serves a basic breakfast and dinner that is included in the price of the room.
Many hotels require that you order your meal plan at the time of your booking
Other rental services
In most cases, the hotel provides a list of available rentals and services in a desk drawer.
You may be surprised by what each hotel does and does not offer. So it is best to check it out what services are offered in advance.

We hope that you have found the information that we have introduced here about hotel services helpful.

The hotel is a tourist center that you will spend a lot of time at, so by utilizing a wide range of services you can make your trip more comfortable.