Choose the car that best suits your purpose! Tips for choosing a rental car!
What makes a good rental car? One that is convenient to rent, affordable, enjoyable to drive, and has enough space for all your passengers and luggage!
Let me introduce tips that will make your selection process and rental procedure flow more smoothly!

Tips for choosing a car
Number of people
The number of people in your party is an important consideration when selecting what car to rent. Rather than renting a car that is too small,
it is recommended to choose a car that offers enough room to relax.
It is also important that you have enough room for everyone's luggage!
● Places to use
In urban areas, where there is a lot of traffic
a small car that is easy to maneuver is convenient.
● Travel distance, time
When planning on traveling a long distance, such as crossing prefectural boundaries, it is good to choose a car with good fuel economy.
Not only can you save on gasoline costs, a lighter car can actually help reduce
the fatigue of driving.
● Amount of baggage 
If you are loading a lot of large items choose a larger car.
Flow of choosing a rental car
1. Decide the number of rental days
First, figure out the number of rental days. If arriving by airplane, consider the distance of the rental car company from the airport. It is important to give yourself enough time to get to and from the airport.
2. Determine your class
Car rental class depends on the size of the car and the capacity.
※ The name varies depending on the car rental company.
You should decide according to the number of people, the purpose of the trip and conditions for your travel.
● Driving in urban areas, and residential streets
Small classes with good turning radius are recommended for downtown areas and residential areas.
Example) Compact car, light car etc.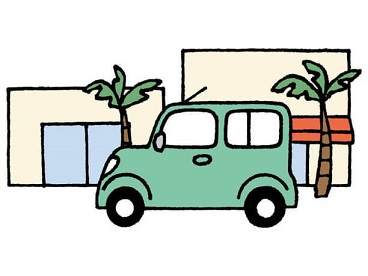 ● Driving over long distances
If you plan on driving on a highway, or traveling over a long distance, choose a fuel-efficient car.
Example) Demio, Vitz, Fit, Prius, etc.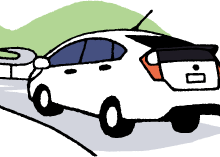 ● If you have lots of luggage
When there is a lot of luggage, chose a car with a big trunk, or choose a car that has room for more passengers than you have. This type of car is also recommended for people who want to buy more souvenirs.
Example) Step Wagon, Selena, etc.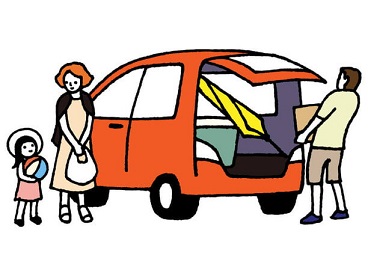 3. Join / non-participate in their insurance program
When you rent a car a base insurance is included in the price, However you may be thinking about whether you need additional insurance. ● About disclaimer compensation

When renting a car there is some insurance already included. For example if you if you hit something the base insurance will pay some of the cost for repair. But if you hit something with just base insurance the policy will pay up to 50.000 yen for the damage to the object you hit and will pay up to 100,000 yen for damage to the rental car. You are responsible for the cost of repairs over that amount. If you purchase additional insurance it will cost between 1,000 to 1,500 yen per day and they will pay the additional cost of repair. The cost and the amount of coverage varies with different rental companies so please check out your options ahead of time.

During your trip if you have an accident and have to pay for repairs, it can ruin the memories of your trip! It is good idea to have extra insurance. Even if you are a good driver, someone may hit your car when it is parked. It is better to be safe than sorry.
4. Decide options
● Child Seat
For children with small children, installation of a child seat is indispensable.
Because it takes up space for one adult, choose a larger car.
※ For details, please contact the car rental company etc.
● Studded tires/ chains
On a winter trip to go skiing or snowboarding, you may run into a snowy or frozen road. It is best to have studded tires or chains.
5. Decide between time system and day stay system
The day-stay system is a charge system that calculates the fee based on the number of rental days. In other words, you return your rental car during the expected return date. You do not need to calculate the time. However, as it is necessary to return within the business hours of the rental car company, so check the hours of operation. Additional fees will be added if the expected return date has passed.

On the other hand, the time system is a price setting system that calculates a fee based on rental time. Additional fees will be added if returned after the scheduled return time as well as the expected return date.

If you are concerned about being on time or if your itinerary is not clearly decided it is a good idea to choose the day stay system.
* Please note the operating hours of the rental car company as above.
If the trip period is short and the itinerary is made in small increments of time,
the time system may be cheaper,

Things to check when applying for rental car
● Newness of car navigation system
When visiting a place for the first time, a car navigation system will be very helpful. Make sure the map of the car's navigation system is updated.
The newness of the car navigation map is important, especially when smartphones, tablet terminals, etc. can not be used. If it is an old map, there are times when you may be lost along the way by being guided to a road that is not present anymore.
● Confirmation of music devices that can be played
Music can make the drive more exciting and help keep you and your passengers happy. Check to see if you can use smartphones, iPods, CDs, and other music tools you normally use in the car.
● Presence and quantity of cigar sockets
If you have cigar socket compatible equipment, you can charge your mobile phone, and other devices. It is very convenient if you can charge it while you are traveling because if you are traveling a long distance you may not have enough of a charge on your battery.
● Presence or absence of ETC onboard machine
When using the expressway,
Let's check if ETC card is available.
● Can you rent immediately after getting a driver's license ?
Depending on the car rental company,
· Rental is impossible unless it has been a half a year since obtaining your driver's license.
· You must purchase insurance for exemption from compensation.

It is important to choose a rent-a-car which is best for your trip. Please use these reference points to help you choose a car that will be best for you to have a safe, comfortable trip!