You can see in the illustrations the seasonal clothes to wear in Okinawa!


If you are visiting the area for the first time and you don't know the climate of the land, you may get worried. Especially on the Okinawa (沖縄) Mainland since the climate can be very different. So, let me introduce the appropriate dress for the average temperatures in each month in Okinawa. Average temperatures in Tokyo(東京) and Okinawa are always different.
Okinawa of course, has higher temperatures.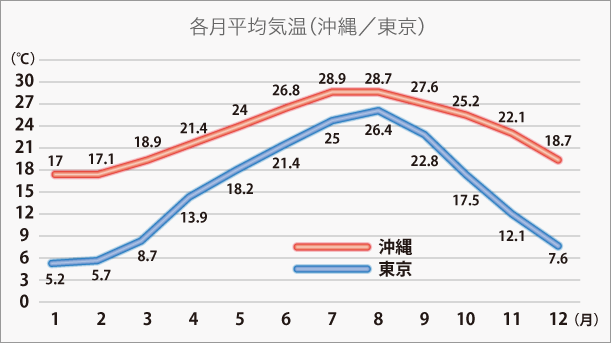 Let's look at an example of the temperature difference between the two. When Tokyo is at or below 42° F when going out, wearing a coat,scarf
and gloves are required. In Okinawa, it is 62 ° F and you probably wouldn't need the gloves. It's difficult to imagine what clothes are best suited for the weather. So, let's introduce the clothing that is appropriate for each temperature in Okinawa.

52-55 ° F (December-February)
It can drop this low about once a week in the winter in Okinawa (Dec-Feb).
A seasonal snow storm on the Mainland is also possible. This is a good time to wear a coat in Okinawa such as the one you would be wearing in Tokyo.
It is also good to wear a long-sleeved sweater.

57-58 ° F (Dec-Feb)
Okinawa cool winters have a lot of time at this temperature.
Double-breasted jackets are a good idea for those who are afraid of being cold.
You will not need a sweater underneath the jacket.

61-66 ° F (Dec-Feb and early March, and November)
This is the average temperature in the winter in Okinawa (Dec-Feb).
A long sleeve Cardigan is usually enough.
For those who are sensitive to the cold, a Parka will help keep them warm.

68-73 ° F (Nov-May)
In General, the most comfortable temperatures.
The most people spend time with long or short sleeve shirts.

75° F (May-September)
The arrival of the summer temperatures in Okinawa. It is like mid-summer in Tokyo. The weather is about the same level as a cool summer in Tokyo.
So are most likely to wear t-shirts, including sleeveless.

Now let's Introduce the clothing suitable for each month in Okinawa in an illustrated form.

In late March, April.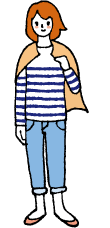 It is best in Okinawa in the spring, (from late March through mid-April).
Long sleeves and jeans are suitable for April. The weather is stable and the warm weather continues. During the day short sleeves. For people are afraid of cold a cardigan works well.
May-June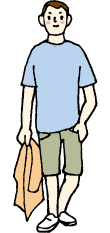 In Okinawa and Tokyo, the temperatures rise in the summer. You can spend a lot of time in short sleeves and shorts. And of course, playing in the ocean is OK!

Because there is already effective cooling at this time inside buildings in Okinawa,
it is safe for thin cardigans and wraps.

Also, this time of the year is the rainy season. From the beginning of May until the end of June,
you can expect a lot of rain. So bring rain gear.
July-September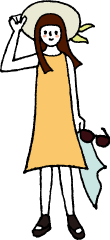 It is a warm Midsummer that is followed by a scorching heat. With an especially strong summer sunshine, there is only a small temperature difference between Okinawa and Tokyo. Also in the strong sunlight, sunburn prevention is important. Sunscreen and sunglasses are highly recommended!

The weather is suitable for short sleeves, shorts, and sleeveless dresses. Remember that there is strong cooling in facilities such as shopping centers so dress accordingly. This is the typhoon season and there is a lot of rain (especially in September)
so be prepared for rain.
October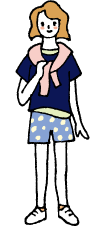 It is still summer weather in Okinawa. You can spend a lot of time in short-sleeves and shorts.
However, the temperature begins to drop day by day, so it is good to be prepared with long sleeves and pants. Also, remember that the temperature is much cooler at night than during the day so be prepared with warmer clothing.
November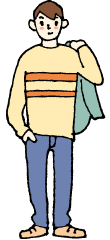 Although it is still warm in November the climate is more suited for long sleeves and jeans. For those that don't like the cold having a Cardigan available is recommended.
December-February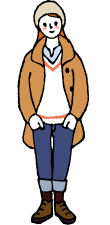 Basically long-sleeved shirts and sweaters during the day. At night, it is a little cooler and you may want a jacket.

For an average evening, a long sleeve sweater or light jacket is recommended.
For especially cold days you may want a heavier coat. Because it is surrounded by sea winds, you may feel colder temperatures, so be prepared.

I hope this information helps.
Remember the weather in Okinawa is changeable, so keep checking the weather forecast
Basically, when the Sun is strong it is going to be hot!

And in Okinawa, they have the most sunny days per year in Japan.

Okinawa has many weather features and it may be different each time you go! With the beautiful sky and the sea, you can enjoy the attractions during all the seasons!