Visit the Otaru Asari Classe Hotel, a healing space with onsen, food and beauty!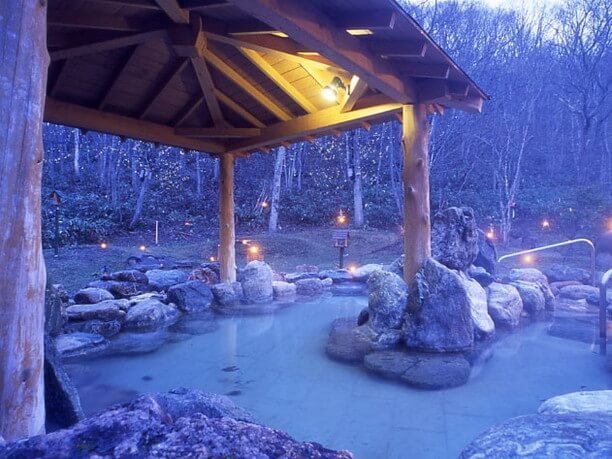 Asarigawa Onsen, located in the Otaru Asari Classe Hotel opened in 1954. It is also called the "Otaru special place." It is in a naturally rich environment surrounded by mountains on three sides.

Its main characteristic is convenience! It is 60 minutes by car from the Shin Chitose Airport, 40 minutes from Sapporo, and 15 minutes from Otaru-Kanko. In such a short time, you can quickly reach the quiet heart of the mountains from the downtown space and calm down. When traveling in Hokkaido, it is recommended for those who want to see both Sapporo and Otaru but want to heal their mind and body too!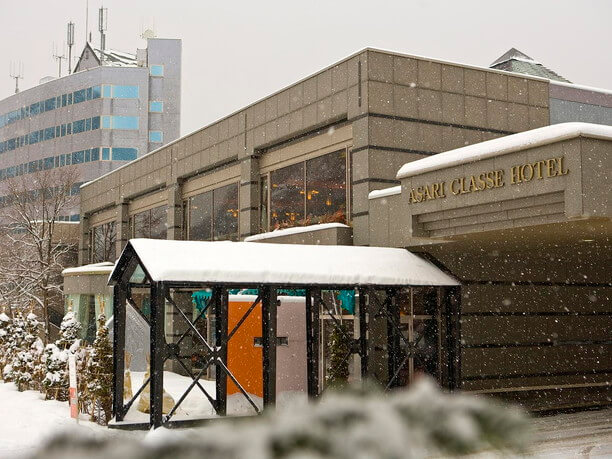 Otaru Asari Classe Hotel is not only a hot spring but is also a different type of resort hotel committed to "beauty and health." Let's look at their secret, centering on things you can enjoy not only during your stay but also on a day trip.

Experience this "aging care resort" with a female manager!
When entering the hall, a lot of candles will welcome you in a lobby with a calm atmosphere.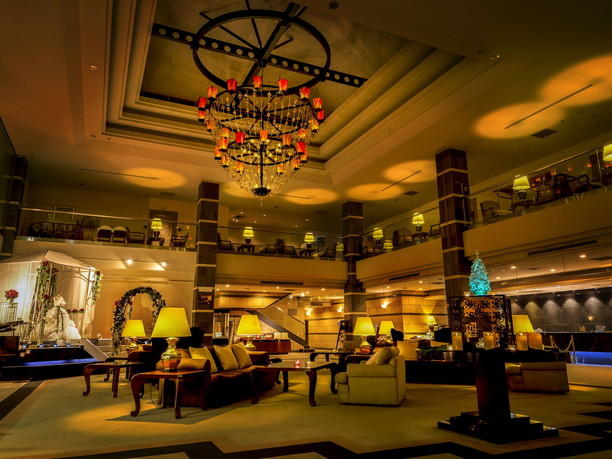 "The concept of the Asari Classe Hotel is "healing!" "It is said that the candles have a fluctuating effect to relax humans," says manager Aya Takeda.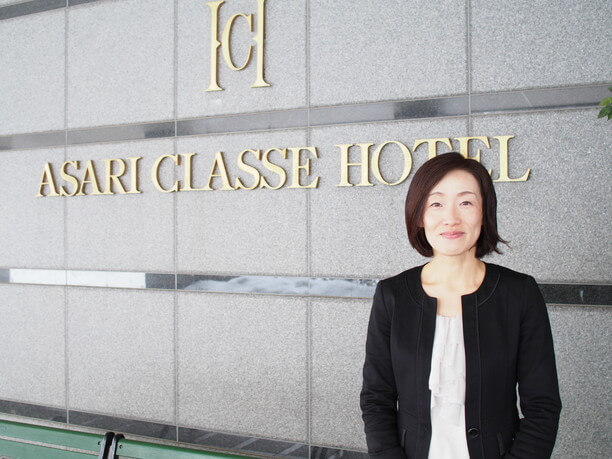 The ceiling candle type chandelier is an LED, but has the same fluctuation that a candle has with the use of digitized data that is programmed and reproduced. Just staying in the lobby makes you feel like being surrounded by candle lights and will help you relax. "The hotel is also focusing on aging care, and we are using a lot of ingenuity to make use of hot spring bathing in health and beauty," she said!
Enjoy their open-air bath's with its seasonally different appearance!
The public bathhouse is at the back of the first floor. When entering the bath, the first thing you notice is how big it is! Since the whole bathtub faces the window, you can enjoy bathing while watching the outside scenery.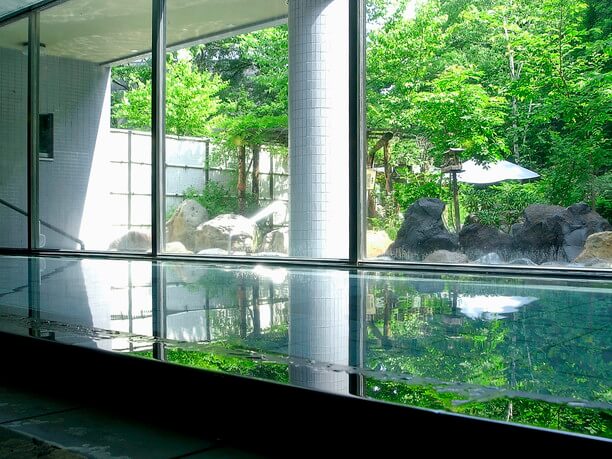 The hot water is 107 degrees, is transparent, and has no smell! The spring is a sodium-calcium chloride fountain. It is said to be effective for muscle pain, neuralgia, recovery from fatigue and so on. Moreover, the heat insulation effect is also high, and it does not quench well after bathing.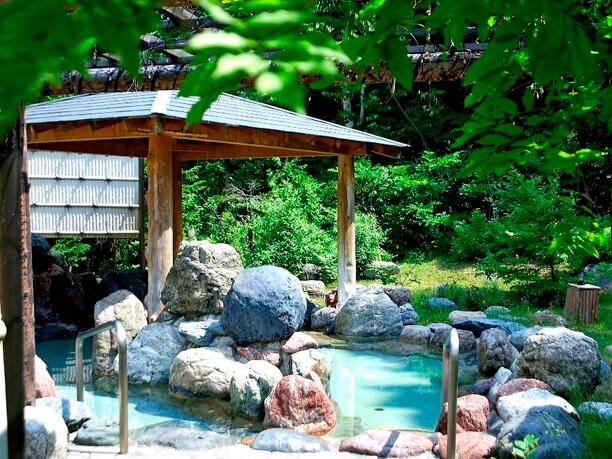 Let's go to the outdoor bath after warming up by the inner bath. The rock outdoor bath has an open feeling!
You can enjoy bathing with flowers in the garden in the spring and summer and watching leaves in the autumn and the Winter snow scene.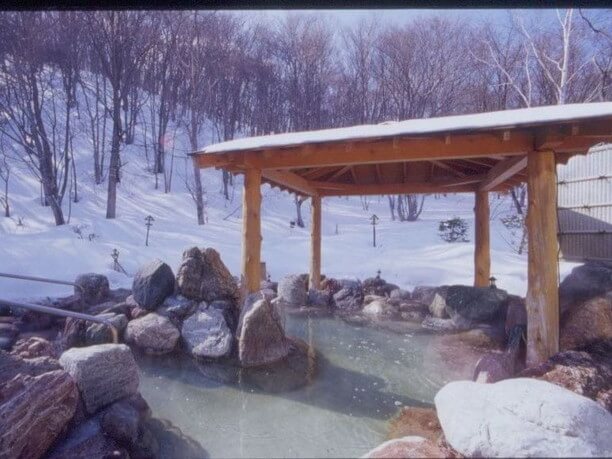 The outdoor bath which changes the expression also by the time zone is not only good for healing a tired body, but also the tiredness of the heart is taken care of.
Enjoy a meal committed to deliciousness and health!
When you take a bath in a hot spring, you get hungry. At Otaru Asari Classe Hotel, you can enjoy delicious meals on the first-floor restaurant, "Sylphide".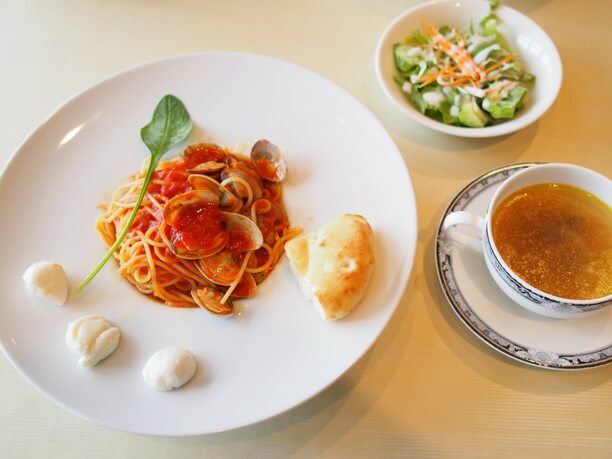 They have a "Weekly Lunch Set" (1,300 yen) which is offered from 11 am to 2 pm. You can choose from Western, Chinese, or Japanese cuisine. The picture above is an example of Western food. It is a pasta set of Vongole Rosso. It is an authentic Vongole made with fresh, healthy ingredients. The coloring is beautiful!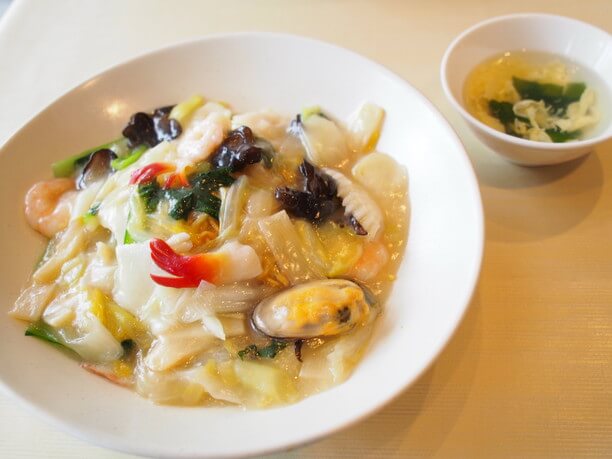 Also popular is their "Otaru Ankake seafood fried noodles" (1,450 yen). They use seafood ingredients such as shrimp, squid and hockey shellfish. The taste of seafood goes well on the bean paste and it is finished with the best of sauces.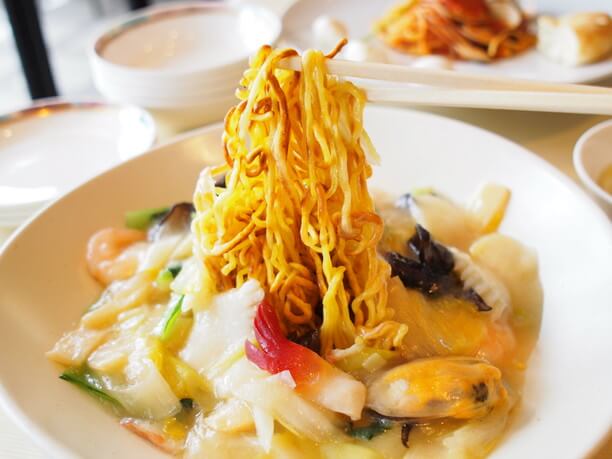 Here is a surprise comment from the manager Takeda "Actually this lumpy fungus has been added plus lactic acid bacteria that support the stomach and intestinal environment as a beauty and health recipe series!" I feel a strong commitment to the "beauty and health" of the hotel.
Experience their Facilities for enhanced beauty and health!
The facility symbolizing the "beauty and health" of Otaru Asari Classe Hotel is the "Aging Care Salon."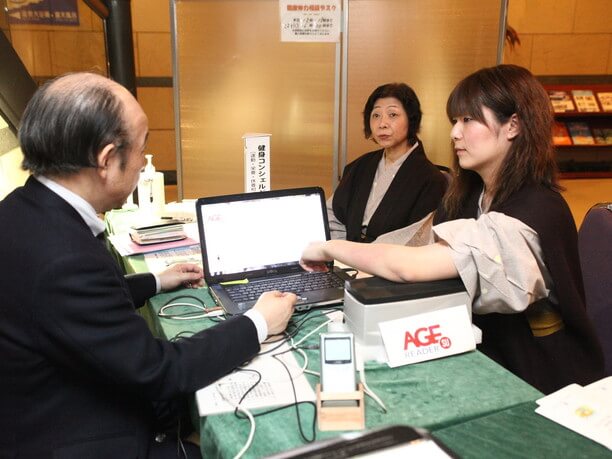 First of all, they measure the vivo glycation, skin age and vascular age with a rare machine called AGE reader. (Measurement fee: 1,000 yen). Based on the result, you can get all the advice on health from their "stay healthy" check-up concierge including bathing suggestions, eating habits, and supplement drinks!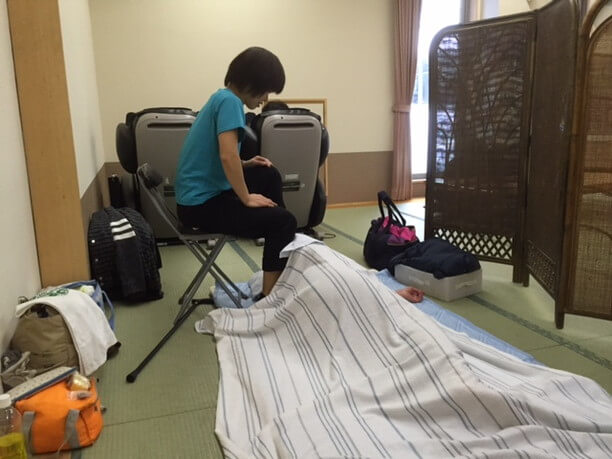 In addition, there is an unusual "foot pressure body care corner" (15 minutes 1,000 yen) that relaxes the muscles with the sole of the therapist's foot!
Visit their shop where you can buy vegetables directly from where they were produced!
As for the hot spring hotel shop, Where most hotels just sell simple souvenirs, the Otaru Asari Classe Hotel is different. You can buy direct vegetables and fruits around Otaru all year!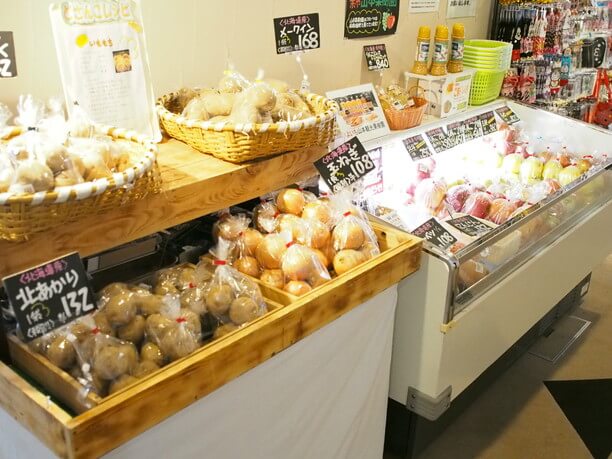 At the time of this interview, potatoes were the main item being sold but various seasonal items will be replaced according to the season. They have a large selection of souvenirs! There are many goods that can be bought only here, such as Otaru Anne Kakisoba with original lactic acid bacteria and Otaru curry finished with sweet shrimp sauce!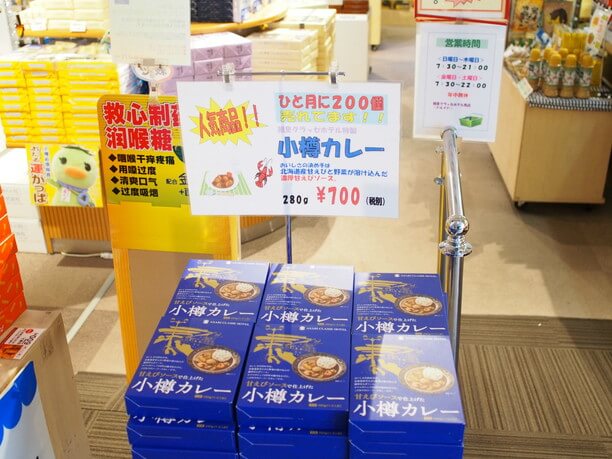 There are many shops in the typical hot spring hotel that are closed during the day, but at the Otaru Asari Classe Hotel it is nice that most shops are open from 7 a.m. to 9 p.m. (Saturdays and Sundays until 10 p.m.).
Smart tip
For those who wish to spend their time relaxing on a day trip, we recommend a bathing and dining set "Yurara meal pack" (2,600 yen with a towel). You can enjoy bathing and meals at any time from 11 a.m. to 8:30 p.m.!
A "Full moon concert" will be held in the lobby from 8 o'clock p.m. on the full moon. As it is free to view, why not enjoy bathing & music at night on the full moon?
During the ski season they have a package deal of lift ticket in the ski area and daily hot spring ticket for 2,900 yen!
What's interesting
To further enhance your beauty and health we recommended experiencing as many meals as you can during your stay at the hotel. For example, cooked Chinese chefs are cooking dishes, Japanese cooking chiefs are macrobiotic qualification holders. You can enjoy these dishes according to your wishes,
Otaru Asari Classe Hotel
Spot name(Ja)

小樽朝里クラッセホテル
Address

676 Asarigawa Onsen 2 - chome Otaru-city Hokkaido
Address(Ja)

北海道小樽市朝里川温泉2丁目676
Telephone

0134-52-3800
Price

Bathing fee Weekday: 800 yen, Saturday, Sunday and public holidays: 1,000 yen
Open

Weekday: 11:00 a.m. to 8:00 p.m. Saturday, Sunday and public holidays: 11:00 a.m. to 3:00 p.m.
Close

Open all year
Parking lot

Yes (free)
Note