Explore Motomachi's landmark, the former Hakodate Ward Auditorium!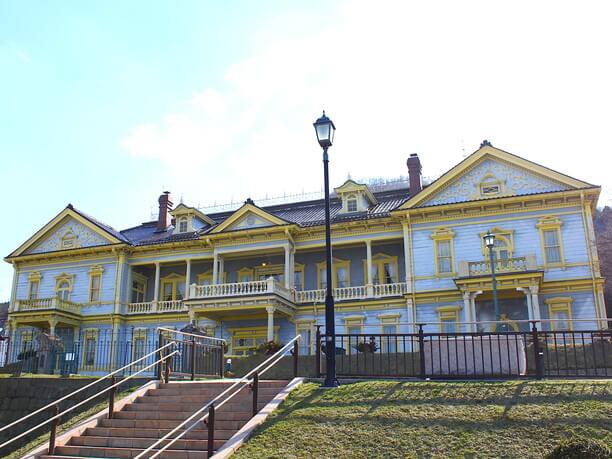 The former Hakodate Ward Auditorium, which is located on the hill overlooking Hakodate harbor, is a popular spot where the appearance of blue-gray and lemon yellow are beautiful and indispensable for Hakodate sightseeing. It is also considered a landmark of Motomachi. The inside of the hall is a high-color design that conveys the air of the Meiji Era. It is filled with lavish furniture, furnishings, stairs, windows, pillars, etc.! Wherever you look, the fine decorations are wonderful, and you can fully enjoy the elegant atmosphere.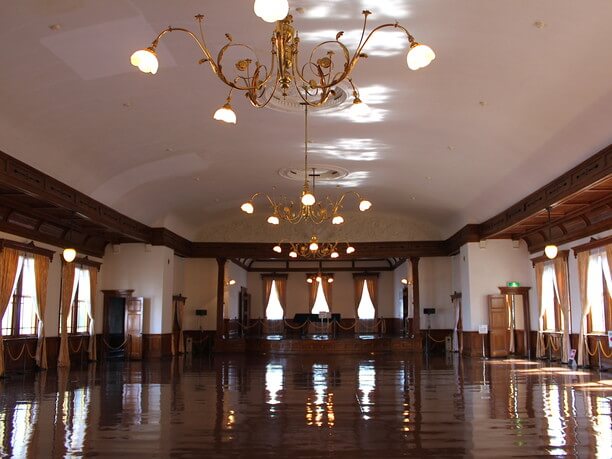 This public hall has been loved for more than 100 years!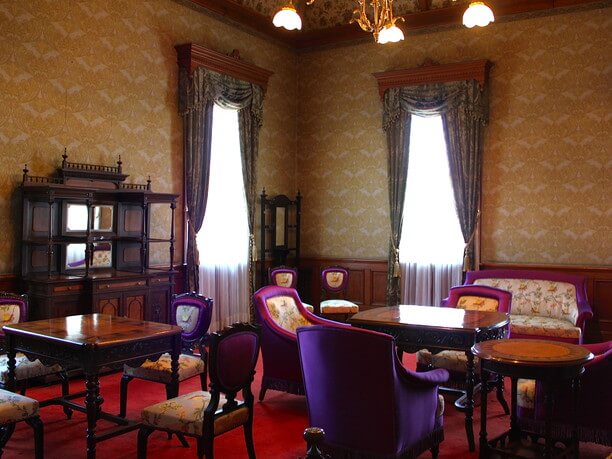 In 1907 (Meiji 40), the former Hakodate Ward public hall was destroyed by the Great Fire. It was a meeting place of the Motomachi residents. The futures trader · Teppei Soma(相馬哲平) and the residents of the time tried to rebuild it and funded its reconstruction in 1910. It was completed in that same year. After that, Emperor Taisho, (the Showa Emperor) used to visit this historical building. It was designated as an important cultural asset of the country in 1974. After about 3 years in 1982, the large-scale restoration work was over, and the public began to use it again. Currently it is used as a concert hall.
This hall was decorated with the finest goods!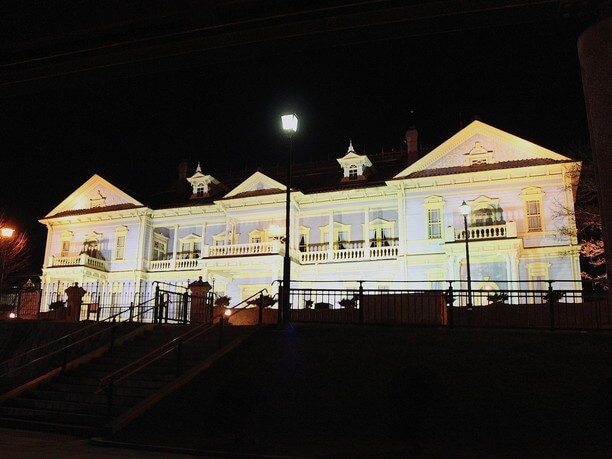 In the hall, the grand guest room where Emperor Taisho stayed, and the grand hall take up 4626 sq ft. Today it still has the gorgeous appearance it had in the past. The wallpaper and ceiling of each room are made in an Art Nouveau foreign style, and the fabrics of the chairs are all made of high-grade silk. Chandeliers with fine ornaments differ in design depending on the location, and Japanese style windows are hidden in Western style designs. If you look carefully, their luxury and splendor will become obvious!
Enhance memories of your trip with gorgeous dresses!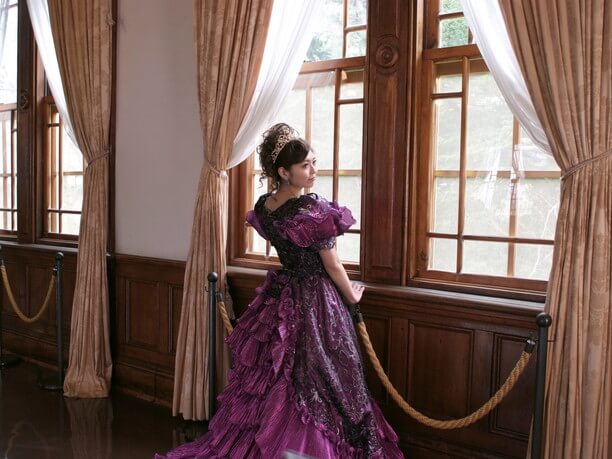 In the evening the building is lit up and the appearance in the night sky is exceptional. In addition, another fun place to visit is the "Haikara costume museum." You can wear retro dresses and formal clothes and take a commemorative photo at your favorite place such as on the balcony (rental fee is 20 minutes 1,000 yen). When you wear a dress like a French doll, you feel completely like a lady from the Meiji era It will surely become a nice memory of your trip.
Hakodate Ward Auditorium
Spot name(Ja)

旧函館区公会堂
Address

11-13 Motomachi Hakodate city Hokkaido
Address(Ja)

北海道函館市元町11-13
Telephone

0138-22-1001
Price

【Adult】 300 yen 2 ticket common ticket 500 yen, 3 tickets common ticket 720 yen, 4 tickets common ticket 840 yen 【Student · Student · Child】 150 yen 2 ticket common ticket 250 yen, 3 tickets common ticket 360 yen, 4 tickets common ticket 420 yen 【preschool child】 free
Open

【April - October】 9:00 a.m. to 7:00 p.m. 【November - March】 9:00 a.m. to 5:00 p.m.
Close

Old Hakodate Ward Hiroden Hall (New Year's Holiday) (December 31 - January 3) Haikara costume pavilion every year from the end of December to February ※ Please also check at HP as there are closed days for organizing. ※ Closed Haikara costumes are closed on holidays.
Note

HP : http://www.zaidan-hakodate.com/koukaido/

【access】 ・ By car use Route 63 from Hakodate Airport for 7 miles 25 minutes, then take Route 278, going through Asahimori
・Train ⇒ From the Hakodate Airport Bus Stop (Airport Connection Bus Hakodate Line) go to the Hakodate Bus Stop (22 minutes, 410 yen). Then it is an 8-minute walk to Hakodate tram stop.
Take the Hakodate tram (Hakodate 5 lines city tram that goes To Hakodate Dotsuku mae) Get off at the Suehiro cho station (8 minutes, 210 yen).
It is then a 7-minute walk from Suehiro cho station Duration: 45 minutes
・ Bus ⇒ At the Hakodate Airport go to the Hakodate Airport Bus Stop 4 minutes on foot. From the Hakodate Airport Bus Stop go to the- Hakodate Bus Stop (22 minutes, 410 yen). It is then 5 minutes on foot to the Hakodate Ekimae bus stop. Take the (Hakodate Bus Motomachi Bay Area Towing Line that goes to Hakodate Ekimae) and get off at the Chinese Hall (19 minutes, 210 yen).
It is a 1-minute walk from Chinese hall bus stop Time required: 46 minutes
・taxi ⇒Approximately 20 minutes Estimated fare from Hakodate Airport: 3050 yen ~ 3810 yen (in the case of general road use)