Butahage is a well-established shop connected to the Obihiro station building which features delicious pork bowls.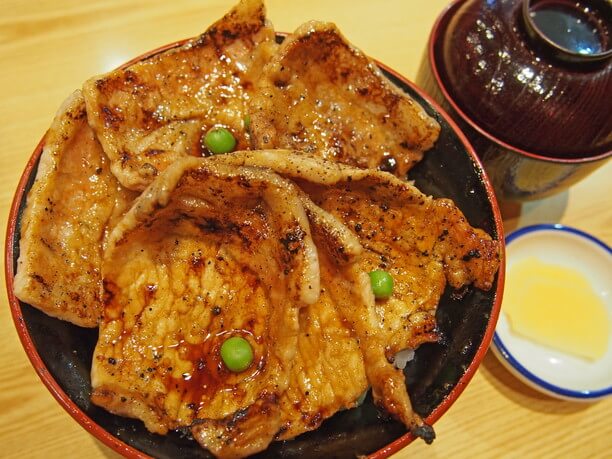 Butahage is a familiar shop to the people of Hokkaido. Their sauce and pork bowls are popular as a souvenir. It is characterized by a unique sweet soy sauce base that goes well with pork. It is a sauce that was originally made with hints of the eel flavoring.

This Obihiro specialty pork bowl was invented by several cooks in the city in the early Showa period. Butahage "sister shop" Obihiro Hage Ten is the head office and keeps the traditional recipes alive in all of the shops. They all use grilled pork loin meat of Tokachi Kamikomi pig grilled with jelly on a high heat grill. The time from ordering a pork bowl until it arrives is only about 5 minutes. It is popular with local people, tourists, and business trip workers. You can eat it at the restaurant or you can get it to go.

You can get real Tokachi gourmet immediately after leaving the ticket gate!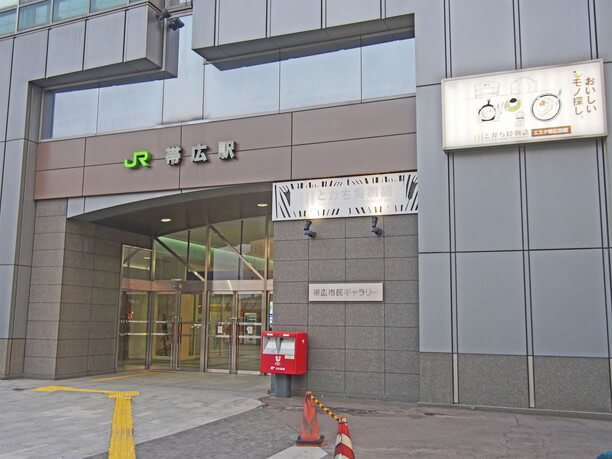 The photo shows the west side of JR Obihiro Station North Exit from the outside. When you enter from there you will find the station on the left side and the right is the Obihiro Esta West Building where the Butadon nobutahage is located. From the ticket gate, walk towards the west exit.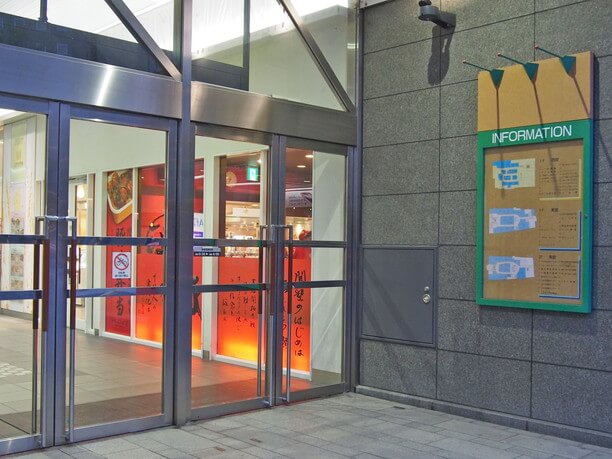 On the right side of the Esta West Building you will find Butadon nobutahage advertised with a bright red color. It is a sister store opened by the long-established store Obihiro Hage Ten.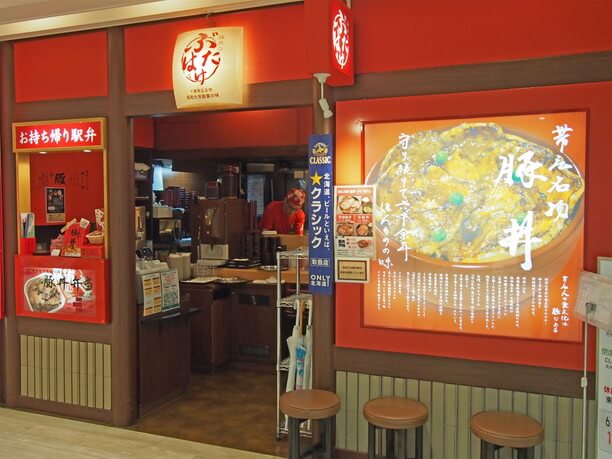 This is the front of the store. It is on the first floor of the "Tokachi Shoku Monogatari" which is a mall that has gathered together popular shops that can only be enjoyed by Tokachi.
Enjoy rare pork loin with grilled jelly at a high temperature of 850 degrees!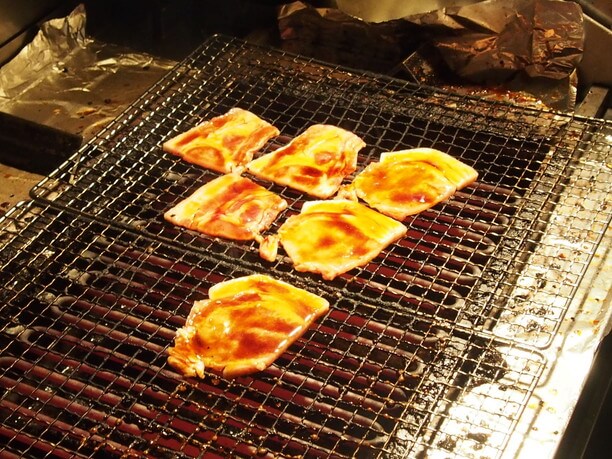 The restaurants use Hokkaido-Kamikomi pig. They use rare pork loin meat with only a few percent of fat.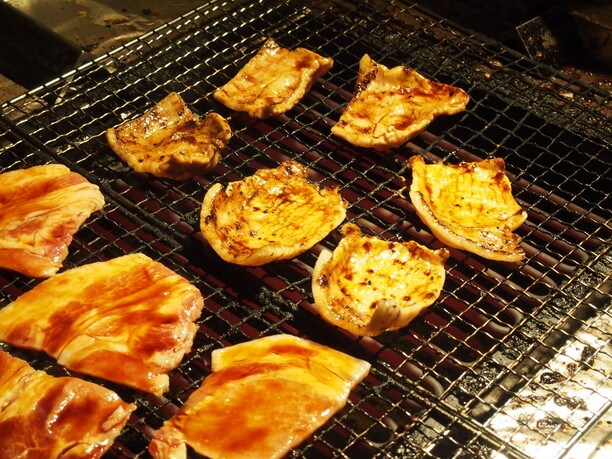 Their Pork loin is grilled with a special sauce at a high temperature of 850 degrees. By doing this, the fat falls off as much as possible, and the meat is baked fragrant and juicy.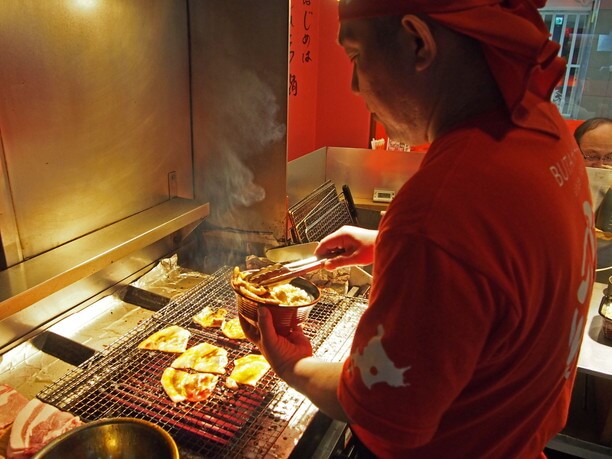 They serve the pork fresh off the grill on top of a bed of rice. The smoke from the grill does not accumulate around the counter so it does not bother guests' eyes!
You can watch their craftman cook pork through the window!
There are 14 seats in the store at counters and tables. Although it is possible to have a queue regardless of the time, it seems that the turnover rate of the customers is quick. It takes as short as 5 minutes from when ordering to when the pork bowl is served.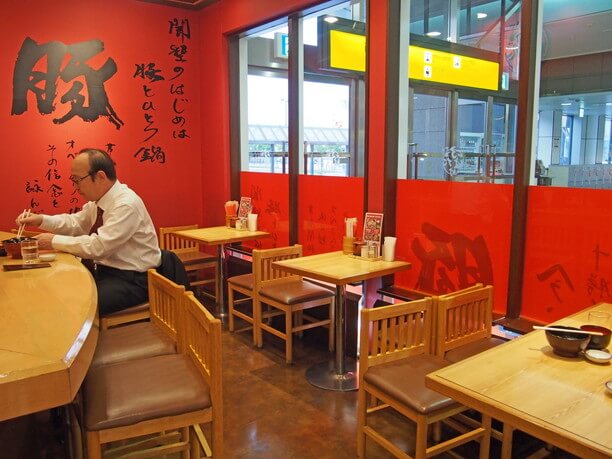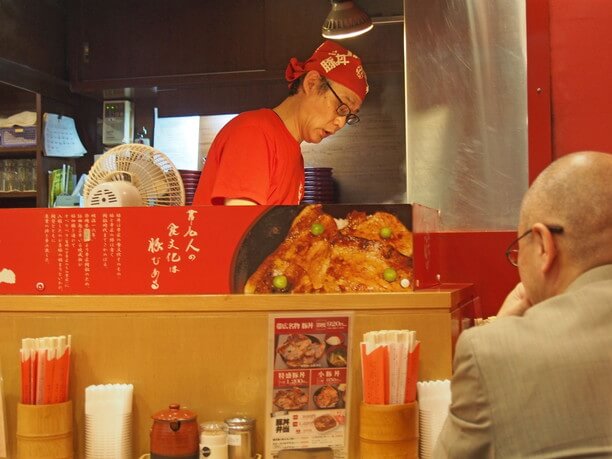 People in the store bake the meat by hand. The preparation of the pork can be seen from the entrance of Esta, so tourists are drawn in and watch.
Enjoy this pork baked with the finest sauce!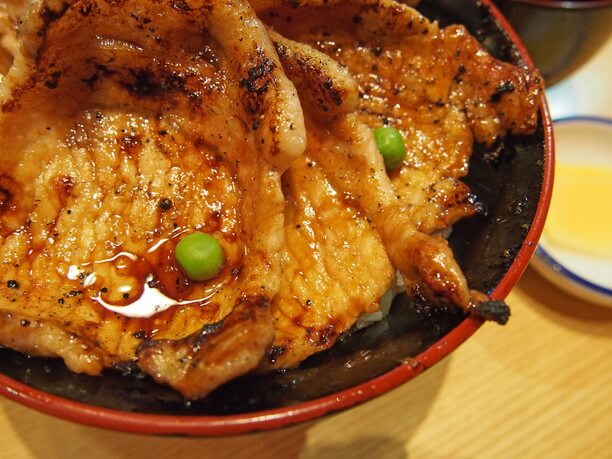 Their fragrant pork loin is cooked in a secret sauce that craftsmen boil down in a large pan and use green peas to accentuates the flavor. The menu consists of 4 piece pork bowls (920 yen), 6 piece special pork bowls (1,200 yen), 2 half-pork bowls (650 yen), all of which comes with miso soup and pickles.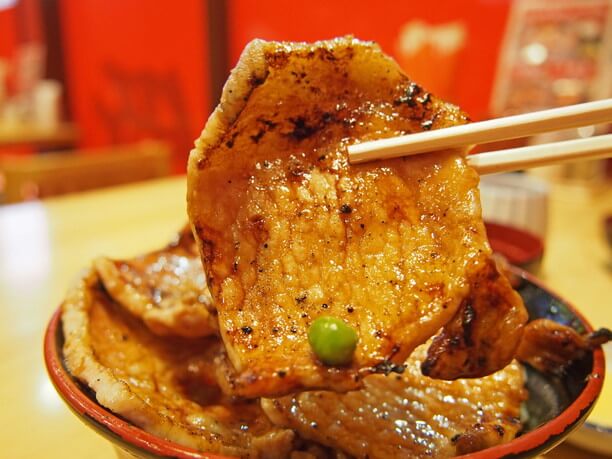 The shiny thick pork is soft, sweet and rich in flavor and goes well with rice! This shop has many local and tourist repeat customers.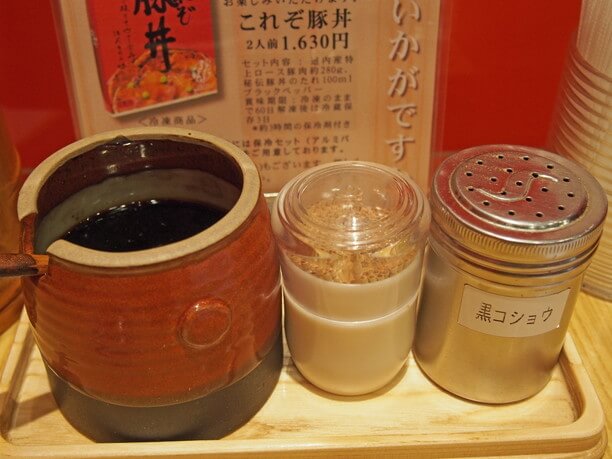 There is also black pepper available, and for those people who want even more spice bean curd is recommended. The spicy flavor goes well with pork.
Coming all the way from Sapporo on a day trip! Given as a wedding gift! People love this pork!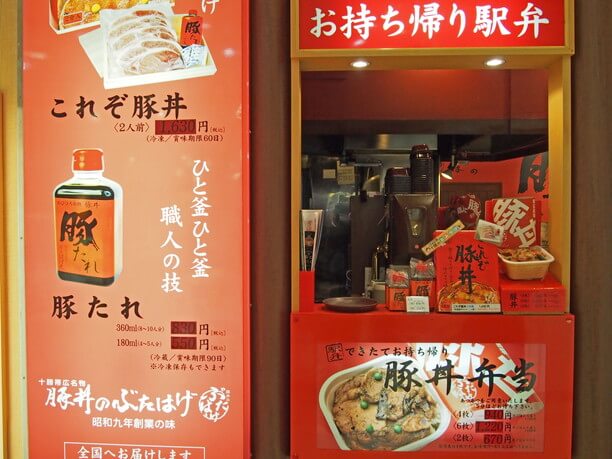 The takeaway windows are also quite popular. There are a lot of people who look forward to getting a take-out lunch box order of a hot fresh pork bowl.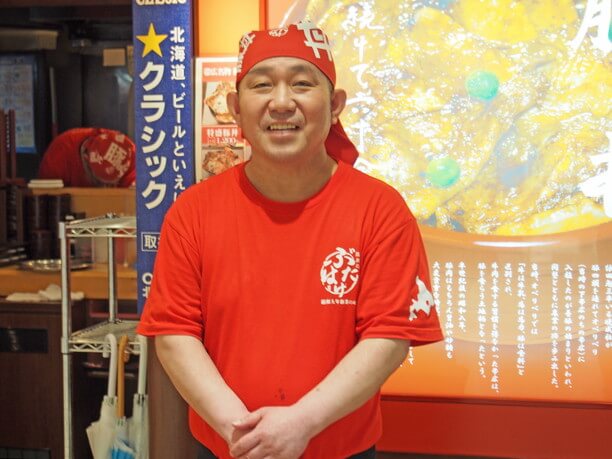 Mr. Miyamoto(宮本さん), the manager who tells us that some will even order their pork as a wedding gift. And some people will make the 2.5 hour trip from Sapporo just to have their pork.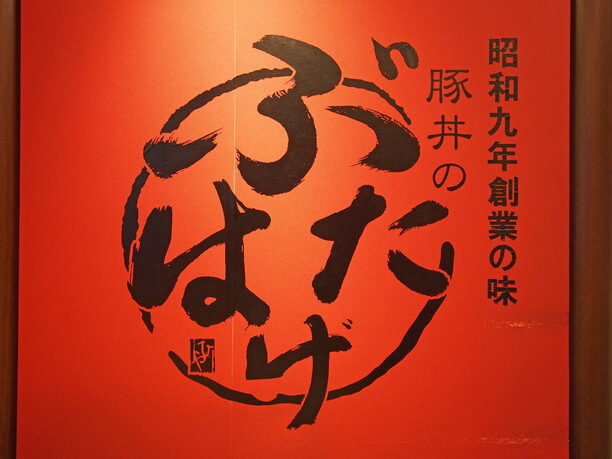 Founded in 1934, it has continued to offer excellent pork from its Obihiro location. In an area where there are many pork bowl specialty shops, they get many repeat customers.
Smart tip
Pork bowls can also be sold as a take-out bowl for an additional 30 yen. When staying at a hotel around Obihiro Station without dinner, you can take it home and slowly enjoy the taste in your own room.
Pork bowl for takeaway can be done in about 5 minutes, but if you are in a hurry you can order it in advance by phone and pick it up at your desired time.
They also sell special pork sauce, and you can also bring home the pork loin meat with a vacuum pack, frozen two servings set with black pepper in a "fresh pork bowl!" (1,630 yen) or ship it.
What's interesting
There are lots of popular sweets stores such as Cranberries and Rokka-tei in the "Takachi Shoku Monogatari." So, while you are waiting for your takeaway order of pork you can enjoy shopping for sweets.
Butadon no Butahage Obihiro main store
Spot name(Ja)

豚丼のぶたはげ帯広本店
Address

JR Obihiro Station Esta Obihiro West 9 Minami 12 chome Nishi 2 Jo Obihiro City Hokkaido
Address(Ja)

北海道帯広市西2条南12丁目9 JR帯広駅エスタ帯広西館
Telephone

0155-24-9822
Price

Half pork bowl (2 pieces of meat) 650 yen, pork bowl (4 pieces of meat) 920 yen, special pork bowl (6 pieces of meat) 1,200 yen
Open

10:00 a.m. to 8:00 p.m. (last order at 7:30 p.m., last take-out time is 7:45 p.m.)
Close

On the 3rd Wednesday (according to Esta Obihiro)
Parking lot

Yes (Esta Obihiro parking lot)
Note