It's the sauce Hanatokachi Pork Bowls " in Obihiro that makes their "Pork Bowl's so special!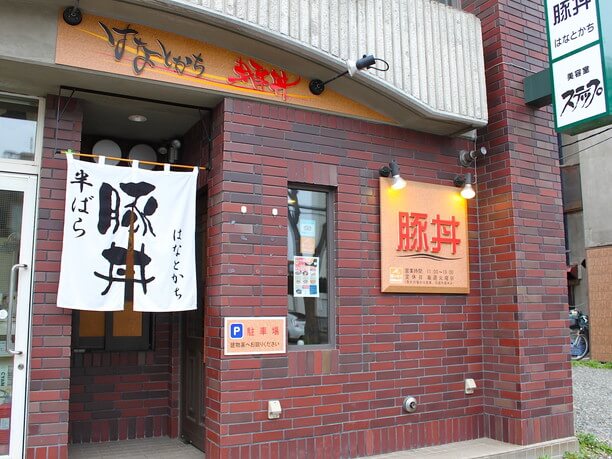 Approximately 7 minutes on foot from JR Obihiro Station, Hanatokachi "Pork Bowls" is a specialty shop specializing in Hokkaido pork bowls. It is not unusual for holiday lunch to have 200 to 300 people in queues waiting to be served.

Their half roast pork bowl and half a loin pork bowl is a popular menu item that is ordered by most customers.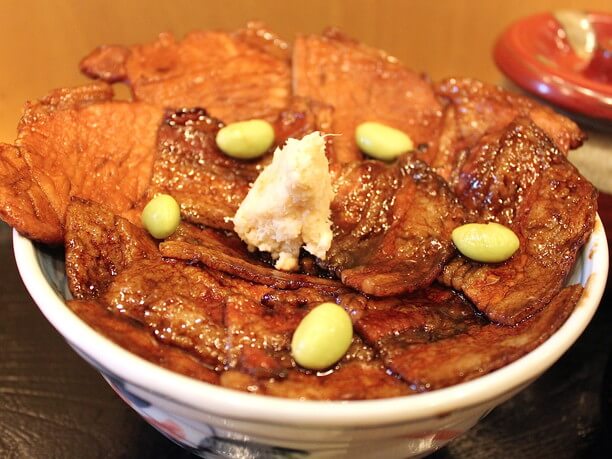 The secret of its deliciousness is in the use of raw materials such as pork and rice, homemade sauce, and the proper "baking" technology.

They coat on many layers of their homemade sauce!
The sauce which serves as the deciding factor of taste is made by stewing the ingredients for about 4 hours in a big copper pot. The combination of ingredients, including the sauce, smells delicious.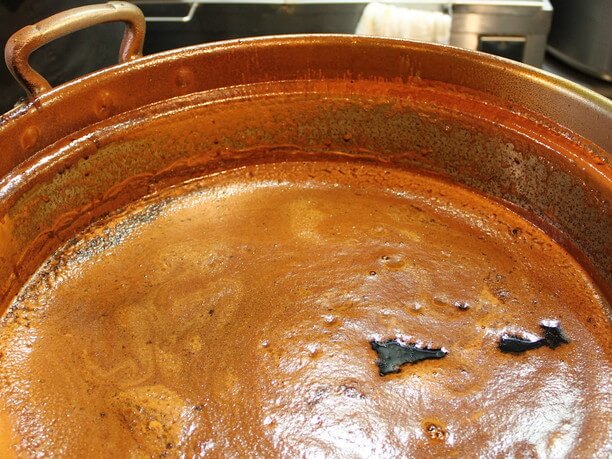 For grilling, they put meat on the grill and cover each piece with sauce one by one.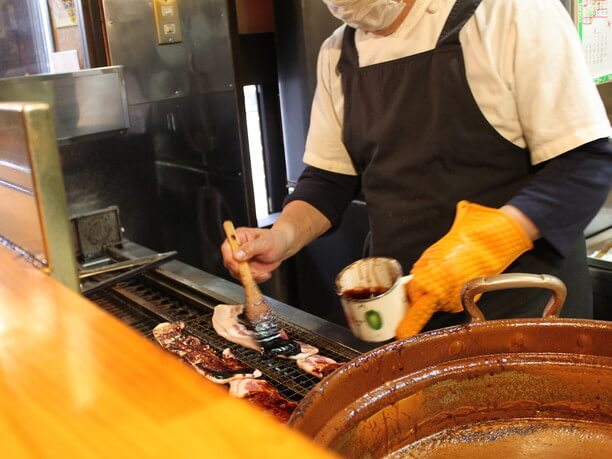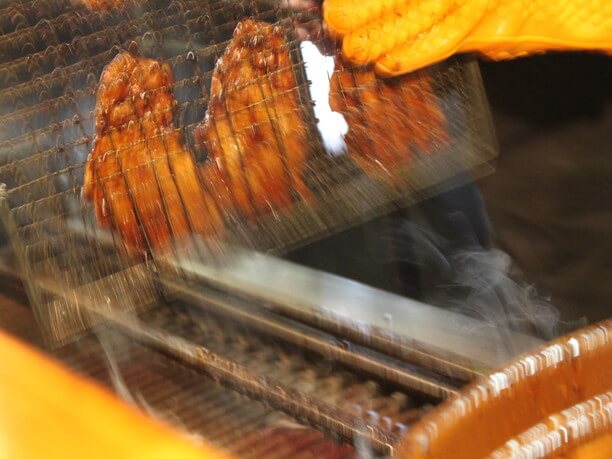 Before the meet gets too scorched, they will add another layer of sauce and turn it over quickly. This process is repeated a number of times.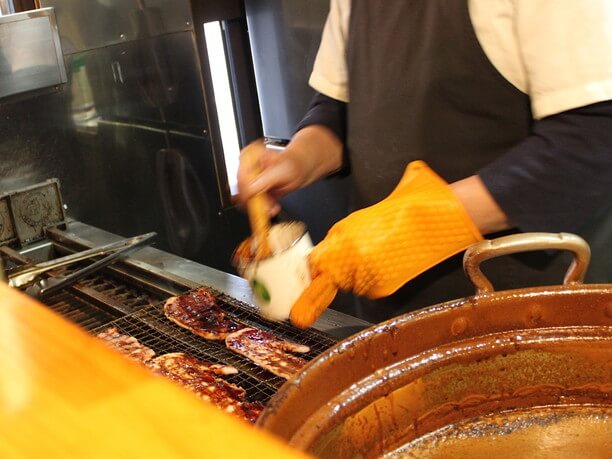 By applying many layers in this way, the amazing fragrance and deep taste are created. The excess fat drains downwards, and the smell of the sauce tempts the waiting customers.
Hokkaido "mountain wasabi" makes a good accent!
The signboard menu announces the "Hanabata pork bowl" is 1,200 yen. You can enjoy both flavors at once, with the pork rib meat on the front side of the bowl and pork loin in the back.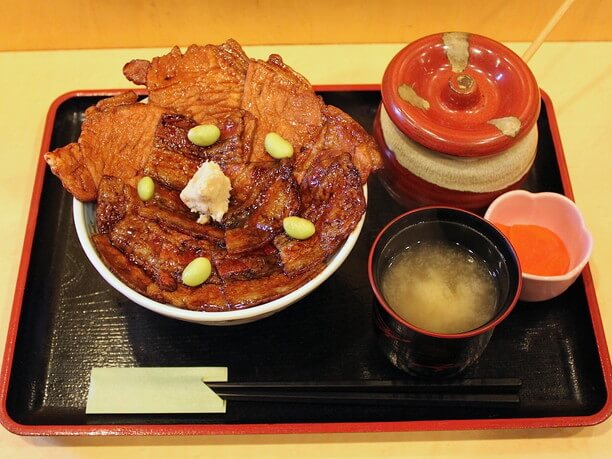 The ingredient seen in the center is "mountain wasabi," which is peculiar to Hokkaido. It is different from general blue wasabi in that its color is white, and has a more refreshing hotness.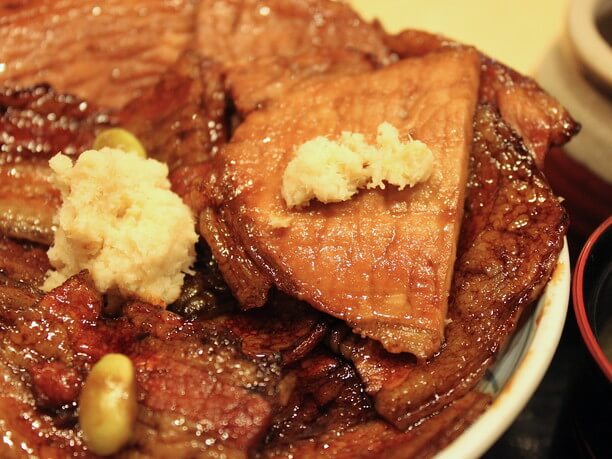 When you put it in your mouth together with the pork, you will be pleasantly surprised by the spicy taste of the combination. Some customers say that they want to buy this mountain wasabi, but they do not sell it at the restaurant.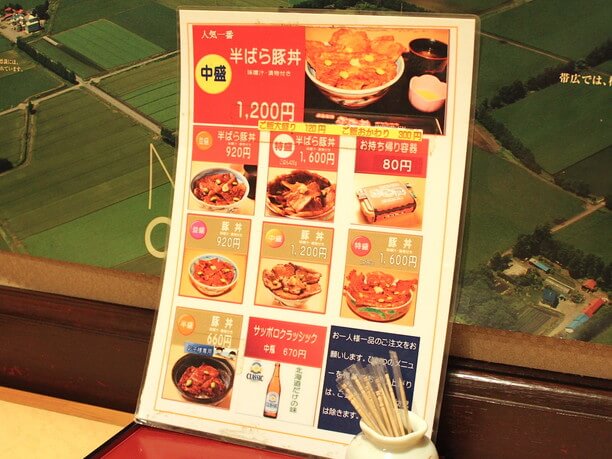 Besides "half-servings" they sell for children there is also pork bowls of roast only. In addition, there are special promotions by size.
Take out is also OK, even just the sauce!
There are table seats as well as counter seats available. The inside of the store is bright and comfortable, and Mr. Hiroki Maeda's(前田弘樹) is there to explain the creation of the pork rice bowls in detail.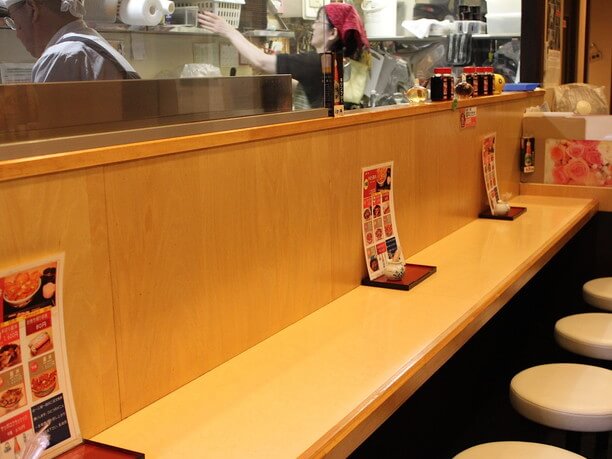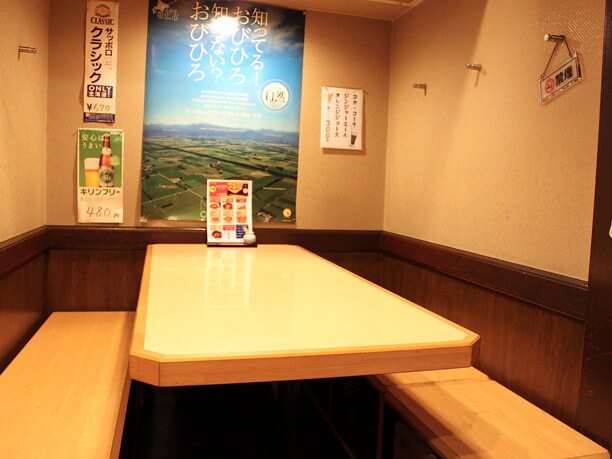 If you do not have time to eat at the store you can also take out. They sell their homemade sauce in bottles, so you can take the "painting, grilling, turning over" cooking challenge at home.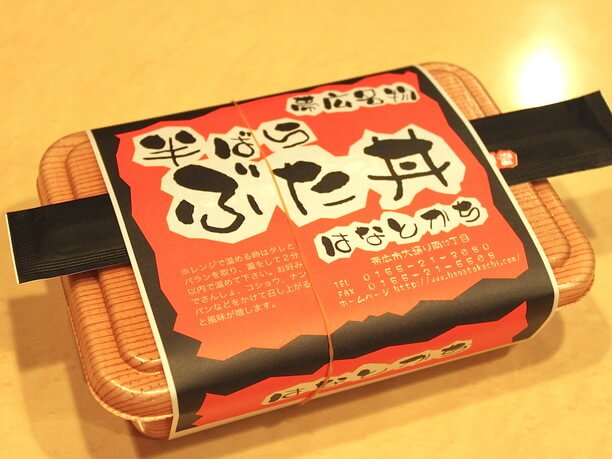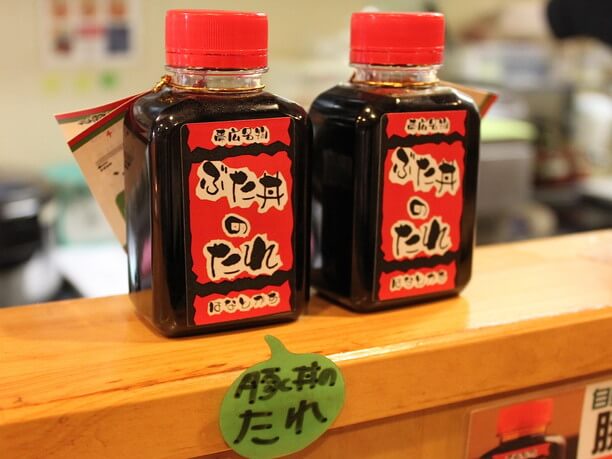 The owner Mr Maeda says, "I do not do anything special", but his straight and frank work is highly valued at the Hokkaido material exhibition held in various places. A buyer of special products that saw a number of pork bowl specialty stores said, "There are not many shops that grill their meat so properly, spending so much time to get it just right!
Smart tip
Lunchtime is often crowded, so when you have plenty of time, it is recommended to go around 2 pm.
If you do not have time to eat at the shop, you can take out with a takeaway container (80 yen).
For those who want to challenge this taste at home, purchasing their special sauce is recommended (810 yen).
What's interesting
The pork rib meat is cooked thoroughly so the extra fat falls, and creates their pork with its refreshing taste. If you eat it with mountain wasabi the spicy taste is even more refreshing!
Hanatokachi "Pork Bowls"
Spot name(Ja)

豚丼のはなとかち
Address

Katsura building 1 st floor 2-4 Ohdori 12 - chome Obihiro City Hokkaido
Address(Ja)

北海道帯広市大通南12丁目2-4 佳ビル1階
Telephone

0155-21-3680
Price

Middle pork bowl (medium sheng) 1,200 yen
Open

11:00 a.m. to 7:00 p.m. * 3:00 p.m. to 6:00 p.m. are closed (Sundays and public holidays pass through)
Close

Tuesday (Thursday in case of a holiday) ※ Open from 7 to August, from December 31 to January 3 business (until 3:00 p.m.)
Parking lot

There
Note