If you enjoy snow playing in Sapporo, come to Takino Snow World!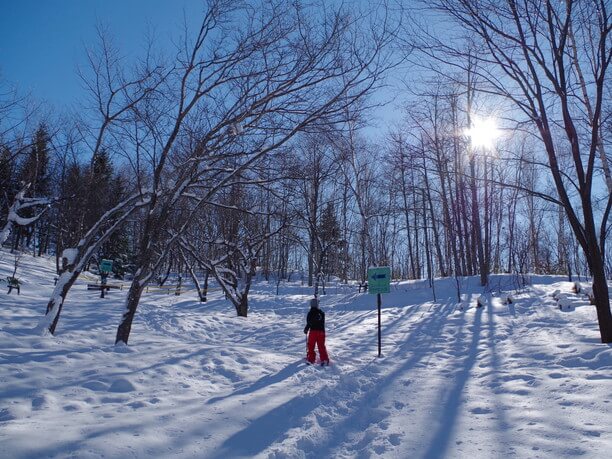 "Takino Snow World (state-owned Takino Suzuran Hill Park)" is a place to enjoy being deep in nature while still being in Sapporo city. It is approximately 50 minutes by car from the center of Sapporo. It is located on the map just between Sapporo station and Lake Shikotsu.

There is cross country skiing snowshoeing, as well as small slopes permanently installed in the park, so you can also enjoy skiing and snowboarding.
Most people are surprised to know that most of what the park offers comes free of charge. It is widely loved by Sapporo citizens as Hokkaido's only state-owned park where you can enjoy nature walks, athletic play, river play, BBQ etc. throughout the year.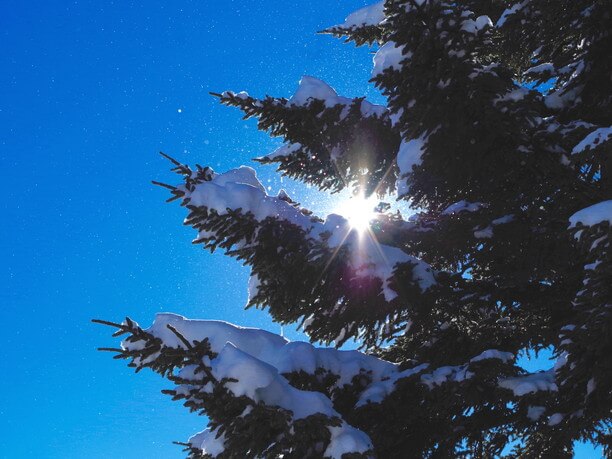 The site of the area is as large as 400 hectares. In other words, it is about as big as 80 Tokyo Domes! If you want to enjoy snow playing in Sapporo as much as you wish, come to "Takino Snow World!"

This vast park of expanding nature is only about 50 minutes from the center of Sapporo city!
Takino snow world is located about 15 miles south of the center of Sapporo. It can be accessed in about 50 minutes by either car or public transportation. Because you may have to travel on a snowy road, it is better to use public transportation.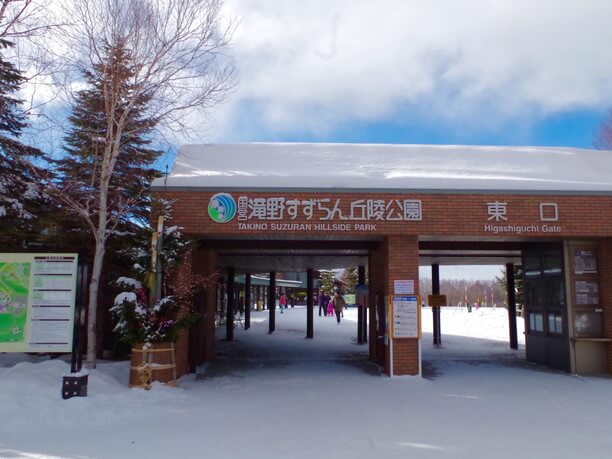 Take the subway from the city center to the Makomanai station. From there transfer to the "Central Bus Takino Line ( #106)." This way you can get there by bus while looking at the beautiful snow scenery.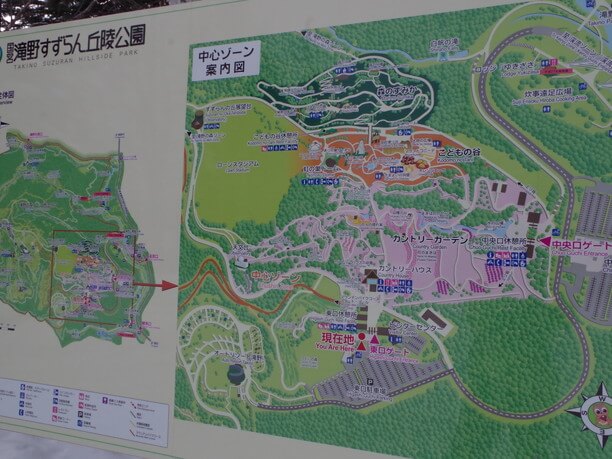 The area of Takino Suzuran Hill Park, as explained above, is extraordinarily wide. There are three bus stops where you can get off: the "mountain stream entrance", "central entrance" and "east entrance". Choose where you are going to play in advance so you will know the best place to get off.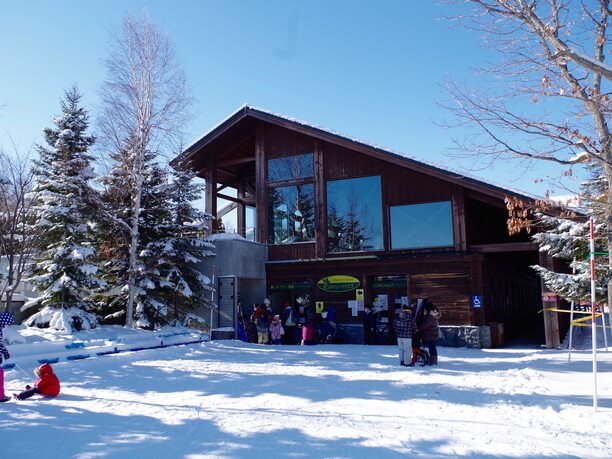 There is no mistaking that you are in the right place when getting off at the "East entrance." There is "country house" that serves as the general information office, as well as having various rental counters, meal service, etc.. it is a great place for snow playing as much as you want! It is a great beginning of the winter nature experience!
Enjoy free snowshoeing in the forest!
If you like to touch the snow while enjoying the scenery, snowshoes are the best! Taking a winter snow walk through the forest can completely sharpen your senses.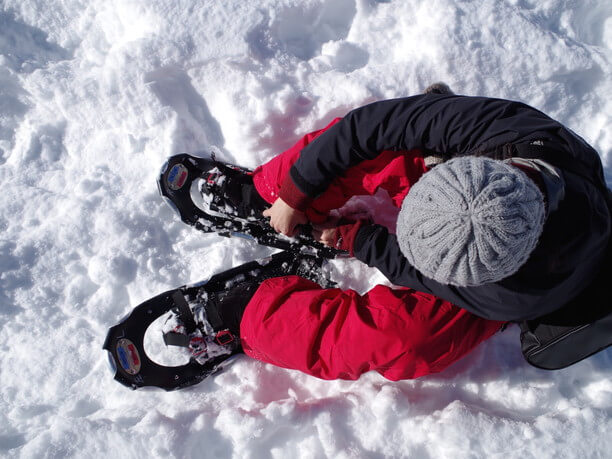 If you want an easier walking experience, go to the beautiful "Aka Gera course." If you want to head to Ashiribetsu waterfall, where in the winter season, you can see the "ice waterfall," "Kawagarasu course" is recommended. Both of them are about 1 ¼ mile in length and take about 1 hour to complete.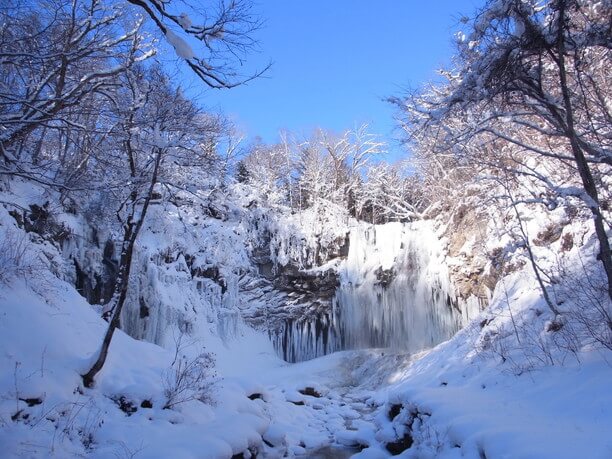 If you want to explore more seriously, "Takino no Mori Zone" is recommended. As you stroll freely within this natural area there is a chance to see Ezo squirrels and Kita foxes. The entrance is Takino no Mori Zone is about a 40-minute walk from the east entrance.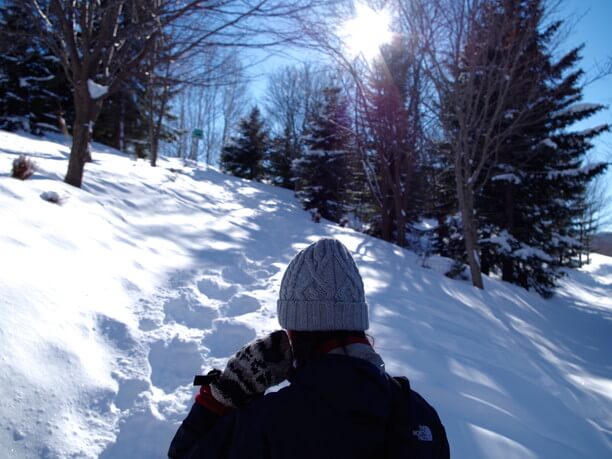 On sunny days the contrast between blue sky and sparkling white snowy field definitely catches your eye. On snowy days you will be wrapped in silence and when you listen, you will hear the sound of snowfall. With the visible scenery, the sound of the forest, the smell of Winter and touch of the snow, all of your senses will come alive to the winter in Hokkaido!
Enjoy a nature walk with cross country walking skis for a reasonable price!
With cross country walking skis you can enjoy a hiking mood and skiing on the same trip.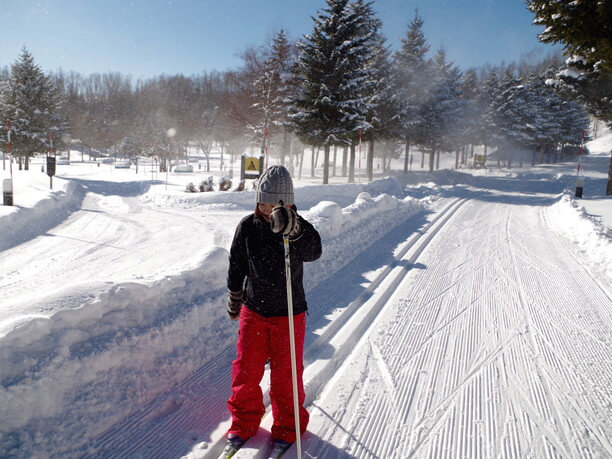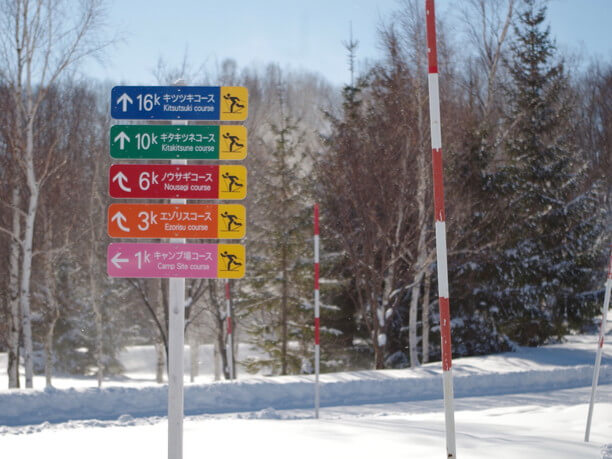 At Takino snow world, there are six kinds of course variations available. From a gentle short course that you can walk while enjoying the leisurely scenery to a full-scale rough 10 miles course. Gear rental is available at 820 yen all day. The courses of Takino are good enough courses that even full-scale athletes use them for training.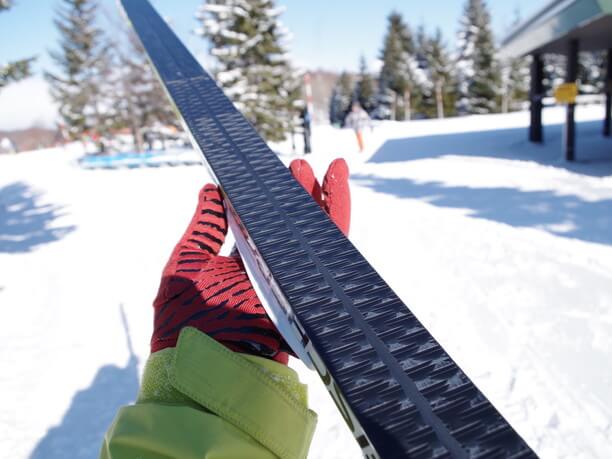 Walking ski boards that can be rented that are easy to use even for beginners. The central part of the runway has jagged scales. Although it does not affect you when sliding on the snowy surface, when walking or climbing a slope, this jaggedness makes it easier to walk with a bite on the snow.
Their tube sledding course is the largest in Japan!
"Tube sleighing" is a play that you can not afford to miss when you come to Takino in the winter. Especially since the rental of tubes are also free.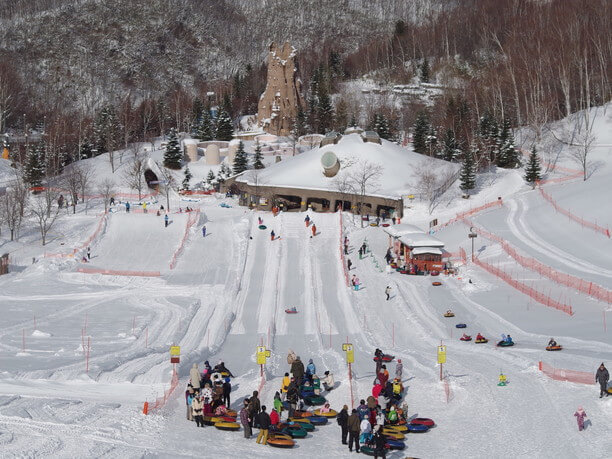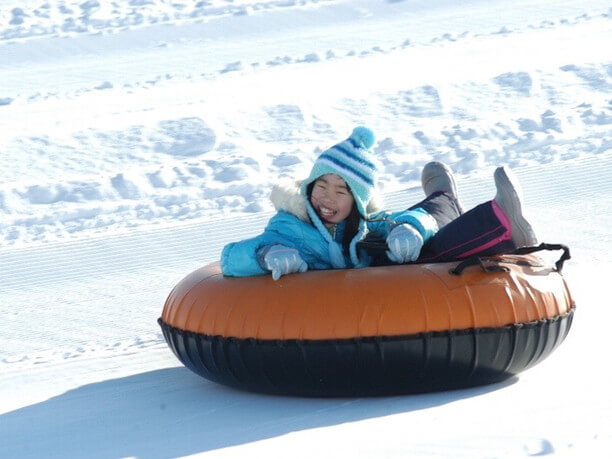 The speed and power that you will experience as you slide down 200 yards at a stretch is crazy! They have a "Rope Tow" that takes you up to the start of the course, so you can go again, and again without getting tired.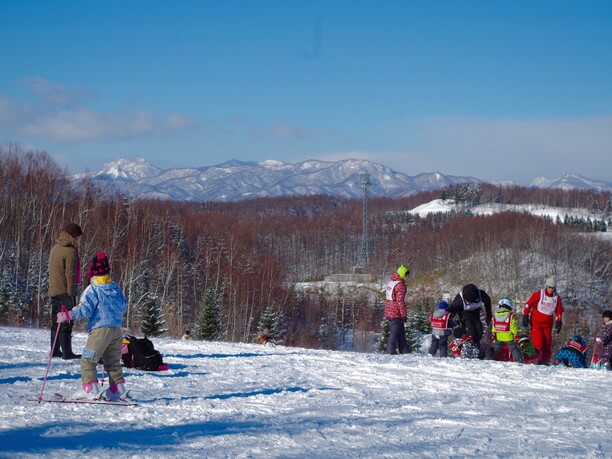 In addition, there are small ski slopes which are perfect for practicing skiing and snowboard for beginners and those enjoying skiing with children in the park. Ski rental is 2,570 yen. Lift tickets are available from 820 yen. The price varies according to the time, so check in advance!
Takino snow world is a recommended place to go to enjoy the river, mountain play, and summer camping!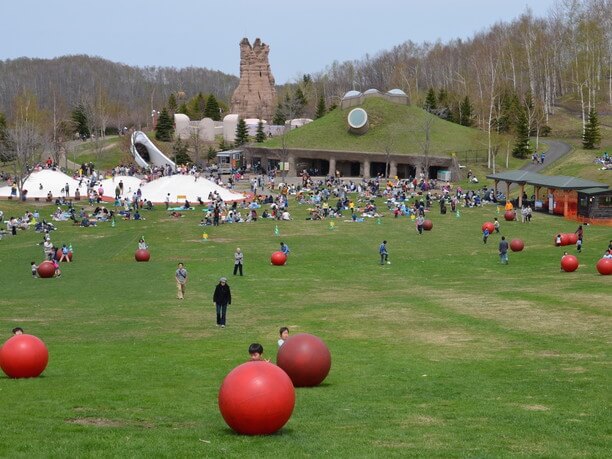 When the snow melts and the winter business is over, it is the beginning of the green season. In this vast park, there are infinite ways to play and enjoy, such as river play, barbecue, nature walks, a variety of athletics, colorful flowers and so on.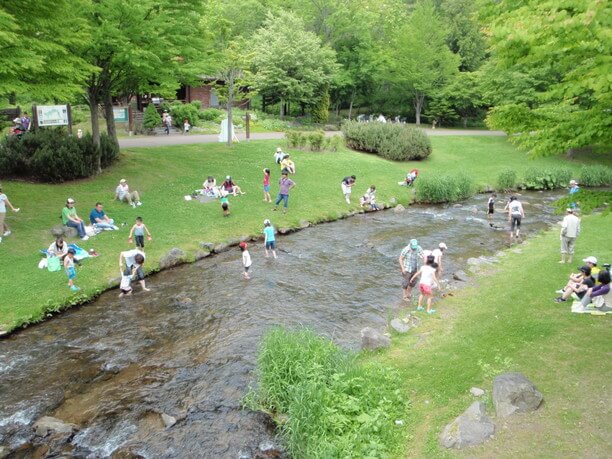 What is common in the Summer and Winter is the theme of "play with nature". Children who are learning from nature overflow with smiles, and the adults experience learning and healing by returning with their children and having fun. No matter when you visit the area, stop to play at "Takino Suzuran Hill Park!"
Smart tip
While you can rent snowshoes, and warm clothes for free, it is better to take countermeasures against the cold by bringing whatever you need. Do not forget to wear gloves, hats etc!
The most popular free stroll with snowshoes is at "Takino no Mori". There is also free rental of binoculars at the entrance of the "Forest Interchange Hall."
The snowy fields on a sunny day are beautiful, but almost too dazzling! Sunglasses are available and recommended.
What's interesting
For those who like fun in nature. I'd definitely recommend this place! Admission is free in the Winter, with many activities to experience at no charge. Each activity is awesome. Although it is slightly away from the center of Sapporo, it is worth the time and effort it takes to get there.
Takino Snow World (National Takino Suzuran Hill Park)
Spot name(Ja)

滝野スノーワールド(国営滝野すずらん丘陵公園)
Address

247 Takino Minami-Ku Sapporo-city Hokkaido
Address(Ja)

北海道札幌市南区滝野247番地
Telephone

011-592-3333
Price

Free entrance fee for winter (separately available depending on activities to be experienced)
Summer Over 15 years old 450 Yen Elementary and secondary school student free 65 years old and over 210 yen
Open

Winter (December 23 - March 31) 9:00 a.m. – 4:00 p.m. Other times vary depending on the season
Close

April 1 - April 19 November 11 - December 22
Parking lot

Yes (normal car 410 yen)
Note