Enjoy spending time at the Rokkaitei Obihiro head office with their amazing selection of sweets!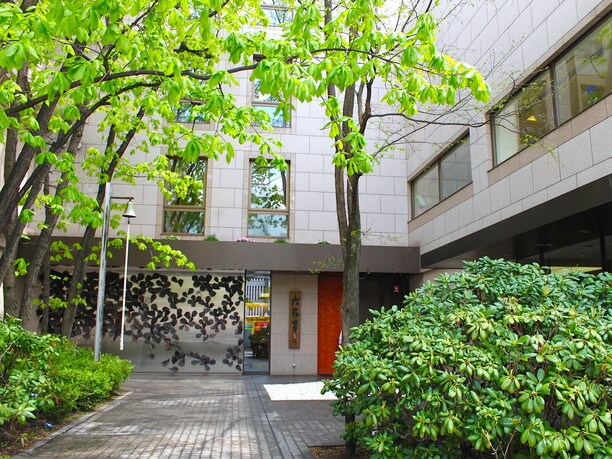 Rokkatei, a confectionery manufacturer well known in Hokkaido, as well as Obihiro. The "Rokkatei Obihiro main store"which is located about 5 minutes on foot from the JR Obihiro Station is an elegant building surrounded by trees. On the first floor is a shop and on the second floor is a coffee shop.

The Obihiro Main Store is famous for its "Saku Saku Pie" (left in the photo) and the "Takachi Obihiro hatsu" (right) which has a cool cream taste.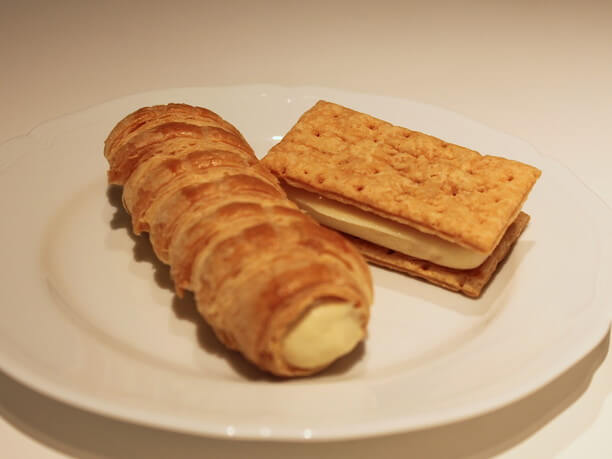 After having tasted sweets in a fashionable tea room, it is fun to shop slowly in their shop. You will enjoy this unique atmosphere that will create special memories of your Obihiro journey.

Enjoy a leisurely time in the Rokkatei tearoom!
At the entrance, colorful flowers welcome guests. The high ceiling which towers over a floor with fountains creates an inviting and refreshing feeling.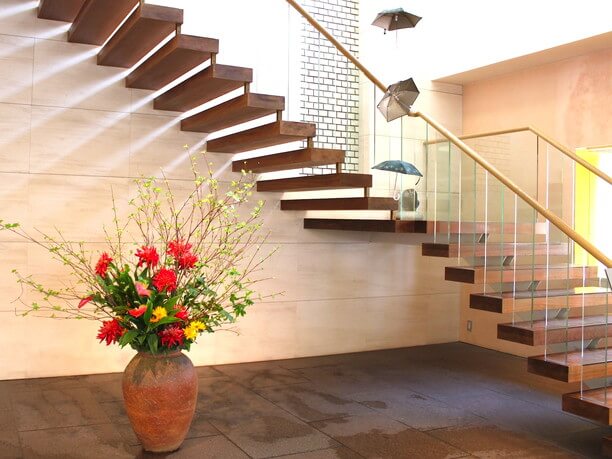 The refreshing white interior is polished everywhere. The green of the trees seen from the windows is beautiful, and the cushions with their familiar flower pattern used on their wrapping paper tickle the hearts of the fans.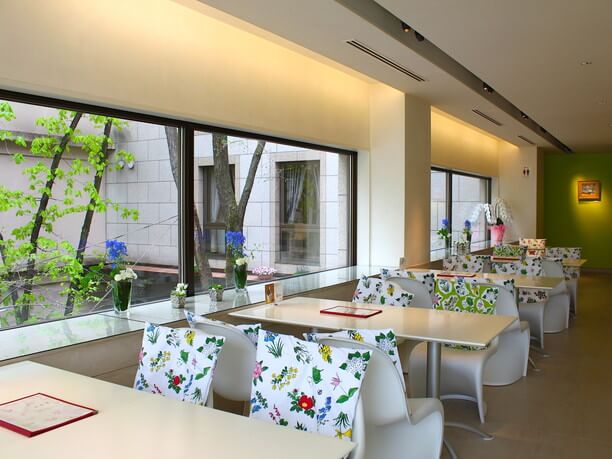 In the coffee shop in the Obihiro area, including the head office, you can enjoy their limited edition cake "Obihiro no Mori." The type of cake changes every season (pictured is the "Rikka" cake which sells for 400 yen). It is a fluffy light texture rare cheesecake which is finished with Matcha, right in front of you.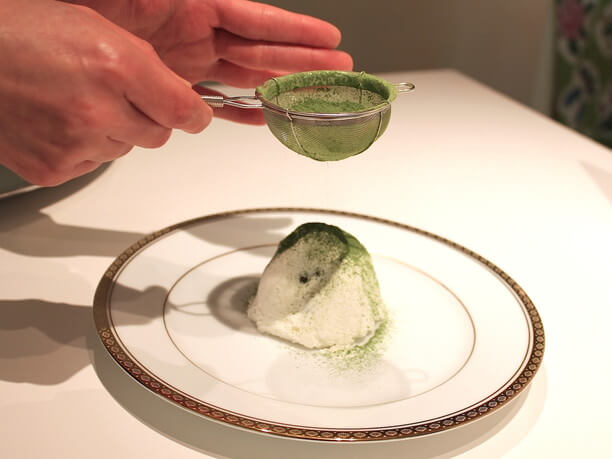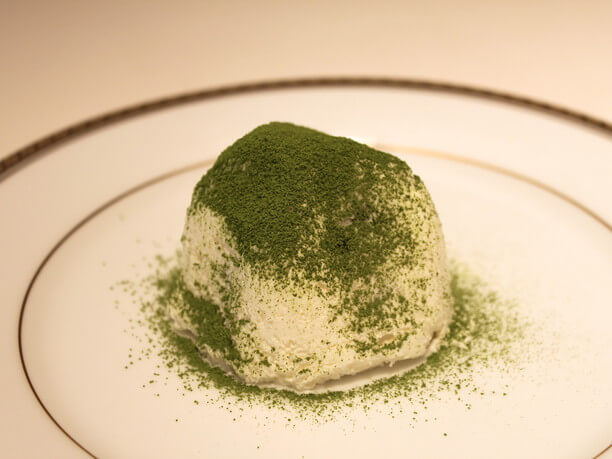 It has Tokachi azuki bean hidden inside, with cream cheese which turns smoothly as soon as you put it in your mouth. The elegant sweetness of the azuki beans blends well. Obihiro 's sweets combine fine bean with fresh dairy products. You cannot take it to go, so enjoy as much as you can while visiting this space.
you will definitely want to try their popular hot cake!
Another popular menu item is their "hotcakes" (550 yen). Although it is a familiar sweet, it seems that Rokkatei is still making improvements in order to make the baking color more beautiful and delicious.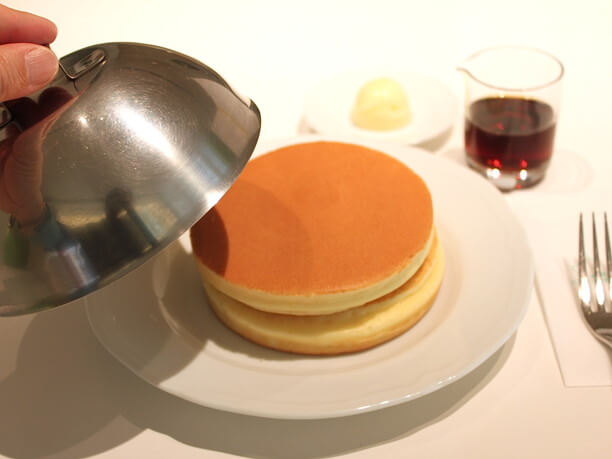 These hotcakes are served with dome cover. When you gently lift the cover, the hotcakes make an impressive appearance.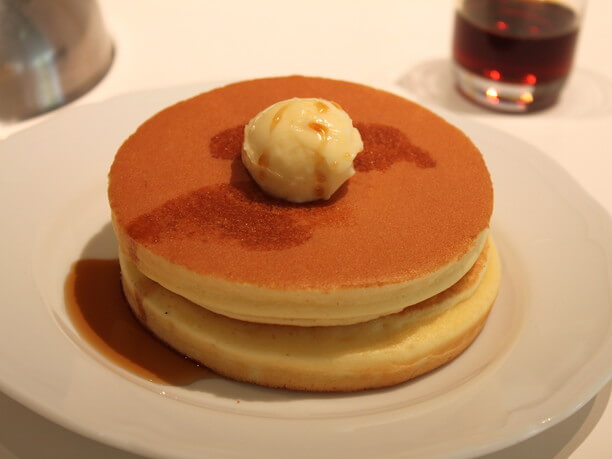 They come with plenty of butter and maple syrup. It is recommended by the owner that you cut the pancakes into 6 equal pieces to make it easy to fit a good size bite in your mouth.
In addition to sweets, there are also many snack menu items such as quiche, pizza, and rice crackers.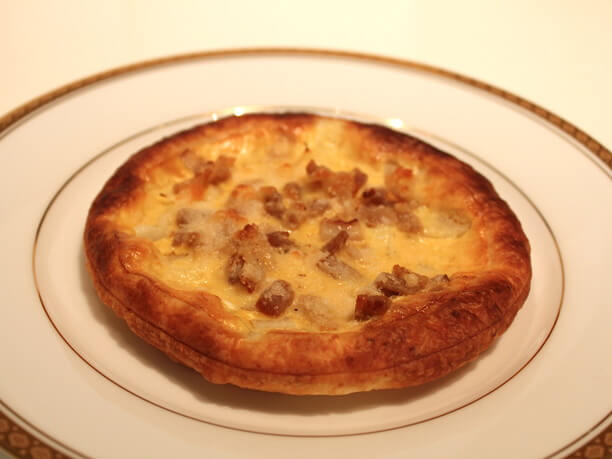 The photo above is of their "pie baked quiche" (480 yen). Baked onions and cheeses are cooked together with the other pie ingredients. It is a new menu item that was released in February 2016.
A new companion appears in the Marusei butter series
Once you have had your fill of sweets, it is time to go shopping on the first floor. The yellow packages piled up in a corner are "Marusei Buttercakes," which were released in February 2016. It is a new sweet using the same butter as the signboard product "Marusei Butter Sand." which is 125 yen per piece.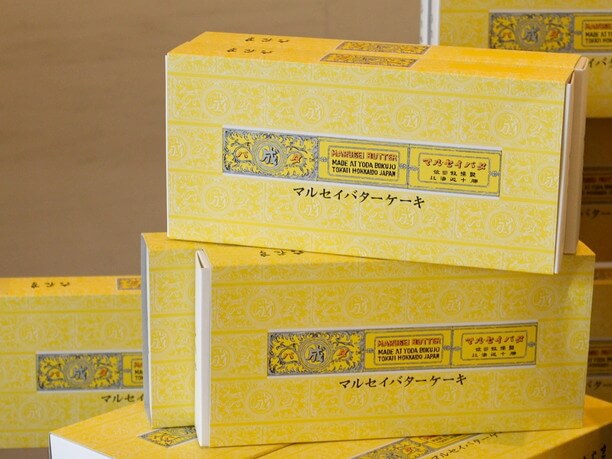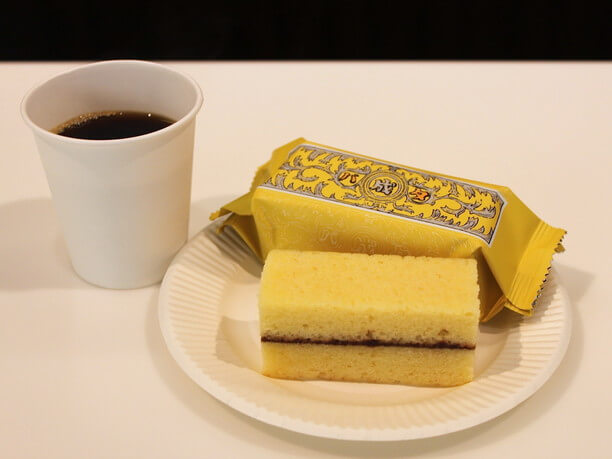 It is a sanko chocolate ganache sponge cake with plenty of butter made from 100% Tokachi produced milk. The moist sponge cake and the modestly sweet chocolate are well balanced. Because it has a lighter texture than the butter sandwich, it is characterized as easy to eat.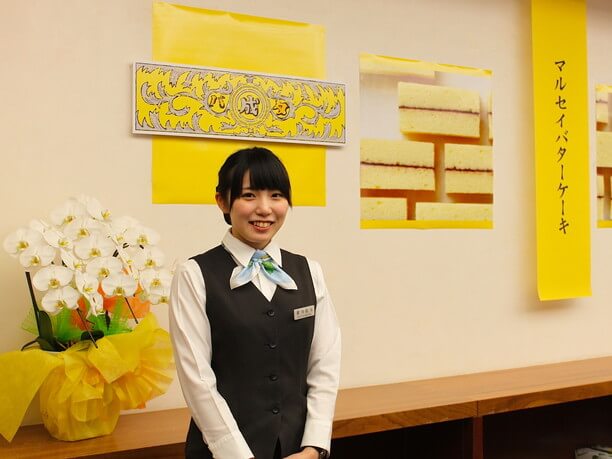 People sometimes think that since the butter sandwich can be bought at the Shin Chitose airport on the way home, they can also buy the butter cake at the same time. But you can't! You have to buy the butter cake at the head office.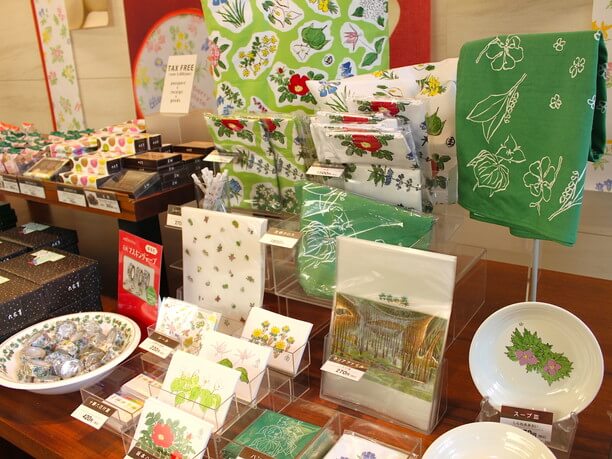 In addition, they have plenty of goods that are designed with the floral designs of their wrapping paper. It is a good idea to take your time shopping at the Obihiro Main Store for a gift or a souvenir for yourself.
Smart tip
If you use a tearoom on your birthday, you can have one free cake and drink for free (presentation of your ID is required).
There is a free coffee service at the shop, and you can enjoy their coffee with sweets you bought at the shop.
You can choose a variety of your favorite sweets and pack them in a cute round can (optional) sold separately (310 yen).
What's interesting
Salt butter "Tokachi Marusei Butterata" (200 g / 500 yen) can be purchased for home use. It is the same butter they use for their Marsei butter sandwich and butter cake. It is made from 100%. Tokachi produced milk.
Rokkatei Obihiro main store
Spot name(Ja)

六花亭帯広本店
Address

Nishi 2 Jo Nami 9 - chome 6 Obihiro-city Hokkaido
Address(Ja)

北海道帯広市西2条南9丁目6
Telephone

0120-12-6666
Price

The average budget of the tea room is around 1,000 yen
Open

1st Floor Store: 9:00 a.m. to 6:30 p.m. 2nd Floor Tea Room: 11:00 a.m. to 5:30 p.m. * Both are subject to change according to the season
Close

No rest
Parking lot

There
Note