At the Shiroi Koibito Park (White Lover Park) "Cookiecraft Studio"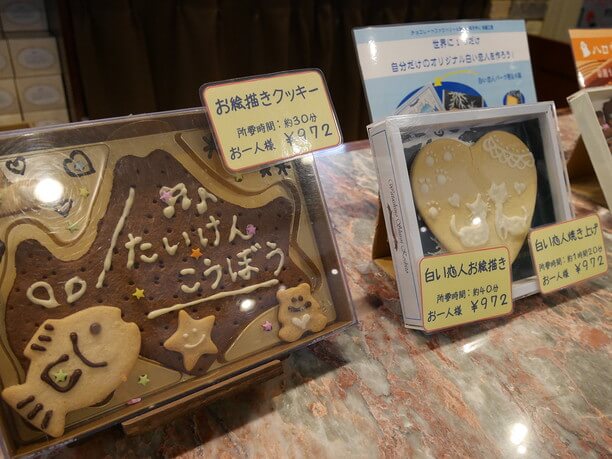 Just a seven-minute walk from the Miyanosawa subway station on the Tozai subway line, there is the Shiroi Koibito Park(白い恋人パーク). It is a popular place to visit in Hokkaido.
How about making your original Shiroi Koibito cookie at "Cookiecraft Studio" in the Park? You write your message and draw pictures on the cookie. It is going to be a great souvenir of your Hokkaido trip or a perfect gift for your friends and families. This is an activity that people of all ages can enjoy!
It takes from thirty minutes to one hour and twenty minutes depending on the course. Isn't it good to choose a course you like to fit in your schedule?
In the Cut Cookie course, you have plenty of time to explore the entire building while your cookie is being baked. You can go to the Chocolate Lounge to enjoy the special parfaits served only in this restaurant. You could venture down the building to check out the great collection of all the classic toys and gramophones. You will relive your childhood for sure! Or go to the factory viewing area to see how the "Shiroi Koibioto" cookie is made.
By the time you explore the entire building, your original sweets are done! The memory of your trip is now something you can touch!

Try making your own "Shiroi Koibito"!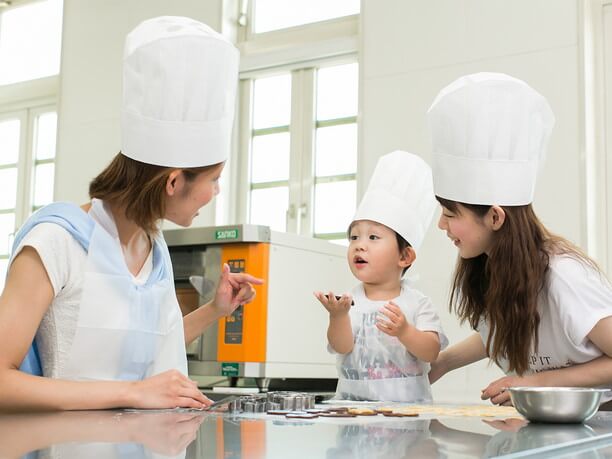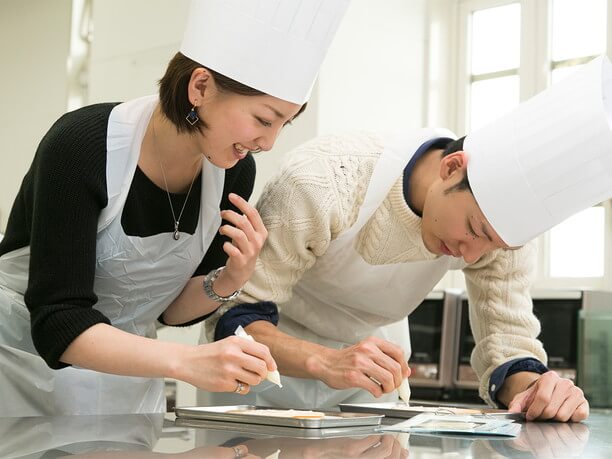 Each course offers slightly different steps but for example "My Shiroi Koibito" course will have the steps as in the following:
① Get "apron", "bonnet", "shoe cover" and enter into the workshop. Now you feel like you are a "patissier" !
② Wash your hands and finish the disinfection process, the staff takes you to your seat, then the cookie making starts!
③ Write your message and draw pictures –anything you want. This step reveals your "taste." What kind of design are you going to create?
④ After you finish, put the cookie in the fridge for about ten minutes, bag it and seal it with the machine.
⑤ Put the cookie in the box, place the sticker and you're done!
Now you have your original Shiroi Koibito. Would you like to eat it by yourself, give it to someone else as a souvenir …….or put it on the shelf just to admire?? No! That'll be a waste, isn't it?
Explore the Factory Walk.
Let's scout around the Shiroi Koibito Park while you wait for your cookie to be done. The Factory Work (the admission needed) lets you "walk around" the factory and various museums. At the Chocolate Factory, you can watch Shiroi Koibito in the making. Chocolate is placed in between freshly baked langue de chat one after another….. so interesting that you will be engrossed in the making process..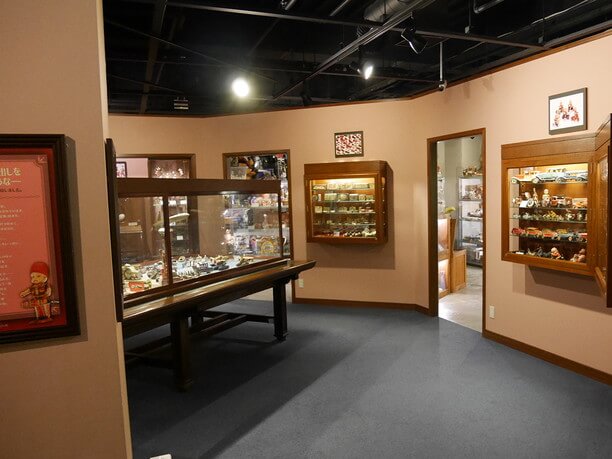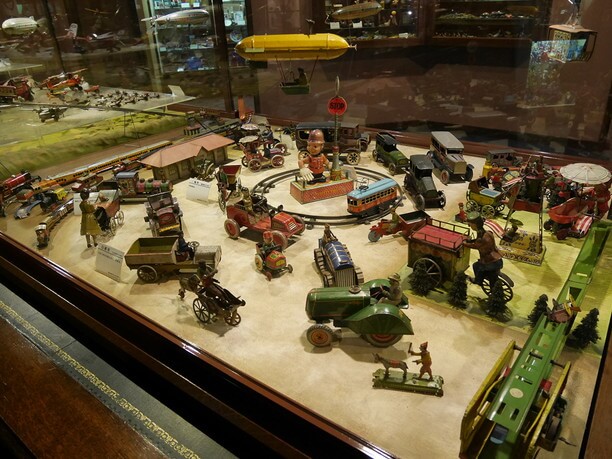 "Old-style Children's Toy Box" is replete with Japan's classic toys. The great collection from Meiji(1868-1912), Taisho(1912-1926) and Showa(1926-1989) eras instantly brings you back to the good old days.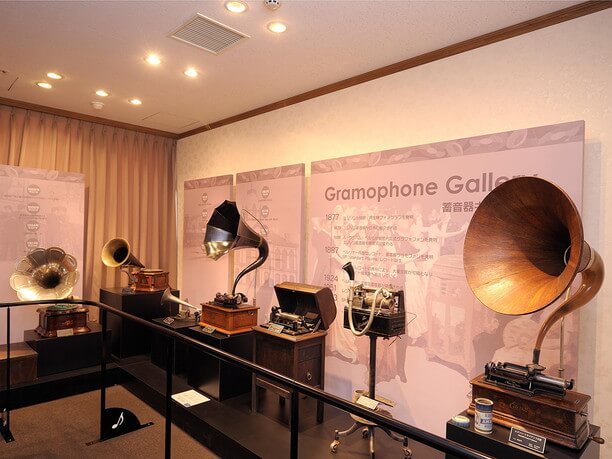 Speaking of "the good old days", you cannot miss the gramophone gallery.
Not only the sounds you enjoy, the gramophone is a piece of art by itself. You'll stare in wonder at each of them for its beauty.
You are in a candy land and must enjoy sweets, too. The chocolate lounge surrounded by antique furniture has an exclusive item, the "Shiroi Koibito parfait," and original sweets. Don't forget to try some!
Marveled at the magical craftsmanship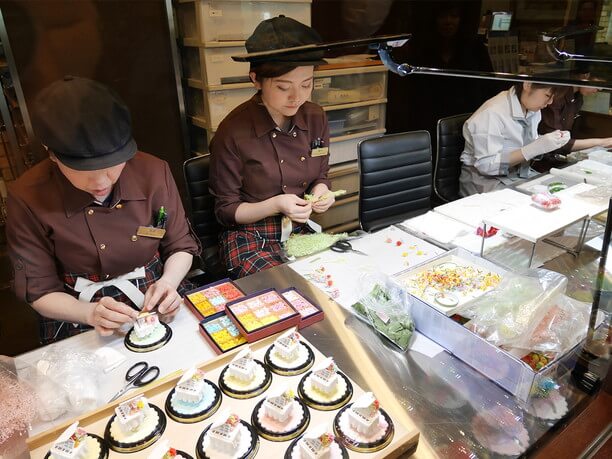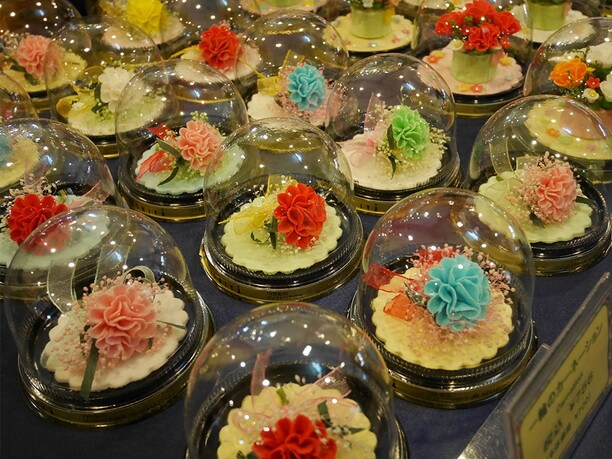 Sugar Craft started in19th century in England. There are lines of intricate and delicate sugar flowers and dolls all over. You can watch them create the sugar craft in the workshop. Each one of them is made with great care and you'll be amazed and lost by the process.
Unfortunately this sugar craft is not edible, but it may be better because you don't have to wonder whether you should eat or save it!?
At the Candy Labo, candy craftspeople with a magical touch create colorful candies; familiar stripe patterns, cute fruits and characters…..it is hard to choose which one to buy!
From among children who have had fun making their own cookies, watched the craftspeople' skills, there might come a future craftsperson working at the Shiori Koibito Park.
The changing seasons at Rose Garden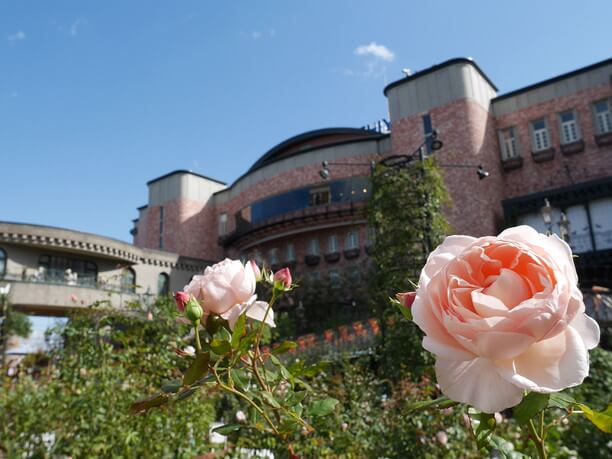 How about a nice stroll in the Rose Garden afterward? Over 120 different kinds of roses are gloriously in full bloom from June through October.
At night in winter the illumination turns the Park into a fantastic dream land.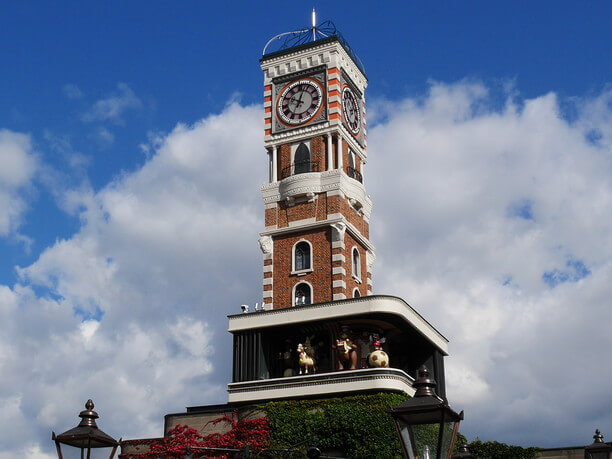 Hokkaido animals come out of the Mechanical Clock Tower and play music on the hour ever hour.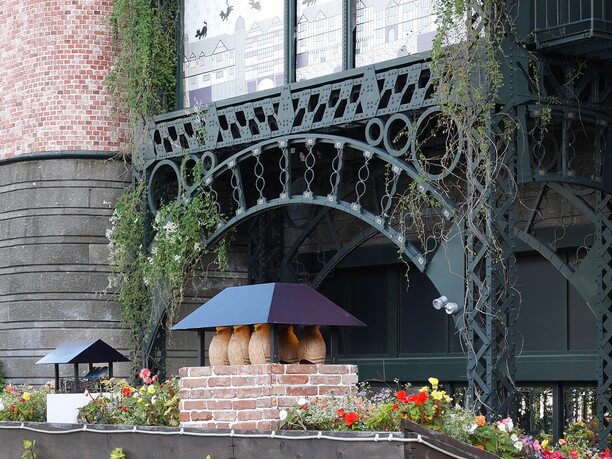 Look closely at other places in the Rose Garden…..more animals who are usually hiding also come out and sing happy songs for you.
"Shiroi Koibito Railway" is a miniature railway. A small sized "Benkei" steam locomotive train runs by a candy house and through the tunnel in 10 minutes.
You are in a candy land and must enjoy sweets, too. The chocolate lounge surrounded by antique furniture has an exclusive item, the "Shiroi Koibito parfait," and original sweets. Don't forget to try some!
Smart tip
You can make the only "Shiroi Koibito" cookie in the world. It may not be easy to decide what to draw, but even that is fun, too.
While you wait for your cookie to be baked, explore the whole building. You'll have a great time learning, being impressed, feeling nostalgic and tasting goodies!
The confectionery makers are just like magicians. You cannot help oohing and aahing when you watch them making beautiful sweets right before your eyes in no time.
What's interesting
You see the manufacturing process of how Shiroi Koibito cookies and candies are made, but what's more interesting is that you get to make your own! The Shiroi Koibito Park makes your factory field trip double or triple fun!
Shiroi Koibito Park
Spot name(Ja)

白い恋人パーク
Address

11-36, Miyanosawa 2-2, Nishi-ku, Sapporo, Hokkaido
Address(Ja)

北海道札幌市西区宮の沢2条2丁目11-36
Telephone

011-666-1481
Price

adult /600yen, middle school and below / 200yen, 3 years old or younger / free
Open

9 am ~ 6 pm (admission by 5 pm, shops open till 7 pm)
Close

None(changes in business hours during the New Year holiday season & on an occasional basis)
Parking lot

Yes.