Enjoy a taste of the new world with kushikatsu, doteyaki, and takoyaki grilled and skewered at Janjan Alley!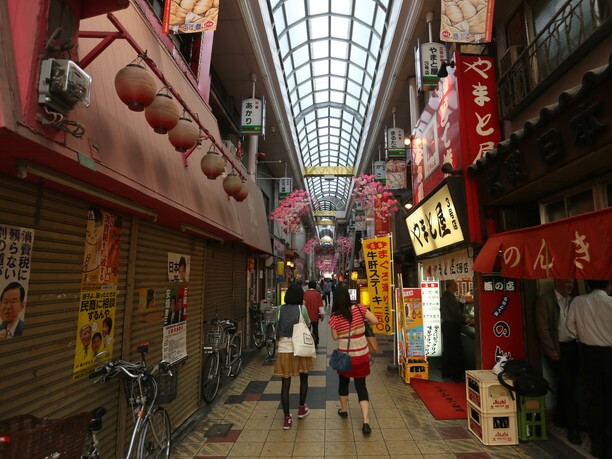 Located in the southeastern part of the New World(新世界), Nanyang Street extends North to South, and is commonly known as "Janjan Alley." (ジャンジャン横丁)
Since the war, merchants have been ringing Jungen shamisen, inviting customers to their shops.
This area of the city can basically be described as retro Showa era and is becoming increasingly popular with young people and tourists.

On either side of the arcade, you will find cafeterias, pubs and other shops filled with meat skewers, cheap and delicious gourmet sushi, noodles, and more.

In the center of Janjan Alley you will find a spot for couples not to be missed!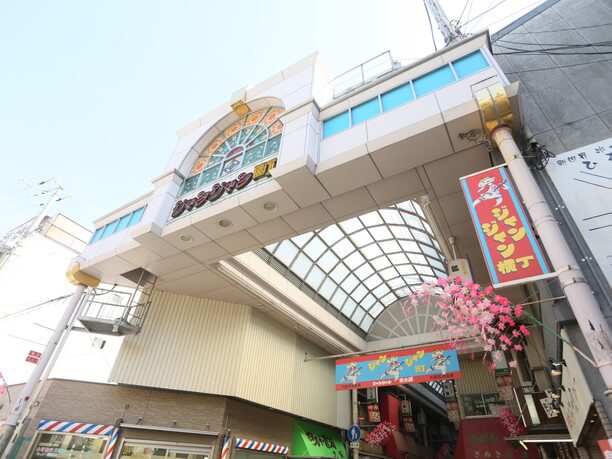 When entering from the arcade entrance on the north side of Janjan Alley you will enter a world of narrow streets (about 8 feet in width). There are many people coming and going in the daytime on weekdays and even more crowded with tourists on the weekends.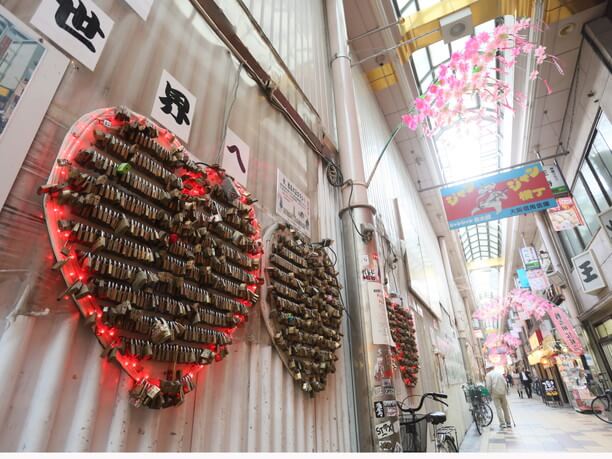 On the wall along the street there are several heart-shaped plaques covered in padlocks. It is a place where two lovers can make a key pledge and promise to love each other. "Crying out their love, in the center of the world!
There is also a site that parodies the "mouth of truth" in Rome. It is called the compatibility tester. When you put your hand into the mouth of this beautifully hand-crafted face and proclaim your love your hand will be stuck inside if you are not being true to heart.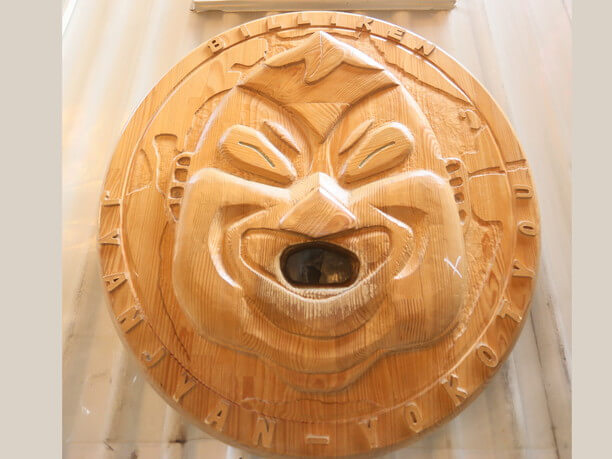 Beer goes well with the hot kushitatsu!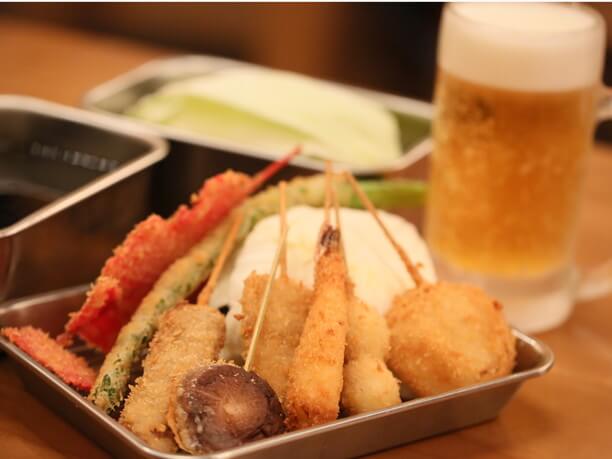 In the New World one of the most popular food items is kushikatsu. There are more than 50 shops along the street that sell kushikatsu.
They have even developed a new set of manners for eating this authentic New World delicacy. You are only allowed to dip your food once in the shared sauce. If you want more sauce on your kushikatsu you dip a piece of cabbage into the sauce and eat your kushikatsu with that.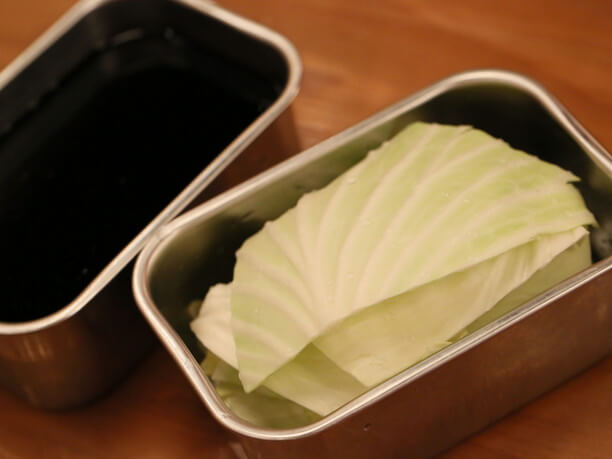 When you sit down and order skewers they are delivered piping hot.
Since there are so many skewers shops to choose from it is common for people to buy a beer at one shop and try the kushikatsu at several other shops in order to enjoy a variety of flavors.
You can feel the emotion of the Showa era at the New World chess club.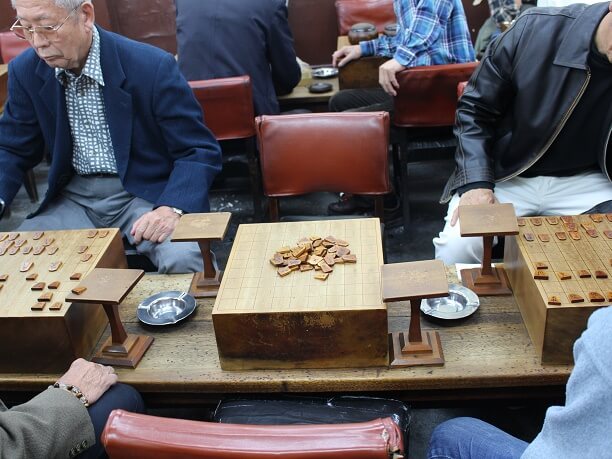 The "New World" was an NHK drama series that was broadcast in 1996, "Futarikko Mana and Kana Mikura (三倉茉奈・佳奈) played the main characters in their childhood years. They became very popular and remembered by people even today.
In the New World there is a monument to the Shogi (chess) master Miyoshi Sakata.
Many chess fans began to gather at chess clubs after World War II. Eventually these became businesses like the, Katsura Chess Club where you can feel the spirit of the Showa era.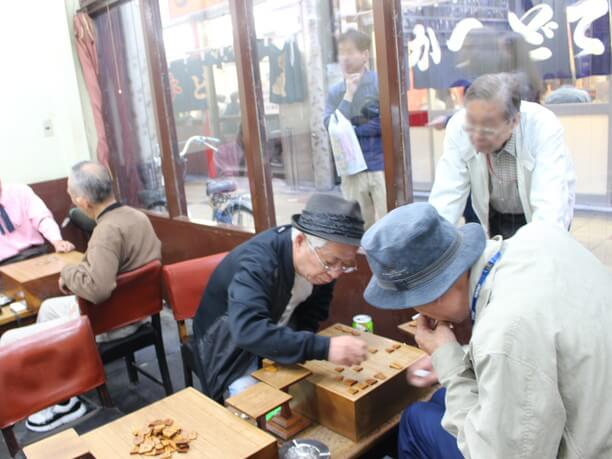 Though it has changed in appearance from the ancient times, people still instinctively stop by and watch through the glass as people play Igo and Shogi at the Katsura Club.
Even tourists stop in to test their skills.
There is a clerk on hand who does what he can to access your skill level and match you up with a worthy opponent.
Janjan Alley has always been a popular destination for the older residents of the area. But now it is becoming more popular with younger men and women as well as couples.
Smart tip
There are so many stores serving kushikatsu. So if there is too long of a line just go to the next store. Each shop has a different price, taste, type, and atmosphere, so enjoy checking out a few.
Some shops open early in the morning and quickly fill with customers. It is commonplace to see people having a beer with their kushikatsu even before noon. Most don't drink too much it is just that they enjoy being able to eat and drink some before or after shopping.
The Chess Club is an exciting for Shogi fans. Many will gather outside the window to watch a match and freely yell out advice and encouragement to the players.
What's interesting
Janjan alley has become famous as a place for getting some kushikatsu and a cold beer. However with its New World style friendly atmosphere, it is becoming increasingly popular as a place for sushi, and gourmet noodles as well.
Janjan alley (Nanyang Street)
Spot name(Ja)

ジャンジャン横丁(南陽通商店街)
Address

2-17 Ebisu Higashi 3-Chome Naniwa-Ku Osaka-city Osaka
Address(Ja)

大阪府大阪市浪速区恵美須東3丁目付近
Open

Depends on each store
Close

Without
Parking lot

Without
3 Katsura Club
Spot name(Ja)

三桂クラブ
Address

Osaka, Osaka, Naniwa-Ku, Ebisu Higashi 3-Chome 2-17
Address(Ja)

大阪府大阪市浪速区恵美須東3丁目2-17
Telephone

06-6643-6019
Open

9:00-21:00
Close

Tuesdays
Parking lot

Without