Enjoy creative Japanese vegetables in a fashionable refurbished warehouse!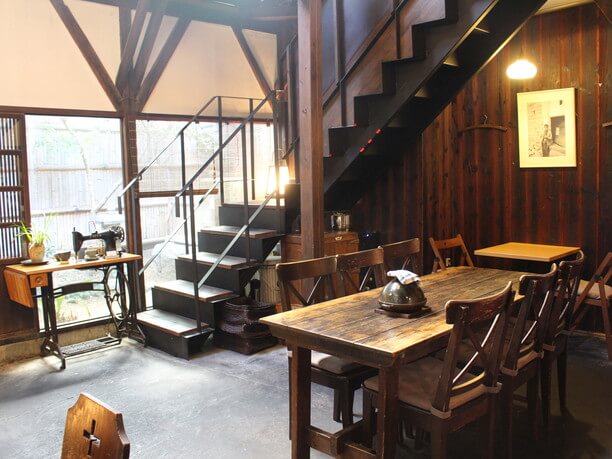 This dining and event space is a renovated warehouse built in the early Showa era. It is a stylish space where you can feel the history of a hundred years ago while you enjoy creative Japanese food using organic vegetables and fresh seafood. They also have many kinds of Japanese sake, shochu, and wine. There are table seats on the first floor, seating on the second floor, and a counter on the main floor so it is convenient even for a crowd of people. It is located close to the courthouse so there are many law firm offices in the neighborhood. As a result, there are many lawyers and businessmen at this shop. They have an event space with a stage, and they organize seminars related to food such as how to make enzyme juice.

This old-fashioned warehouse stands in Sugawara-cho town!
This warehouse shop in Osaka is located next to the Tenman Palace in Sugawara-cho town. You can walk to this area from the Higashi Umeda station of the Tanimachi underground line and from the Minamimorimachi station. It is called the "Temman district." Long ago, many wholesalers lined side by side along river s selling dry goods, sake, and glass. It is still an emotional area where traditional buildings remain, such as townhouses, tenement houses, and warehouses.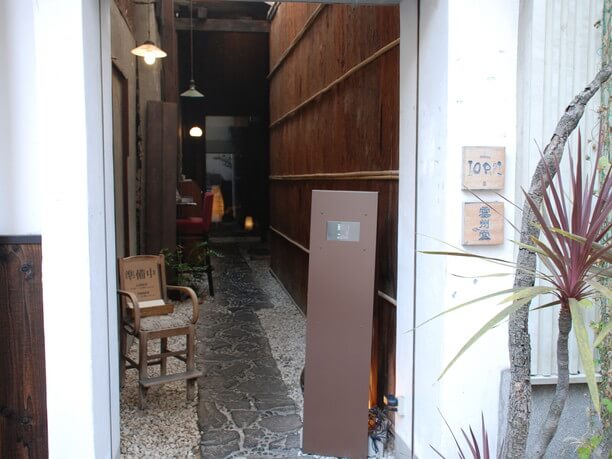 A small signboard is a landmark on the front entrance of the shop that otherwise might get confused with a private house and is likely to get overlooked. Expectations for finding the shops increases as you pass through narrow passages of the alleys. At the entrance to the "Unshudo" you will see the old signs for the "Unshudo warehouse Co., Ltd." that still remains. It is a historical spot that was once a warehouse for abacuses.
They maintained the outer appearance of the original warehouse while inside is a retro-modern space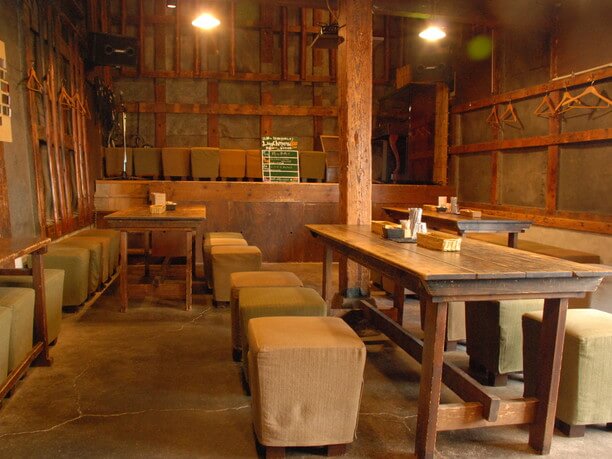 At "Unshudo" the beams and walls of the past were left intact. It is used for lunch in the daytime and event space at night. There are a lot of live music events, stage events, plays and rakugo held here. The acoustics of the old warehouse and the stage are excellent!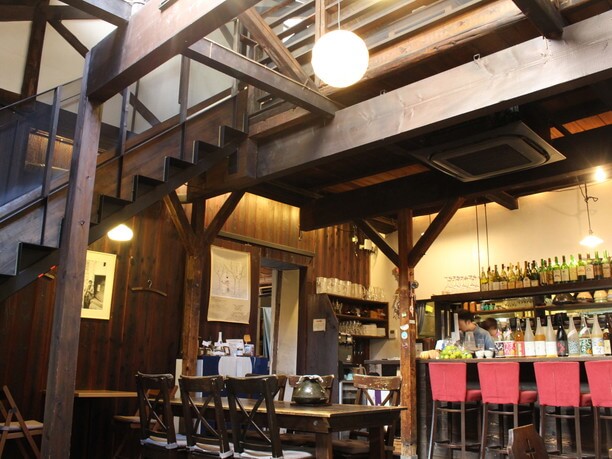 The warehouse next door is now the "Dining Iori shop. This was originally a warehouses storehouse. It has special lighting that is inserted into the space that lights up the space with soft colors at night. Inside the store there is antique furniture and accessories in a retro modern atmosphere that creates a nostalgic feeling.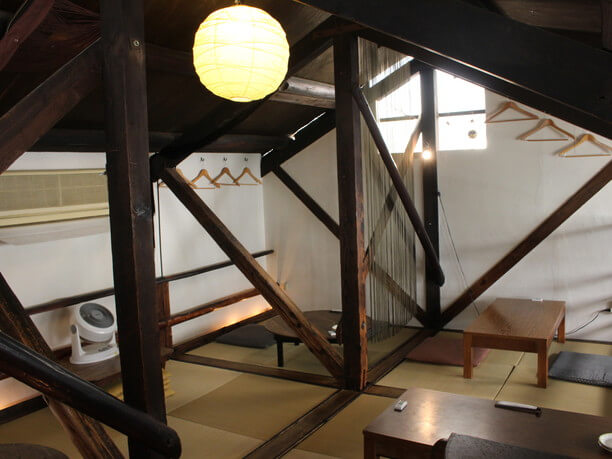 The second floor of the dining room has a tatami mat floor. The exposed beams make good spaces for seating. You can take off your shoes and enjoy eating your meal slowly.
Enjoy there handmade tajin-nabe (local steamed vegetable dishes)!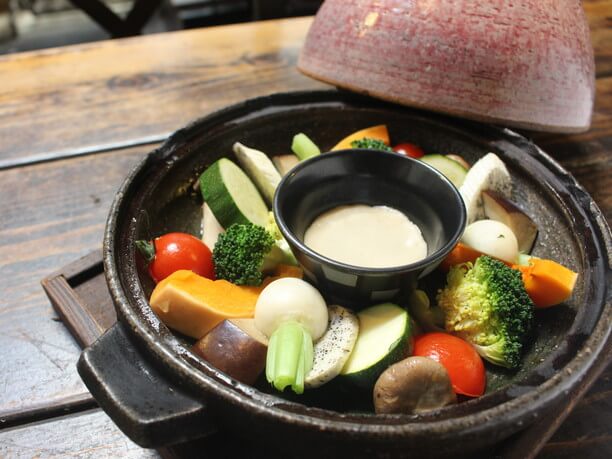 A popular dish is their steam vegetables with bagna cauda sauce (780 yen). The Vegetables they use vary depending on the season. They are agricultural chemical free or reduced pesticides vegetables purchased directly from nearby farmers in Osaka and Hyogo. They have mushrooms, zucchini, small turnip, butternut pumpkin and other delicious hot vegetables. The colorful vegetables are topped with their special bagna cauda sauce.
They serve their food in original pottery made in a pottery classroom I the same building. The pottery uses steam pressure to gently cook the vegetables. The pottery is not only practical but also has a cute appearance. In addition to the Tajin pot bowls and liquor service sets there are other handmade items that you can purchase.
Iori feature delicious Japanese style "tai meshi rice!"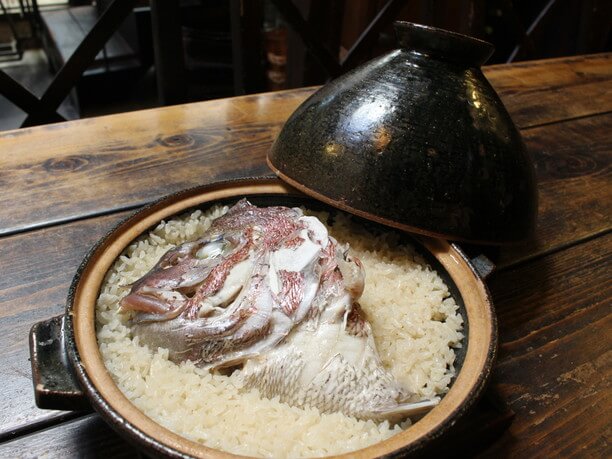 If you come to Iori, be sure and try their "Tai Meshi rice (1,200 yen). It is a luxurious menu item with a big tai fish head in the rice. You will be surprised by its appearance. This rice cooked in the pot with tai fish and kelp dashi has a very gentle and delicious taste!
They have abundant fruit wines that go well with Japanese food that are especially popular with the women customers!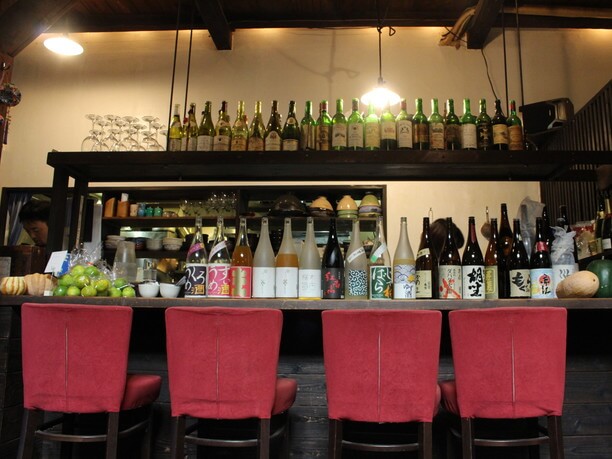 The alcohol menus are abundant, especially the fruit liquor lineup that is preferred by the female customers. In addition to their six kinds of plum wine, there are lots of things you will want to try, such as their vegetable liquors. This is a fashionable retro-modern space, that caters to a woman's point of view while serving Japanese food. It is located close to Umeda, so it is good to visit together with enjoying the streets of the Tenman area.
Smart tip
This renovated warehouse from the early Showa period that was actually used as a warehouse. It was converted into a fashionable, creative dining space.
The cooking is vegetable-centered creative Japanese food. Seasonal vegetables and fish appear in various recipes and seasonings. Pay attention to the original pots and bowls made by the teacher of ceramics classes held at the same store.
In the event space where the stage exists, they have live music, plays, talk show, etc. and it is quite exciting. Check the schedule beforehand.
What's interesting
The retro atmosphere of the old buildings with their exposed beams and thick pillars is wonderful. The food is delicious and very affordable! If you go in a group, a course meal is recommended. You will have a satisfying meal all the way through to the last dessert.
Dining Iori & event spece Unshodo
Spot name(Ja)

dining IOR?I&event spece雲州堂
Address

7-2 Sugawara-cho Kita-ku Osaka-city Osaka
Address(Ja)

大阪府大阪市北区菅原町7-2
Telephone

06-6361-3964 (Iori), 06-6361-3903 (Yunzhdou)
Price

[Day] 800 yen [night] 4,000 yen
Open

Lunch 11:30 a.m. 2: 00 Dinner 6:00 p.m. to 10:00 p.m.
Close

Monday
Parking lot

None
Note