Playing in the Breathe of Forest The Subtropical Zone "the Bios Hill"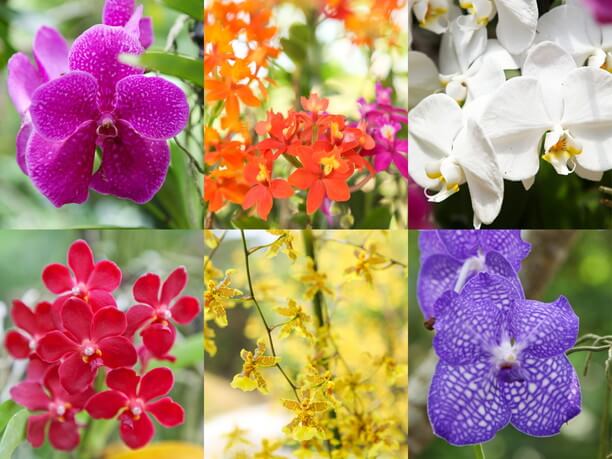 The Okinawa's subtropical forest, "the Bios hill".
As the word "bios" which means life in Greek, various plants and creatures are producing the brilliant colors and breathe of the life.
Because the day was the last day of Golden Week, it was so crowded with many tourists and families. Children were playing and running around everywhere, and it was so flourishing.
At the entrance, the multicolored orchid welcomed visitors.
The cries of frogs were resounded from "花染池 (anazumi-gumui)" behind it.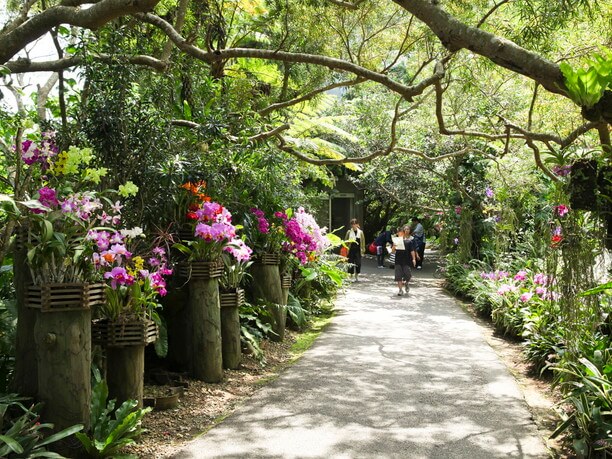 A path was led to a pond of lotus called "天染池 (Tinsumi-gumui)".
This pond would be filled with the flowers of lotus in summer.
The surface of the water looked like a ground, so it was quite thrilling to walk the thin boarded way around there.

The Jungle Exploration
When I thought the neighbor was somewhat noisy, I found a boat landing place.
Jungle cruise seemed to be interesting, so I tried to ride right away.
The boat was floating for 25 minutes as enjoying a boatman's knowledgeable talk and driving techniques.
It was amazing that I came to think feel this place more closer after the jungle was presented with mixing the interesting quizzes about the plants in the vie and animals in the lake.
For example, as there was a plant called Adan that looked like a pineapple, the question was given, "Do you know what color the flower of pineapple is?"
Everybody answered severally, but an unexpected answer cameback.
Well, do you know what color is?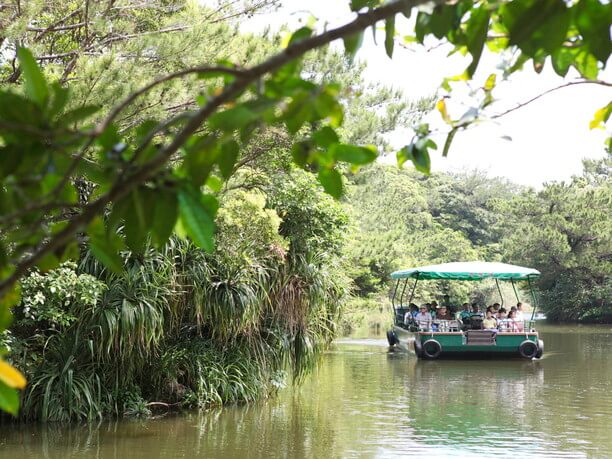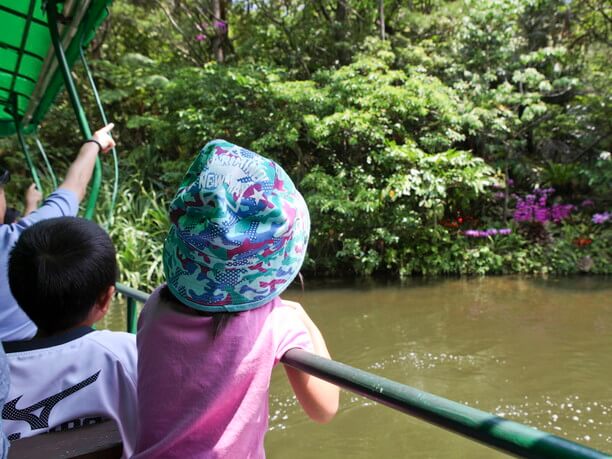 The boat moved more.
On the stage on the water which was used for a location of "Tempest", a long running historical drama series on NHK TV, a woman who dressed in Okinawa's traditional clothes performed an Okinawa's traditional dance.
For an instant, I felt like the time changed to Ryukyu Dynasty.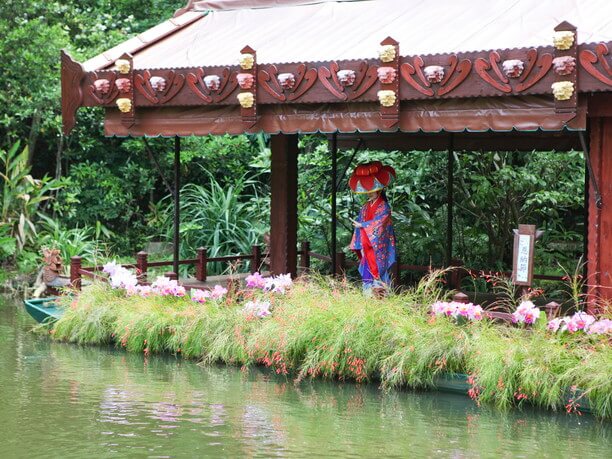 An Experience on the Hill : Mini-Attraction!
After landing from the boat, I went to "遊御庭 (Ashibiuna)" in the center.
There, we can play with the huge wooden playground equipment which is handmade of the staff of the Bios hill.
There were experience-based mini-attractions in each place like bamboo stilts and a squirt gun, so that not only children but also adults could enjoy. It was interesting that whole family could play together.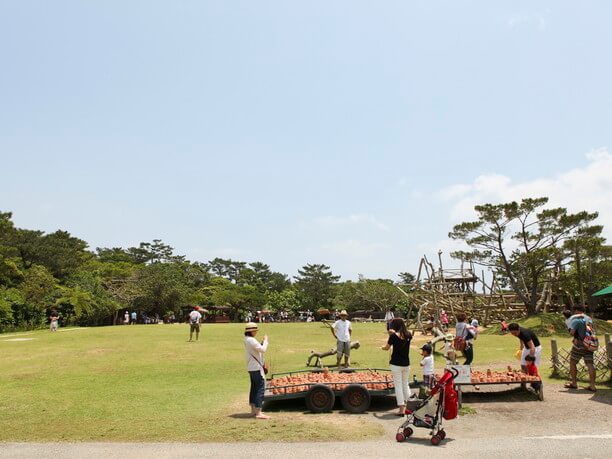 I found a place for a water buffalo carriage at an end of the space, so I decided to ride.
A water buffalo was so quiet, but very powerful.
It picked visitors on a caw carriage which weighs about 1763pounds, and went around the gardens leisurely.
It was a smart animal that it obeyed even if a child reined a bridle.
Around it, goat was moving around freely and eating grass as pulling children who reined a bridle.
It made me smile because it was contractive.
There was pig too. It was cute that children were feeding them seriously because pigs were eating so energetically.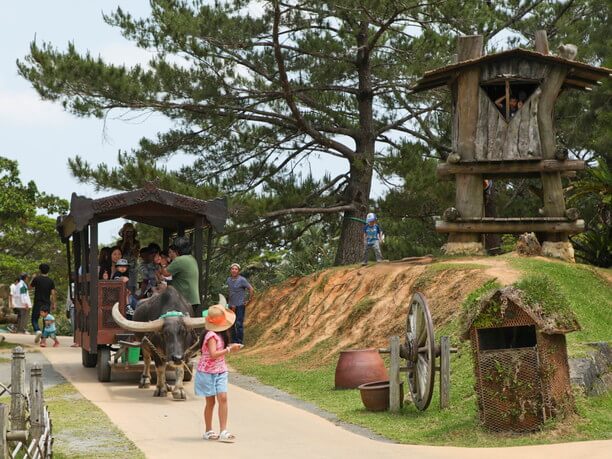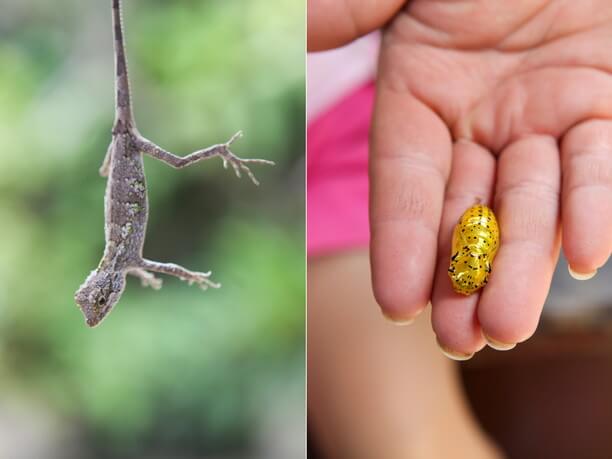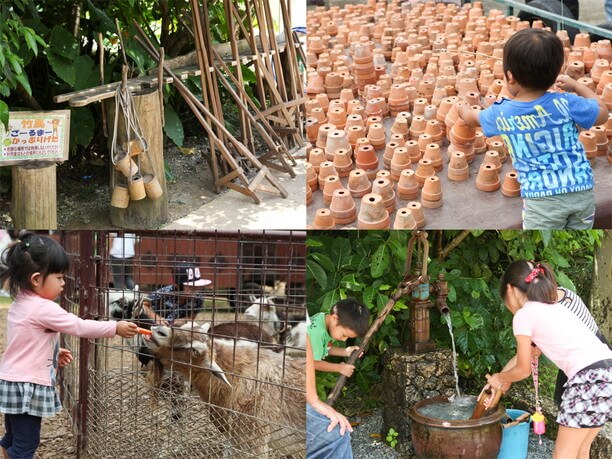 In the Bios
Children could have various experiences here.
It seemed that there was much learning from the contact with creatures.
It was very impressive that the expression of children and families watching and playing with them.
The Bios hill is a great place where we could get into a huge "bios (life)" and play as experiencing.
I would like you to go there with your family and friends.
Writing: Hinata
Photos: Yoshiaki Ito
Smart tip
You could borrow a mat for taking a nap without a fee.
You could use experience-based mini-attractions (bamboo stilts, a squirt gun, etc.) without a fee.
You could buy the potted plant of the orchid at a bargain price.
What's interesting
In the rainy season, "A firefly appreciation night tour" is recommended in jungle cruise.
the Bios hill
Spot name(Ja)

ビオスの丘
Address

961-30 Ishikawa Kadekaru, Urama-City, Okinawa
Price

An entrance fee: Adults (junior high school age and over) 710 yen, Children (4 years old –a primary school child) 360 yen
Open

9:00 a.m. - 6:00 p.m. ※admission permitted until 5:00 p.m.
Close

Open all the year
Note