Natural Coast "the Sesoko Beach", Featuring Dry White Sand and a High Transparency
Sesokojima-Island(瀬底島) is a simple solitary island connected to Okinawa main island with a bridge. It is located in the northern part of Okinawa, about 656 yards off-shore from Motobu-cho. Since Sesokojima is an island of elevated coral mainly formed of Ryukyu limestone, it features the flat landform.
Sesokojima-Island is a small island with a circumference of about 5 miles. The sea and coral reef surrounding the island are breathtakingly beautiful.
Let me introduce you the most popular beach of Sesokojima-Island, "Sesoko Beach(瀬底ビーチ)" spreading through the west coast of the island.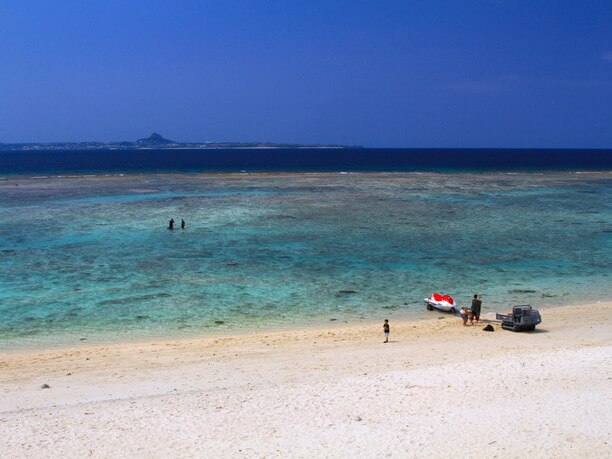 Characteristic Scenes of Iejima-Island and Minnajima-Island
The Sesoko Beach is a natural long beach with a length about 0.5 miles for north and south in the west coast of the Sesokojima-island.
You could see "Iejima-Island(伊江島)" in front across the blue sea in northwest, 5.6 miles ahead.
Mt.Gusuku called "Tacchu" is a symbol of the island.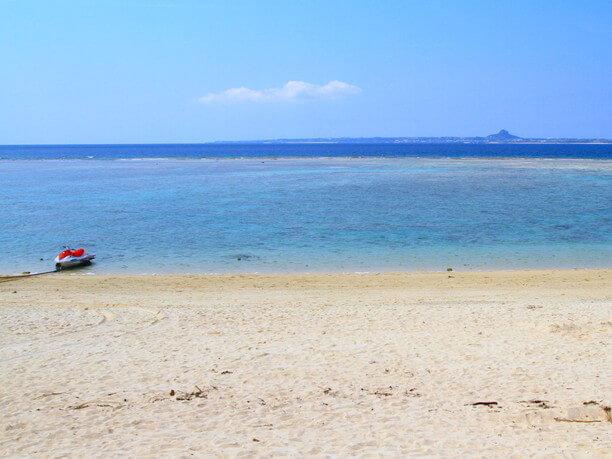 On the left, 4.3 miles ahead on the west side, "Minnajima-Island(水納島)" sometimes called "the croissant island" – a nickname taken from the its shape, approaches in front of the beach as well.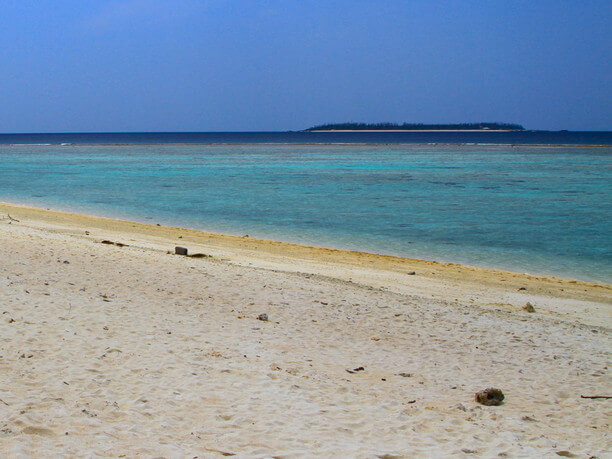 The charm of the Sesoko Beach is a pure white and natural sandy shore without any impurity. The sand is smooth like a powder, and it's obviously different from the artificial beach. Also you can expect a sunset at dusk only in west coast.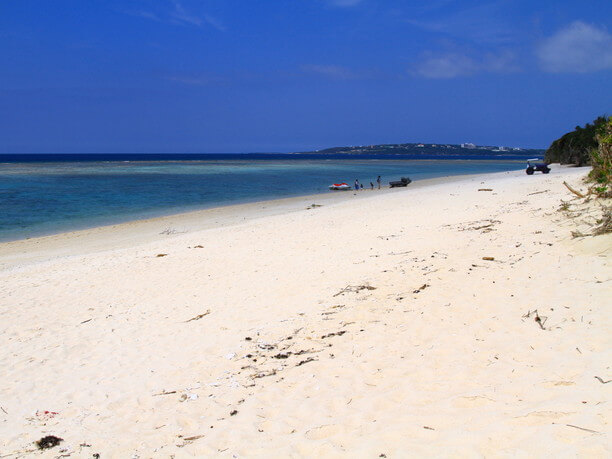 Sesoko Beach is a shallow beach, so even the person who are not good at swimming may enjoy at ease.
Even the Beginners Could Enjoy Snorkeling.
There is one good reason why Sesoko Beach is so attractive. Sesoko Beach has one of the highest transparency in water, and is known as a great snorkeling point.
There are many beaches where snorkeling prohibited in Okinawa, but since Sesoko Beach is a shallow beach, at low tide, you could look into the sea by putting only your face into water with goggles and snorkel without entering in the sea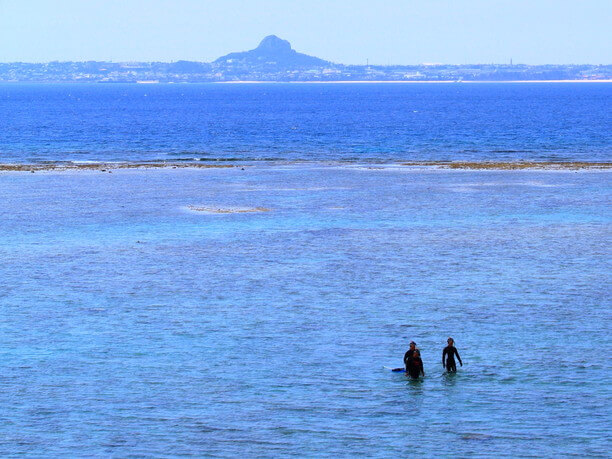 You must be impressed by a great variety and a heavy expanse of coral. You could see so many fishes swimming, like Mijun, a kind of sardine, triggerfish, sapphire devil, and so on. Even the beginners in snorkeling may totally enjoy the world of the fantastic sea.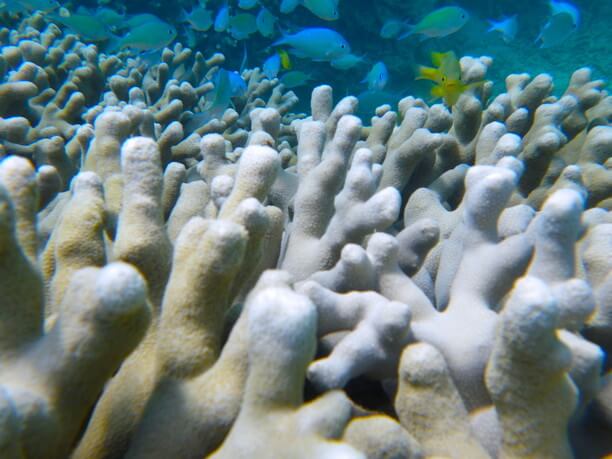 Check the Great Scene from Sesoko-Ohashi Bridge on the Way Home.
Since a management manufacturer is stationed in the Sesoko Beach, the facilities such as a locker room, a restroom, and a pay shower room are substantial.
In addition, you could rent a beach umbrella, a chair, a float, and a snorkel set. You could also enjoy various marine sports, too. Even families may enjoy enough and comfortably because a small parlor opens and sells a light meal and drinks.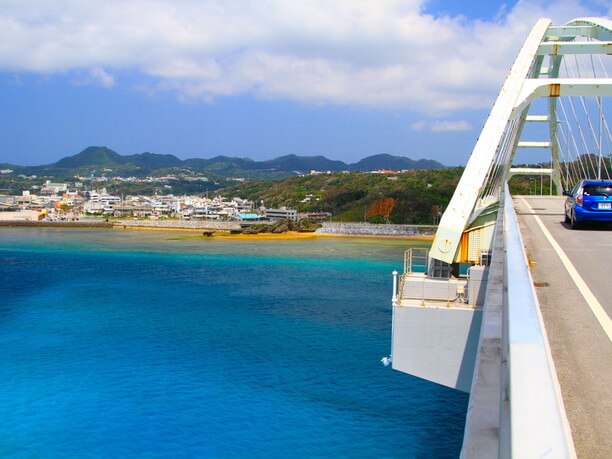 Do not forget to experience the view from Sesoko-Ohashi Bridge. Trust me it is worth seeing it.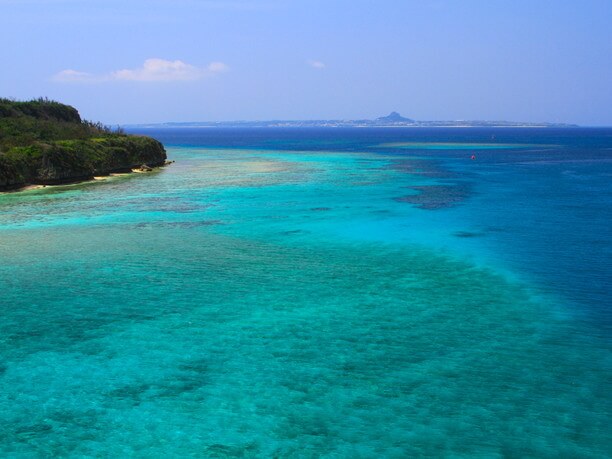 Smart tip
It's better to purchase a three-piece set of snorkeling beforehand and bring, because it's comparatively expensive to rent.
If you worried about a parking fee of 1000 yen a day, how about "the Anti Beach" spreading under Sesoko-Ohashi Bridge? A parking lot is a free of charge, and the quality of the water is beautiful without an inferior than the Sesoko Beach.
In the island, there are several hotel facilities, and they are all within the range on foot from the Sesoko Beach. It's smart to relax at a hotel after having enjoyed the sunset with a glass of beer in one hand.
What's interesting
I recommend "fuu café" to charge the energy after swimming. Various lunch led by the Italian are excellent, and the taste of the specialty coffee is particular.
the Sesoko Beach
Spot name(Ja)

瀬底ビーチ
Address

5583-1, Sesoko, Motobu-cho, Kunigami-gun, Okinawa
Address(Ja)

沖縄県国頭郡本部町瀬底5583-1
Telephone

0980-47-2368
Open

9:00-17:00 (April-June), 9:00-17:30 (July-September)
Close

none
Parking lot

1,000 yen a day