Enjoy exploring shops made from U.S. military housing from the past in Minatogawa.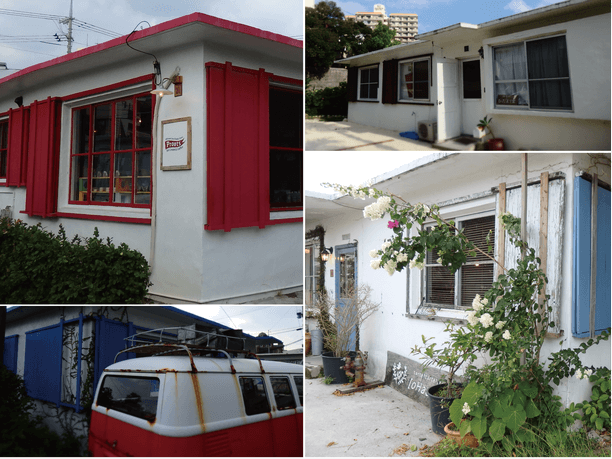 The U.S. constructed military housing in the Okinawa Prefecture in the 1950s and it was used as residences of military personnel and their families into the ' 70s.
These buildings were one-story, simple square buildings made of concrete. Each with its own garden. They were known as "Gaijin houses"
They have been transformed into grocery stores, shops, and cafes with a retro vibe.
Urasoe-City Minatogawa (浦添市港川) is one of the areas where there are a collection of these transformed buildings.
"Minatogawa Steitzsidetown," with its 50 or so buildings and each named after the name of one of the states in the U.S., such as "Texas," "Indiana." "Nevada" etc. The signs with the names of the states make each shop easier to find.
Recently the Minatogawa Gaijin houses shops are becoming more and more popular. It is a city in the middle of Okinawa that has many things to be offered.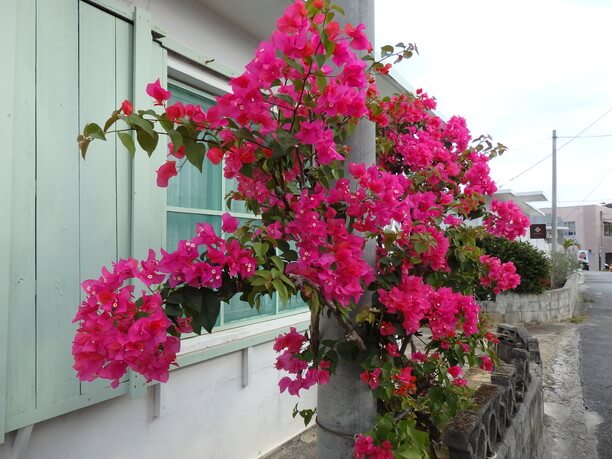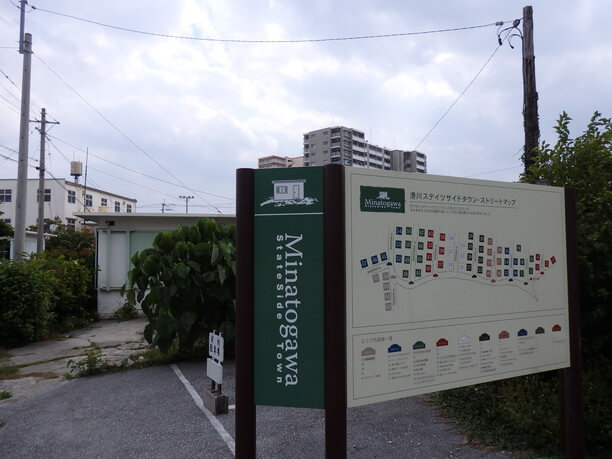 You might feel a bit lost while looking for shop!
Since this area was essentially a residential district for foreigners, there is no "main street" that the shops are on. As a result, it might not be an easy task to find the shop you are looking for. There is a street map showing the shop locations and bulletin boards placed in strategic areas to help prevent you from getting lost.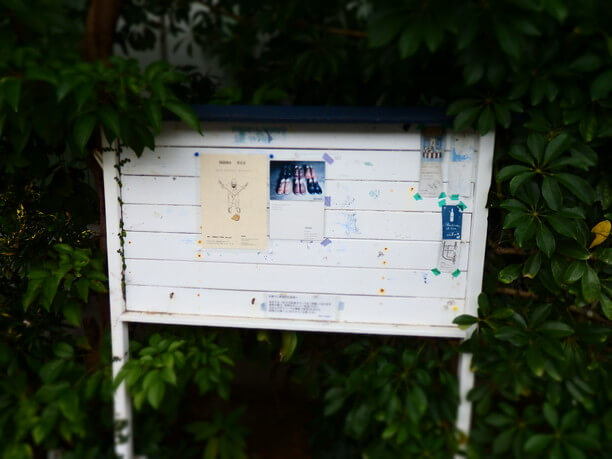 The bright door and window frames go well with the sign on this very cute coffee shop!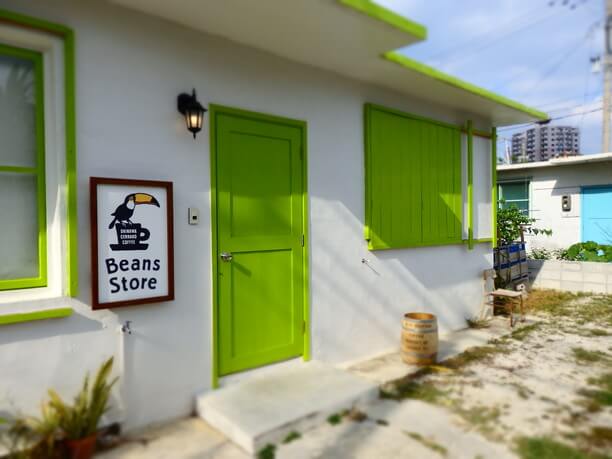 Another cute sign!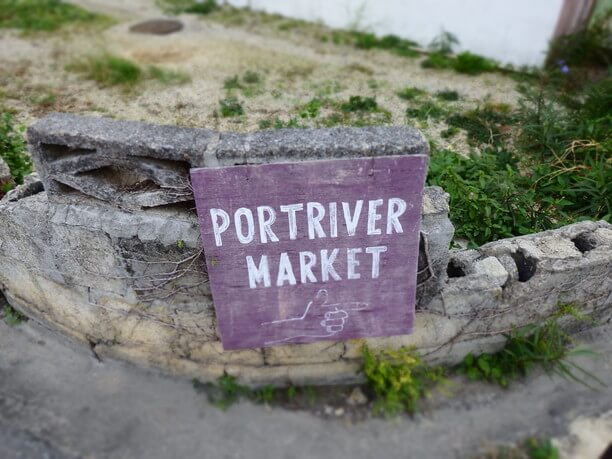 Bringing us to the "PORTRIVER MARKET."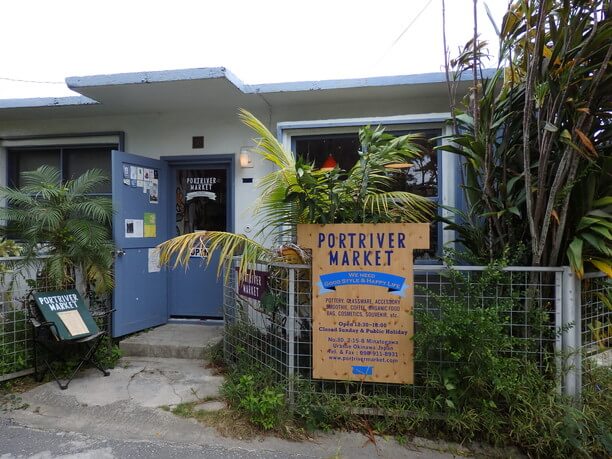 The Portriver Market is the name of the main minatogawa market.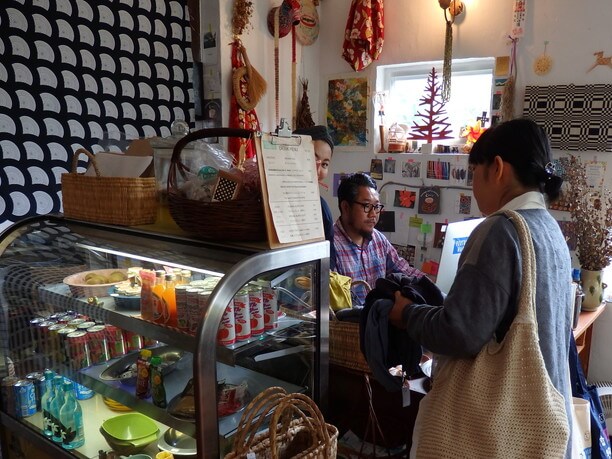 The shop is owned by a husband and wife team.
The shelves are lined with various things, such as pottery, glassware, bags, and other accessories.
It is requested that you take your shoes off before you come into the market.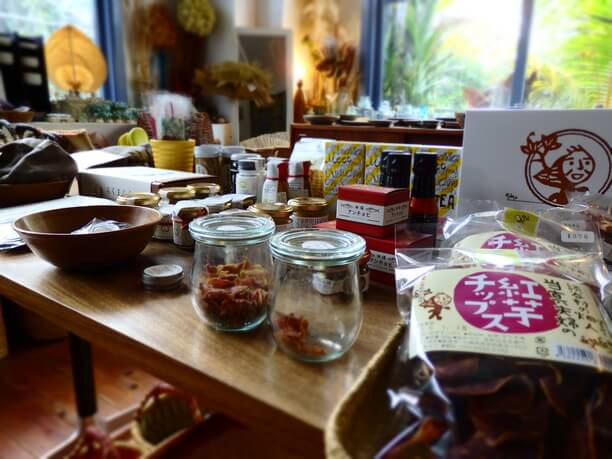 A great place to find "Okinawan Things!"
Mr and Mrs. Mugishima are the owners of the PORTRIVER MARKET. They came to Okinawa from Tokyo in 2012 and opened this shop in April of 2013.
Mr Muisshima said he was looking for a property in Okinawa and by chance came upon these minatogawa Gaijin houses. "At that time I stopped into the natural yeast bread shop (Ippe Coppe) and was told that the property across the street was soon to be available." He said he immediately knew he wanted a shop here and wrote in pencil a meaningful proposal.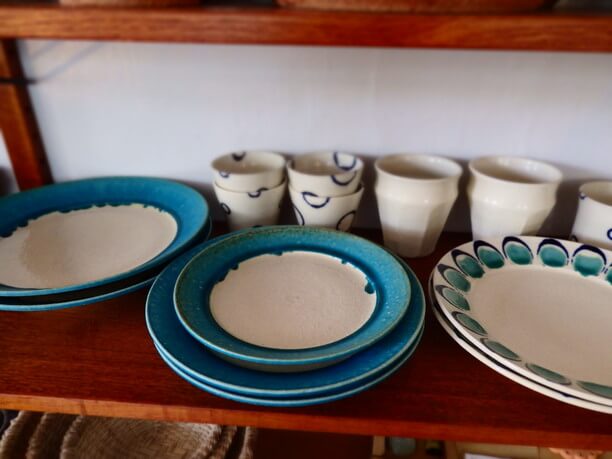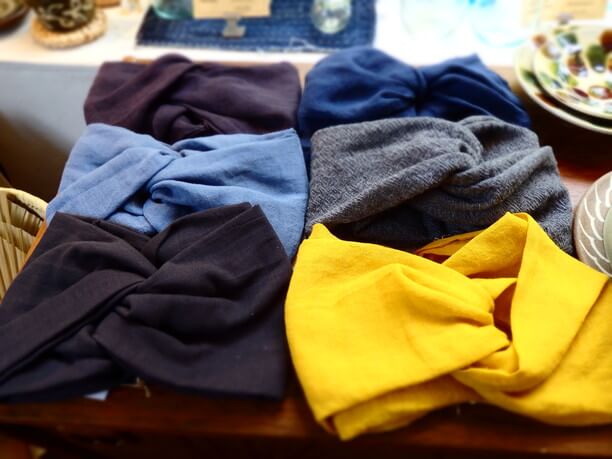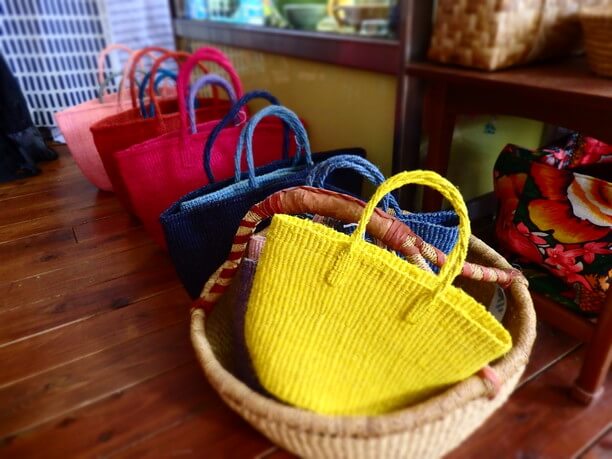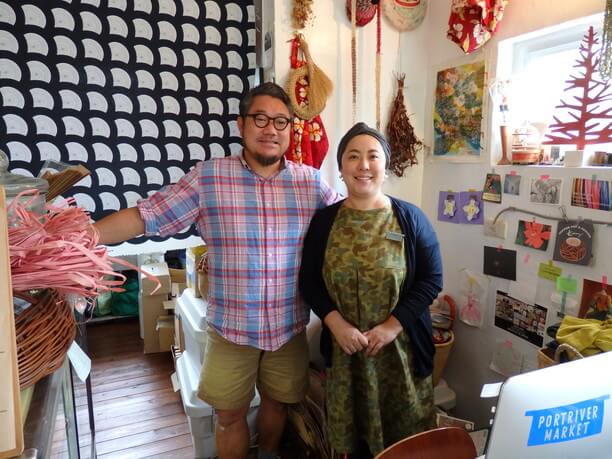 Enjoy a popular natural yeast bakery!
You can enjoy chatting with the store owner as you look through gadgets in their store. It makes the time pass by very quickly. There are so many good potential souvenirs and things I want to buy for myself in the store.
It is also a place to get a perfect takeaway of Okinawa fresh-fruit smoothies and enzyme syrup with soda.
Another big attraction in the area is the "Ippe coppe" it serves natural yeast bread that is delicious. It has a lot of diehard fans and has grown to be quite well-known in its 7 years in Okinawa Prefecture.
By the way this bread tends to get sold out, so it is recommended to reserve a loaf over the phone.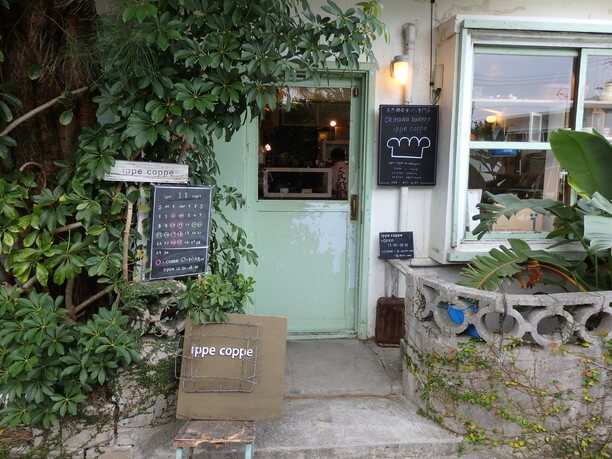 Photogenic streets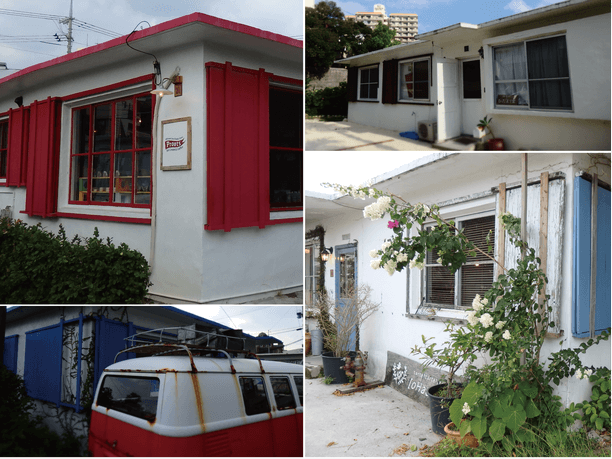 Minatogawa Gaijin houses offer many photogenic cafes, grocery stores, shops, and clothing stores, but they are scattered all over.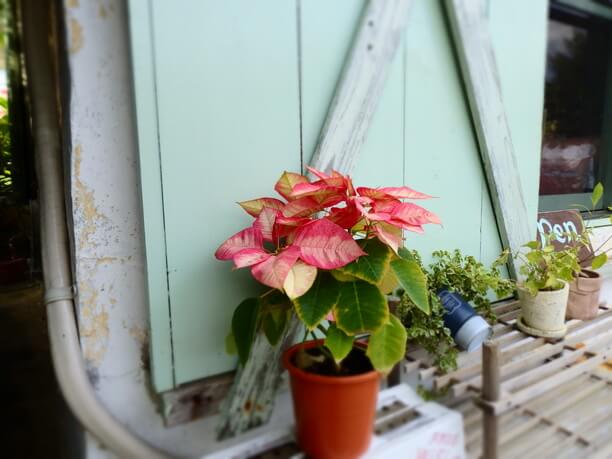 Many buildings are still used as housing but are designed just like the shops so it is hard to tell the difference. Sometimes the only way to know which are the shops is to go exploring!
So you can rely on word of mouth, and you can rely on your instincts, but do come out to explore this old foreigner residential tourism town in Okinawa.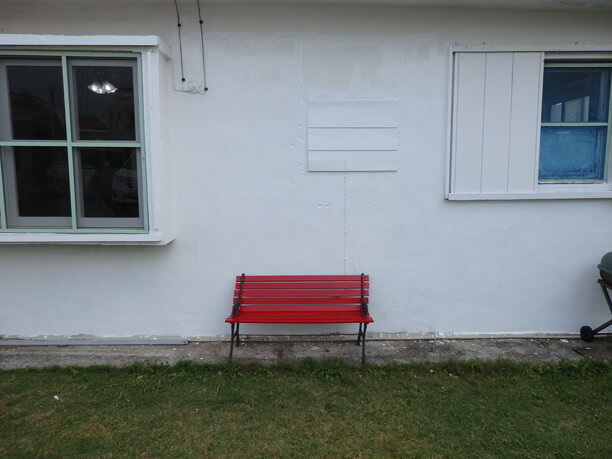 Smart tip
Gaijin houses don't have a parking lot, so you can take the 58 "minatogawa" bus to the dainigusukuma bus stop. Using a bus pass is recommended.
Shop hours of operation and holidays vary with each shop so make sure you check in advance this information for shops you are interested in.
Yamada 58, electric shop has a coin parking lot you can use. It is only a 6-minute walk from there to the Gaijin houses.
What's interesting
This area has many apartments and houses that are also part of the charm of this lively atmosphere. Take the time to go exploring the buildings as well as the flowers in the garden.
Minatogawa steitzsidetown
Spot name(Ja)

港川ステイツサイドタウン
Address

Okisho foreign residential area Minatogawa Urasoe-city Okinawa
Address(Ja)

沖縄県浦添市港川沖商外人住宅街
Price

By branches
Open

By branches
Close

By branches
PORTRIVER MARKET
Spot name(Ja)

PORTRIVER MARKET
Address

# 30 2-15-8 Minatogawa Urasoe-City Okinawa
Address(Ja)

沖縄県浦添市港川2-15-8 #30
Telephone

098-911-8931
Open

12:30a.m. to 6:00p.m.
Close

Closed on Sundays and public holidays
Note