Enjoy different cultures in Okinawa with an American mood!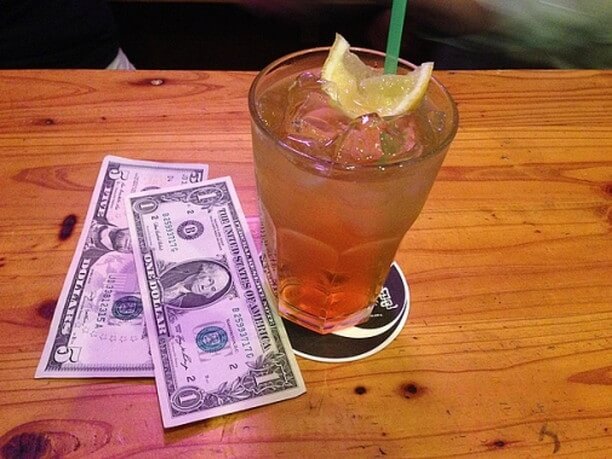 In Okinawa where the US military bases are located in various places, the American culture still remains. Here you can enjoy the American atmosphere through sightseeing and dining!

Something for everyone to enjoy!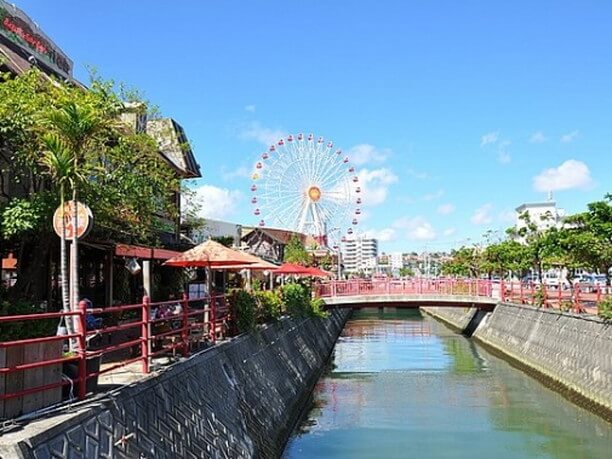 Mihama American Village, where the Ferris Wheel has become a symbol of Okinawa, is a sightseeing spot that everyone can enjoy! In the morning you can stroll along the beach and enjoy the view. In the daytime there are restaurants and shopping to enjoy. In the evening you can see the exquisite sunset at sunset beach.

【Spot name】Mihama American Village
【Street address】Mihama Chatancho-cho Okinawa
【business hours】It depends on each store
【Regular holiday】It depends on each store
Enjoy the first fast food store in the Okinawa prefecture!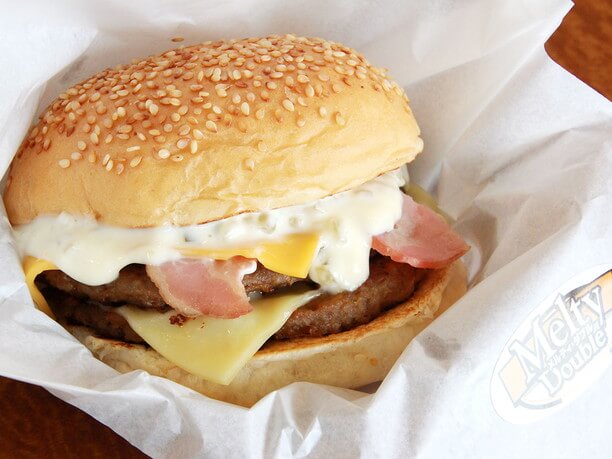 A & W first came to Okinawa in 1963 and was the first fast-food restaurant in the Okinawa Prefecture. Their "Melty double" with two beef patties is an item that reproduces a rich American hamburger. Their "curly fries," using American potatoes is one of their most popular menu items! For those who are sightseeing by car, we recommend using the drive-in. You will enjoy the drive-in experience unique to A & W. Your food order is brought out to your car by a member of the staff.

【Spot name】A & W Makiminato store
【Street address】4-9-1 Makiminato Urasoe-City Okinawa
【business hours】24hours
【Regular holiday】None
Let's find a bargain at an American military base!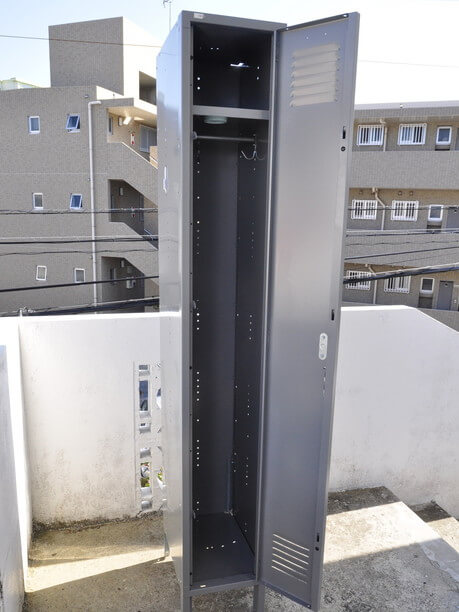 US bases are scattered throughout Okinawa. There are very few opportunities though for civilians to come on to the bases. However the U.S. military base Camp Courtney in Uruma allows people to enter the flea market on the weekends of 2nd, 4th and 5th week every month. In the flea market, which starts at 7 am, you can find clothing, shoes, furniture, camouflage clothing unique to US military bases, etc. At the shop, you can buy a cheeseburger with coffee. So if coming to Okinawa on the weekend, why not wake up a little early and visit Camp Courtney before sightseeing. Do not forget to bring your ID! You are required to show it before entering the base!

【Spot name】Free market at US military base
【business hours】Saturday and Sunday of the first week from noon to 3:00 p.m.              (Campfostar / Chatancho Mihama)
        Saturday and Sunday of the 2nd week from 7:00 a.m. to 10:00 a.m.
         (Camp Courtney / Uruma City Tenshi)
        Saturday and Sunday of the 3rd week from noon to 3:00 p.m.
         (Camp Qinza / Urasoe City Yadomizu)
        Saturday and Sunday of the 4th week from 7:00 a.m. to 10:00 a.m.
         (Camp Courtney / Uruma City Tenshi)
        Saturday and Sunday of the 5th week from 7:00 a.m. to 10:00 a.m.
         (Camp Courtney / Uruma City Tenpai)
        ※Please note that it may be canceled irregularly.
Let's play and work out under the blue sky!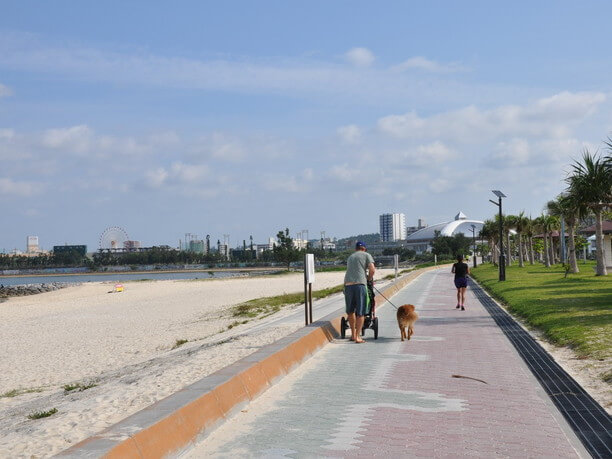 Alaha beach in Chatan-cho is close to the residential area where many foreigners live. It is reminiscent of the American West Coast. Basketball courts and running courses are available, and many people can be seen exercising.
It is an artificial beach with an outstanding view! You can enjoy a beach party in addition to marine sports. You can also spend a wonderful time watching the sunset. There are many stylish cafes unique to Araha Beach where drinking beer under the blue sky next to the blue sea is the best.

【Spot name】Araha Beach
【Street address】Mihama Chatancho-cho Okinawa
【business hours】10:00 a.m. to 6:00 p.m. (mid April – late October)
【Regular holiday】None
Enjoy the night in Okinawa! (Night tour recommended)!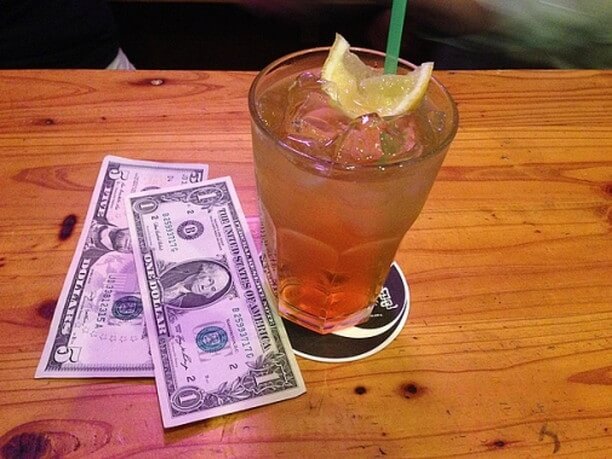 Okinawa City is the biggest town next to Naha City in Okinawa Prefecture. Signs with horizontal letters are lined up on the airport street (known as Gate Street). It begins at the 2nd gate of Kadena Base. Here you can enjoy a unique atmosphere visited by people of many different races. It is recommended to explore this city called "Koza" by going with a friend on a night tour. If you know more about the area it is that much more enjoyable to be there! It is a great opportunity to relax with a fun guide and play in the streets at night!

【Spot name】Okinawa City
Enjoy Teppanyaki and a fun chef's performance!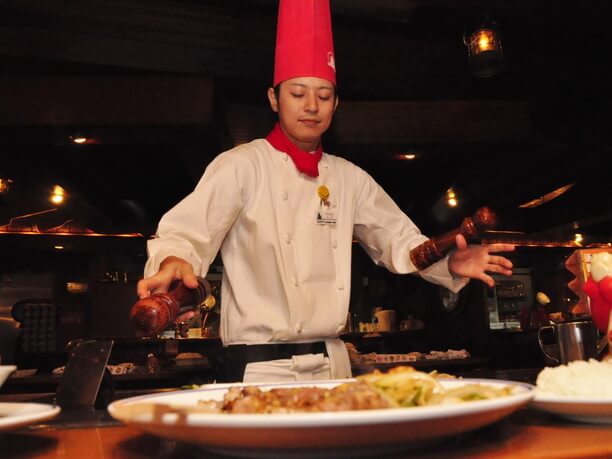 Sam's Anchor Inn is a popular restaurant featuring Teppanyaki on international street. The walls of the shop are decorated with the image of a pirate ship! Business card that tell of the popularity of the place are plastered everywhere! You can enjoy your meal at this shop that doubles as an entertainment facility as a chef performs his preparation of meat and vegetables in front of you. It is a true fusion of gourmet and entertainment. Tropical juice served in a glass in the form of a shisa is a popular drink! Because it gets crowded after 6:00 in the evening, we recommend coming early.

【Spot name】Sam's Anchor Inn International Street Store
【Street address】3-3-18 Kumoji Naha city Okinawa
【business hours】5:00 p.m. to midnight (Last order at 11:00 p.m.)
【Regular holiday】None
This Pancake specialty store in Okinawa is popular with Americans!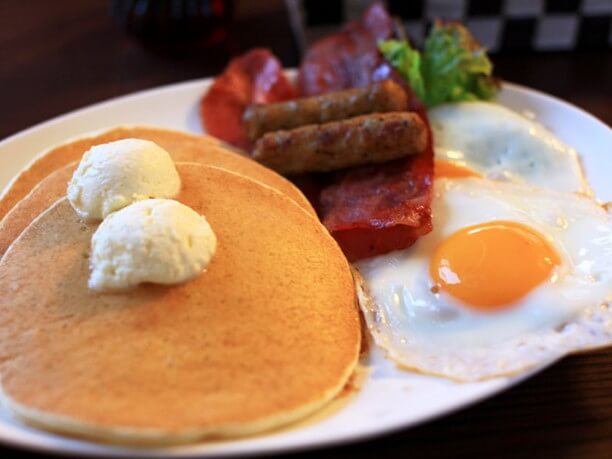 Yakke Booth pancake house is located in a renovated foreign residence in the Yomitan village. It is a pancake specialty shop where the American families and the US military groups come in camouflage clothing to eat breakfast first thing in the morning. It is a popular shop that serves among other things, sweet pancakes, pizza and chile Beans. They also have chocolate, banana, and strawberry, sweet bean paste and Matcha (green tea). If you like the taste of the pancakes, we recommend their plain classic pancakes. If you like your pancakes a little bit fancier they have plenty of toppings to choose from. So, if visiting Yomitan or Onna village stop in and enjoy the taste of these favorite American dishes.

【Spot name】Pancake house Yakke booth
【Street address】No.44 436 Toya Yomitan-son Okinawa
【business hours】10:00 a.m. to 5:00 p.m.
           (Last order at 4:30 p.m., Monday, Thursday, Friday)
         8:00 a.m. to 4:00 p.m.
          (Last order at 3:30 p.m.) Saturday and Sunday) –
【Regular holiday】Tuesday Wednesday