Enjoy the old time feeling as you walk down Amazake Street!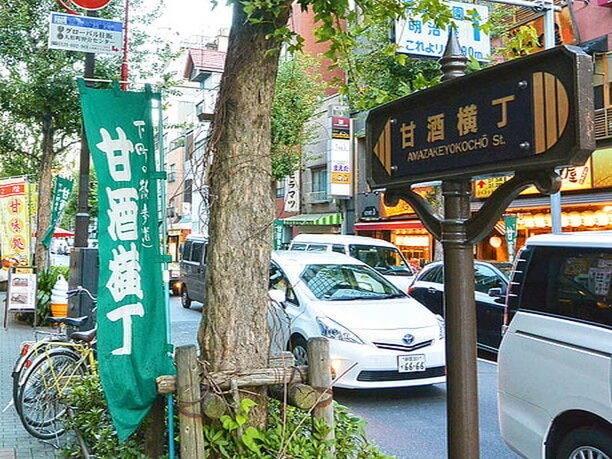 As you exit the Hibiya line (日比谷線) Ningyocho station (人形町駅) (exit A1), you will see the street sign for Amazake street (甘酒横丁). It is a promenade that stretches about a quarter of a mile from the station to Kiyosu Street Bridge.
As you walk down the street, you can feel the atmosphere that reminds you of the Edo period.
You will know you are in the right place from all the banners and shop signs.
The Amazake street shops are a nice balance of long established traditional shops and recently opened stores. Together they make an excellent place to find a nice Tokyo souvenir.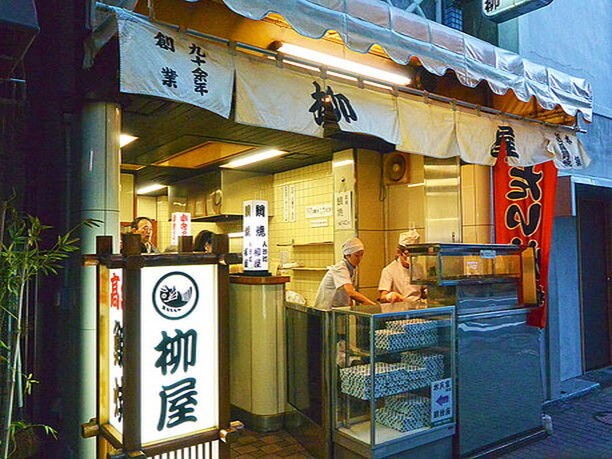 A good detour after performances!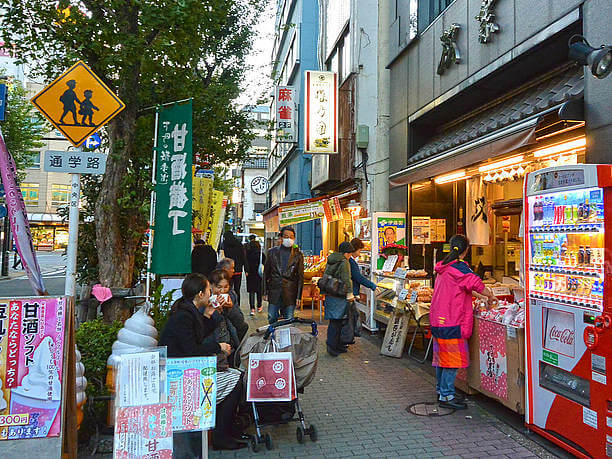 Meiji Theater (明治座) is an old vaudeville style theater in the Ningyocho area. It is a very popular theater that is often crowded with customers.
After the show, many of the customers make their way down Amazake street for a drink.
Two of the most popular stops to get a glass of sweet sake are the "Tofu for Futaba" and the "Obariya"
Have you had good quality Taiyaki ?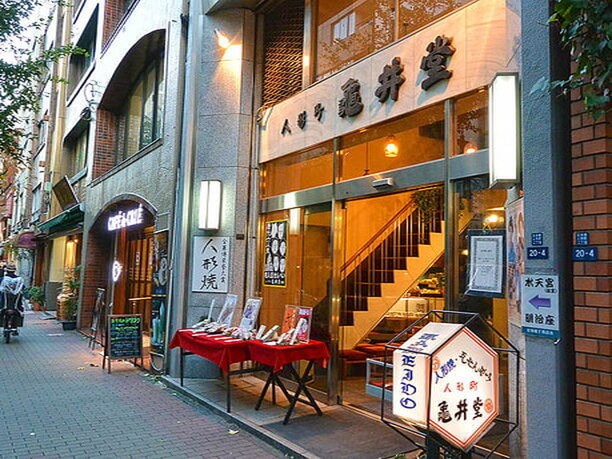 Three of the most popular shops for high quality Taiyaki on Amazake street are the "Yanagiya," (柳屋) the " Naniwaya" main shop (浪花家総本店), and the "Wakaba." (わかば)
Yanagiya's Taiyaki azuki beans are from Tokachi (十勝). They are not too sweet and made with their own original homemade red bean paste.
Each Taiyaki costs 120 yen and is cooked separately. Though this takes more time to prepare, you will agree when you taste one that it is worth it.
Visit Suitengu shrine on Amazake street!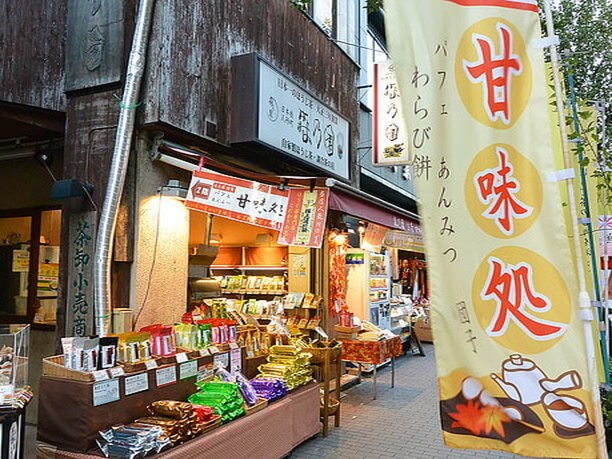 "Suitengu shrine" (水天宮) is a shrine dedicated for the purpose of receiving blessings for having a safe birth. It is currently being repaired so there is another one to replace it next to the Meiji Theater.
After you go to the shrine to pray, you can take a little break on Amazake Street.
Every year the annual "Cherry Festival" attracts many tourists to the area and Amazake street becomes even more lively.
Amazake Street
Spot name(Ja)

甘酒横丁
Address

Address 2 Nihonbashi Ningyo-cho Chuo-ku Tokyo
Address(Ja)

東京都中央区日本橋人形町2
Telephone

03-3666 - 7662
Sweet alley Merchants Association
Open

Store hours may vary.
Close

Store hours may vary.
Parking lot

Without
Note

HP : http://amazakeyokocho.jp/

[ Public transport available ]
It is a one minute walk from underground Hibiya Line Ningyocho station exit A1 (taxi about 10 minutes, 660 to 730)
It is a two minute walk from Toei Asakusa Line Ningyocho station exit A3 (taxi about 10 minutes, 660 to 730)
It is a two minute walk from underground Hanzoumon Line Suitengu mae station exit 7 (taxi about 10 minutes, 660 to 730)
It is a two minute walk from Toei Sjinjuku Line Hamamatsucho station exit A2 (taxi about 10 minutes, 660 to 730)