Come visit the Houses of Parliament, and see the the political scene with your own eyes.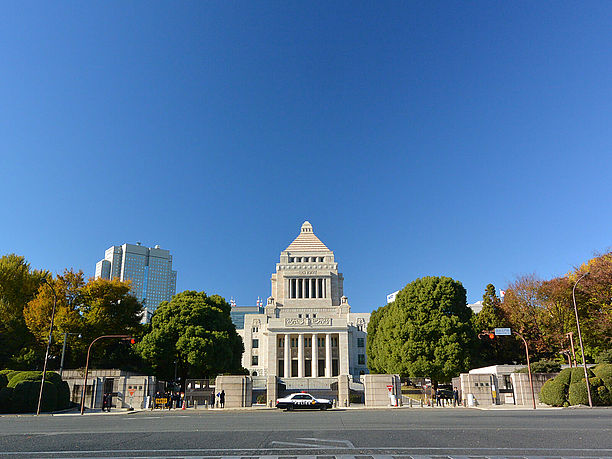 The Houses of Parliament was built in1936. At that time, it was the tallest building in Japan. It is a distinguished granite building that has long been praised for its beauty. Though it is no longer one of the tallest buildings in Japan it is still honored for its design and construction of the highest quality materials. Here Parliament lawmakers approve budgets, make treaties and create laws. So if you really don't know how politics work, come to the house of Parliament. You can even participate in their interactive tour.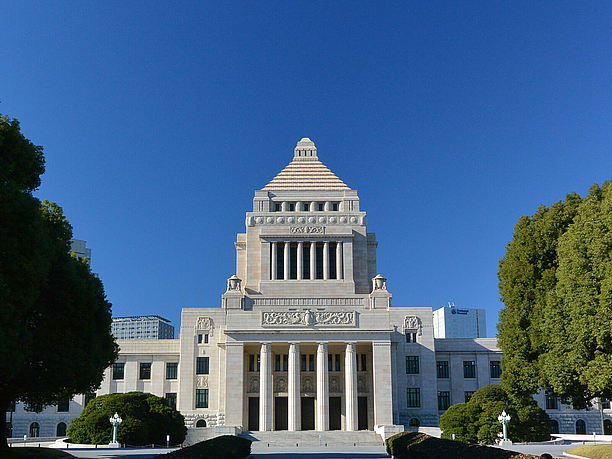 Join a tour of the house of Parliament!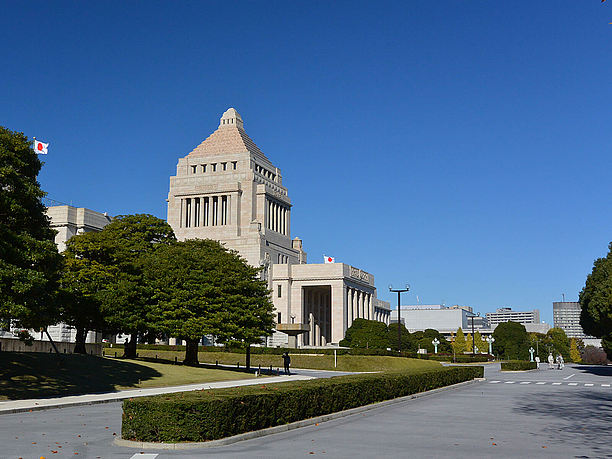 Check out the House of Councillors Home Page to get a look inside the House of Parliament and see the list of available activities and tours. To join a tour, download a booking form from the Home Page and apply directly by FAX or take it to them in person. You can also go to the reception desk if you don't have a personal reservation and ask to join in an existing group that is preparing to take a tour. On the tour you can observe the Councillors on the floor via a closed circuit TV, visit Central Hall and his Majesty the Emperor's "resting place." (Tours are available Monday to Friday from 9:00a.m. to 4:00p.m. and last about 1 hour)
The House of Parliament is a popular tourist attraction!
Hato Bus tours have a tour that includes the House of Parliament. This popular route also includes a buffet-style lunch, and visits to the Tokyo Sky Tree Tower, Tokyo Tower, and Tokyo Prince Hotel. Many foreign tourists take this tour so the intercultural communication along the way doubles the fun. They also have many different routes to choose from. If you are interested in taking one of their tours please contact them.
House of Councillors special experience!
If the Hato Tour alone is not enough, we recommend participating in the House of Councillors special experience. You will be able to experience firsthand (in the form of role playing) the parliamentary experience. First you choose your role such as Chairman, Minister, Advanced Practice Committee member etc. then attend a simulation Conference. It may seem difficult at first but it is a great way to learn about how Parliament works. It is a great opportunity for children under the age of 18 to prepare them for their responsibility as a voter.
House of Parliament
Spot name(Ja)

国会議事堂
Address

1-7-1 Nagata-Cho Chiyoda-ku Tokyo
Address(Ja)

東京都千代田区永田町1-7-1
Telephone

03-5521-7445
Price

Free
Open

Tour hours
 9:00a.m. to 4:00p.m.
* The information is presented every hour on the hour (starting at 9:00a.m. and for the last time at 4:00p.m.)
* You cannot observe plenary session held on Sunday, nor enter while a session is in progress or one hour before adjournment.
* You may not visit when there is a special occasion.
Close

Saturdays, Sundays, holidays, year-end and new year holidays
Parking lot

Without
Note

HP : http://www.sangiin.go.jp/index.htm

[In the case of using public transportation]
You can take the subway Yurakucho line, the Hanzomon line, or the Namboku Line to the Nagatacho Station and taking exit 1 it is about a 3-minute walk. By taxi it is approximately 10 minutes and cost from 660-730 yen.
You can take the subway Marunouchi line or the Chiyoda line and taking exit 1 it is about a 6-minute walk. By taxi it is approximately 10 minitues and costs from 660-730 yen.